This is, apparently, the comic book showdown you have been waiting for. Master assassin Deathstroke versus the world's greatest detective Batman. Last time, Batman just punched him. This time? Well, this time Deathstroke writer and general all-round genius comic book auteur Christopher Priest is writing him, so it may go slightly differently. With and Hulk and Deathstroke artist Carlo Pagulayan on art artist Lee Weeks on covers, expect the first issue of the Deathstroke Vs Batman to be officially announced later this week for April 2018 shipping. But because this is Bleeding Cool, you got to read it here first… if you believe it that is.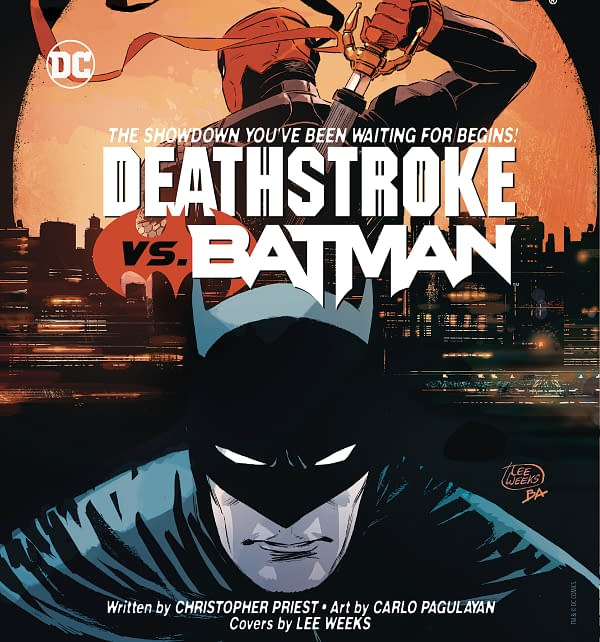 Look, we've got artwork and everything. Believe us know?
Deathstroke (Slade Joseph Wilson) is a fictional supervillain and/or anti-hero created by Marv Wolfman and George Pérez as a mercenary and assassin who first appeared in The New Teen Titans. Originally the archenemy of the Teen Titans, writers have developed him over the years as an adversary of other heroes in the DC Universe; parallels have been established between him and Batman. The character has been substantially adapted from the comics into multiple forms of media, including several Batman-related projects and the Teen Titans animated series. He is portrayed on The CW's live-action TV series Arrow by Manu Bennett, and by Joe Manganiello in the feature films of the DC Extended Universe beginning with a cameo in 2017's Justice League.
Batman is… Batman.
Expect a few black background narrative panels. Artists love those as they still get paid for them.
Enjoyed this article? Share it!