Denver Comic Con '15: Live! From The Epic Cosplay Real Wedding Of Batman And Daenerys Targaryen With Anthony Michael Hall(UPDATE)
Describing this event will almost certainly result in me identifying the cosplay costumes wrongly, but in the wedding party of this real cosplay wedding closing out Denver Comic Con, and claiming to be the first of its kind in the country, we had Batman (the groom), Thor, a Jedi, Daredevil (Netflix version), Ariel, a Kitten, a Fairy, and more. The bride was Daenerys Targaryen. They were flanked by an honor guard of Storm Troopers. A version of George Lucas performed the marriage ceremony, rife with pop culture references and in-jokes about genre and IP mixing. Quite the comedy speech, but also quite an emotional one about overcoming differences and bringing people together. In a list of those who found their true loves or opposite numbers that included Leia and Han, Superman and Lois, and more, there were plenty of giggles. Anthony Michael Hall took the stage as a celebrity helper for the wedding ceremony. He seemed very amused by proceedings. Mixing spices in honor of Dune in a glass carafe shaped like a skull, the couple made their vows to create "one eternal spice". Batman was instructed to cover Daenerys with his cloak as a gesture of protecting his future wife. Their alter egos were dropped for Aaron and Jamie to exchange their vows as "their true selves". Aaron let the audience know "this was her idea".
The couple read tearful messages to each other before the ceremony concluded. Cosplay George Lucas shared the "Lucas Lesson" of "staying under budget". He encouraged them to have vision and make the most of what they have in life. He said they'd have to "get creative" to tell their story and make their dreams before. Lucas Lesson number 2 was "if it ain't broke, don't fix it". Citing changes to the beloved trilogy, he encouraged them not try to change each other. Lucas Lesson number 3 was "admit your mistakes" (Jar Jar). He took the moment to apologize for his mistakes. He left with the words of the wisest Jedi Master, "Do or do not. There is no 'try'". He said marriage isn't something you "try" but "do or do not", and not a matter of doing things in part.
Cosplay George Lucas then pronounced the couple man and wife.
A blessing was delivered, but also in closing, of course wished "May the Force be with you".
Custodians at the event wore t-shirt tuxedos, just for that extra touch of class.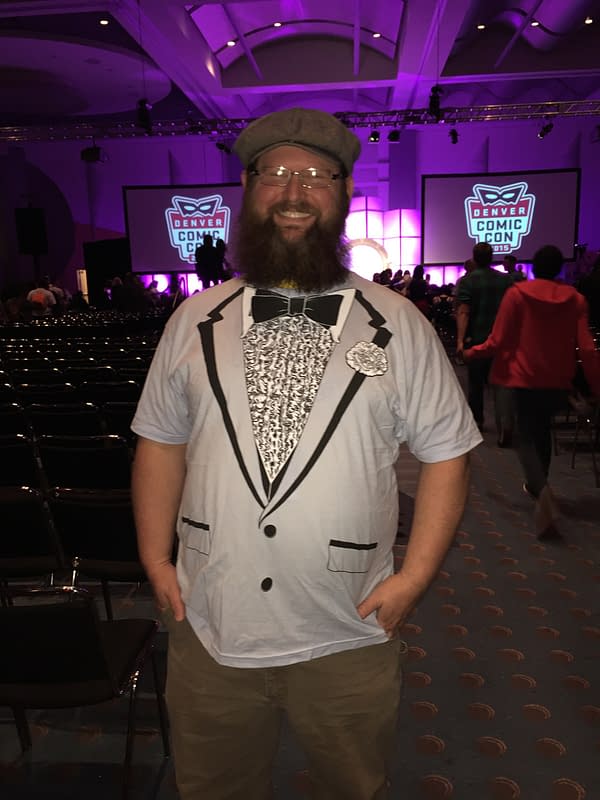 The venue was full of con attendees well-wishing the happy and sure to be world-dominating couple.