Dieselfunk Dispatch: Planet Deep South and Celebrating the Black Panther
For the past few weeks, we've been posting updates by Tim Fielder on his journey to transition his creator-owned comic book, Matty's Rocket, to a print-on-demand graphic novel model using his own equipment to produce and sell the books. You can read the first two Dieselfunk Dispatches here and here. Though we originally intended to post an update on a different topic, Tim sent us this more timely one today on the weekend Black Panther broke a billion dollars worldwide. Next week, we'll post the originally planned article on the comics market.
---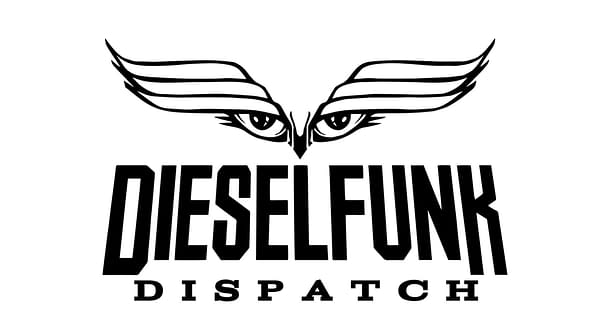 Greetings, Dieselfunkateers! Back again with the Dieselfunk Dispatch. At the time of this writing, I'm on a flight from San Antonio, Texas en route back to home base in New York City. My time in Texas was spent at 'Planet Deep South Symposium: Black And Brown Futures.'

Dr. Kinitra D. Brooks, Associate Professor of English and Ricardo Romo Endowed Professor of the Honors College at University of Texas at San Antonio, had graciously invited me to attend. Professor Brooks, the recently dual-minted nominee of The Bram Stoker Award was hosting the event, which is held every other year. For clarity, Planet Deep South, created several years earlier by Eisner Award winning scholar and artist, Professor John Jennings (KINDRED) features the brightest minds on the planet actively engaged in intellectual discourse on the subjects of Speculative concepts ( That's Sci-fi, Horror, and Fantasy) from the Southern region of the United States. The Keynote Speaker was non other than Nalo Hopkinson, author of 'Midnight Robber' and recent 2018 Eagle-Con Octavia E. Butler Memorial Award winner. I had the pleasure of drawing her while she gave her keynote.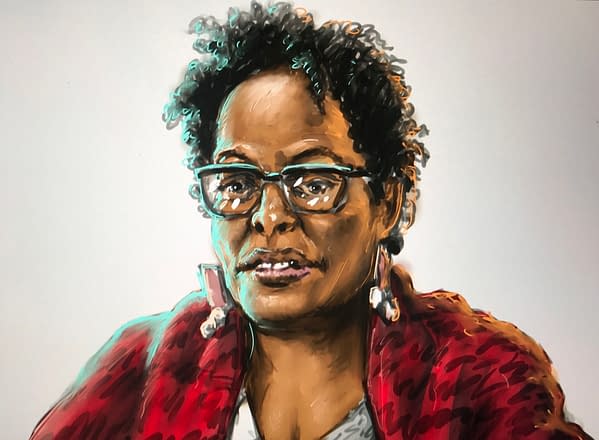 It was my honor to be included with such advanced thinkers and to bring Matty's Rocket to Planet Deep South. Check out a brief interview with Dr. Brooks here:
During this time, I've developed a tremendous respect and fondness for academic symposiums. These events, like the aforementioned 'Planet Deep South' are a fertile breeding ground for Fans, book sales, and highly qualified critique. What made this year's symposium special was that it took place during the opening week of Black Panther. Thusly a significant section was spent discussing the ramifications on our work. By the way, if you haven't already surmised, I'm a Black Guy. The short of it: the world of content creation and consumption is forever changed. What those changes will be will unquestionably be debated and argued. In fact, the symposium ended with a post-Black Panther screening panel discussion at the Alamo Drafthouse theater. The discussion ranged from the cinematic drama generated by the intersections between the gendered, continental African, and African diasporic representations from the film. Discussion went into further detail; the dichotomy between the Marvel Comics universe and the Marvel Cinematic Universe. It even went so deep as to discuss the complex use of sound in Black Panther. Phenomenal panel.
The panel featured the following overly qualified participants:
Dr. Kinitra Brooks – Associate Professor of English and Ricardo Romo Endowed Professor of the Honors College at University of Texas at San Antonio.
John Jennings – Professor of Media and Cultural Studies at the University of California at Riverside.
Stacey Robinson – Assistant Professor of Graphic Design, University of Illinois at Urbana Champaign.
Dr. Regina Bradley – Assistant Professor of English and African Diaspora Studies, Kennesaw State University.
Dr. Julian Chambliss – Professor of History, Coordinator of the Africa and African-American Studies, Rollins College.
Panel moderated by Dr. Stanford Carpenter – Cultural Anthropologist and comic creator. Board member of Black Comix Arts Festival and Pocket Con.
The Dieselfunk Dispatch is honored to feature the panel in its entirety. Somebody's gotta hire this crew to generate their own content. Oh wait… check out the entire panel discussion here:
So, what in the world does all of this have to do with publishing? It is undeniable that the idea of who can create what, consume what, finance what, and consume what, has flipped. Anyone who denies this or tries to turn back the clock simply are naive at best and regressive at worst. We are never going back. We are in the Blackassupsidedown.
Times Done changed. :-)
Next up: Where to Sell?
---
Tim Fielder is the Publisher and Creator of Dieselfunk Studios' Matty's Rocket Book One. Dieselfunk works to be completely self-sufficient while sharing war stores with fellow POD Publisher 133art.