How Doctor Doom #2, and Amazing Spider-Man #33 Tell Very Similar, But Flipped, Stories Today (Spoilers)
Today's Doctor Doom #2 and Amazing Spider-Man #33 tell a very similar story regarding Doctor Doom. Clearly one occurs before the other. But which is which? And how does today's Immortal Hulk #26 figure in?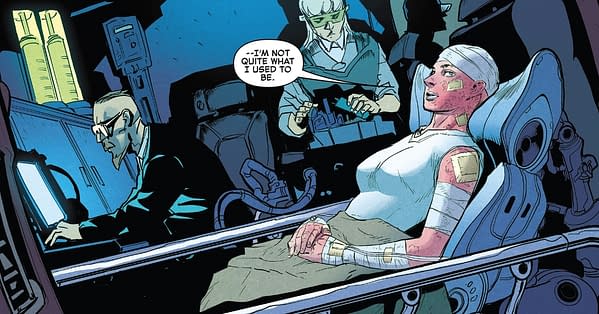 Amazing Spider-Man #33 revealed that Silver Sable, ever since that incident with the Rhino, has not been Silver Sable at all. Rather a remote-controlled android version of the character, controlled by the heavily injured Silver Sable.

Presumably that's the version seen in the Doctor Doom series.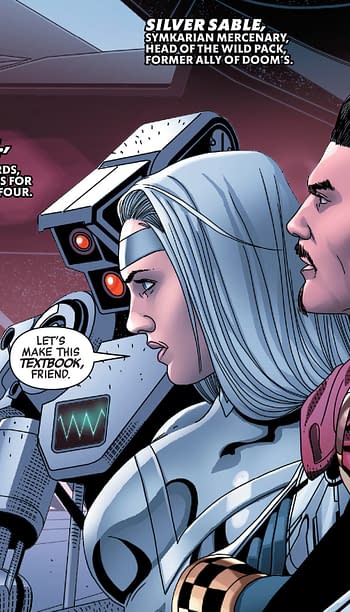 Amazing Spider-Man has Silver Sable, in her role as ruler of Eastern European nation Symkaria talking about issues with Doctor Doom's Laveria – whcih has its own army of robot doubles.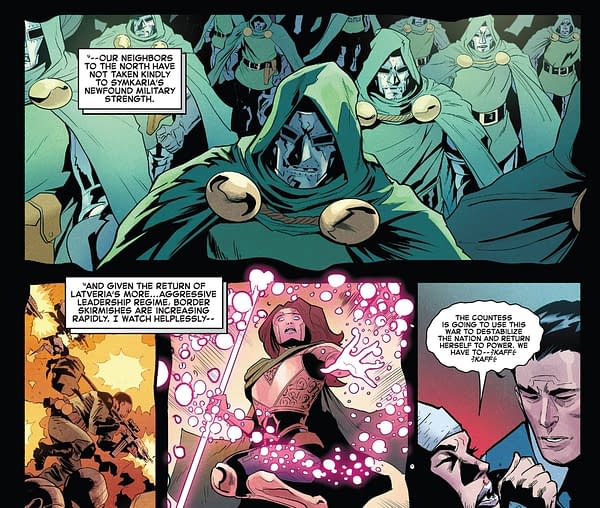 But in Doctor Doom #2, the tables have been turned somewhat and it is Latveria that is being threatened by Symkaria now they have lost Doom.

And while in Amazing Spider-Man #33, Latveria is holding its own against international threats…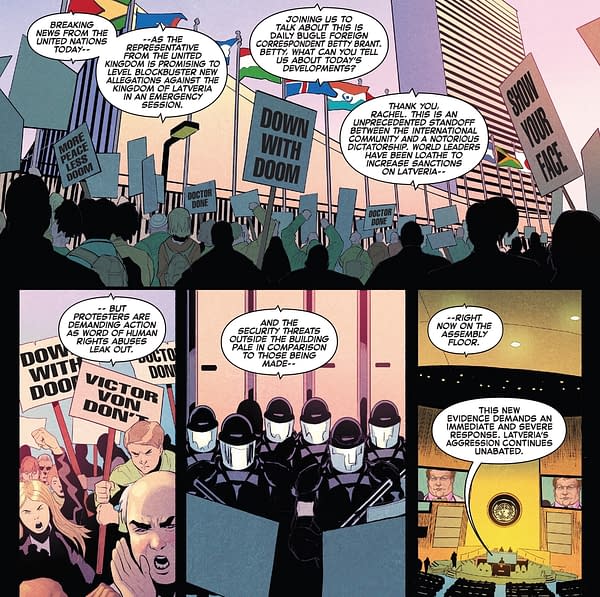 In Doctor Doom #2, not so much. Latveria's aggression seems to have been abated somewhat.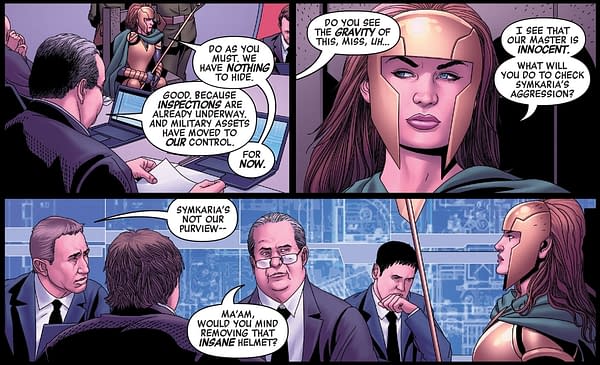 And while Doctor Doom grapples with his own future…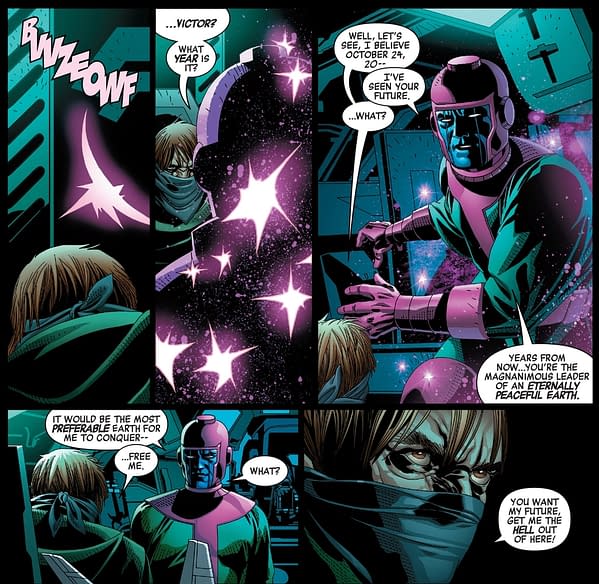 …as we previously reported, Kang telling him he will be a great and beneficial leader to a peaceful world…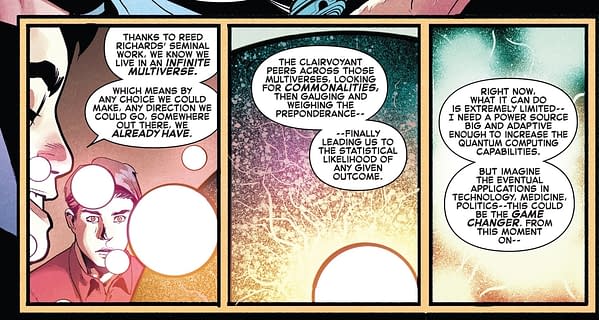 …Amazing Spider-Man #33 is also using future-looking technology to see what will come. Which is where Immortal Hulk #26 jumps in, we have seen the far future there, at the end of the universe and into the subsequent one, with a message sent back to try and change things. But we have a Bruce Banner who also wants to change the world. And despairs at the attempts of others…
…something he shares with Doctor Doom from #1 of that series…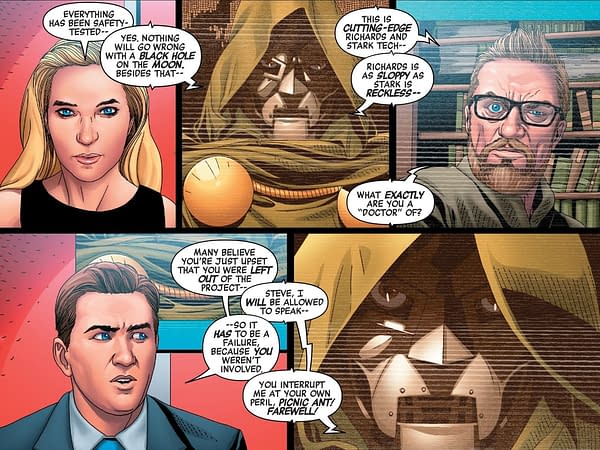 …a climate-changing programme that sees Doctor Doom framed as even more of an international pariah than before… could the boys at HOXPOX have a solution? I'll let Jude answer that. And so as Doctor Doom seeks to find further confirmation from the future…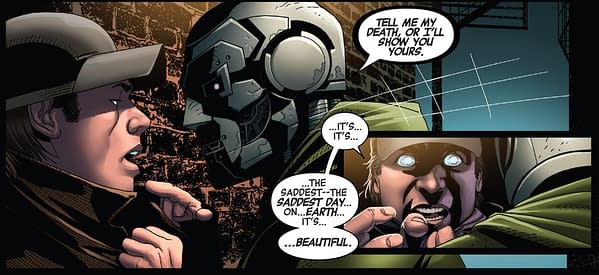 …he gets a time-twisting alternative.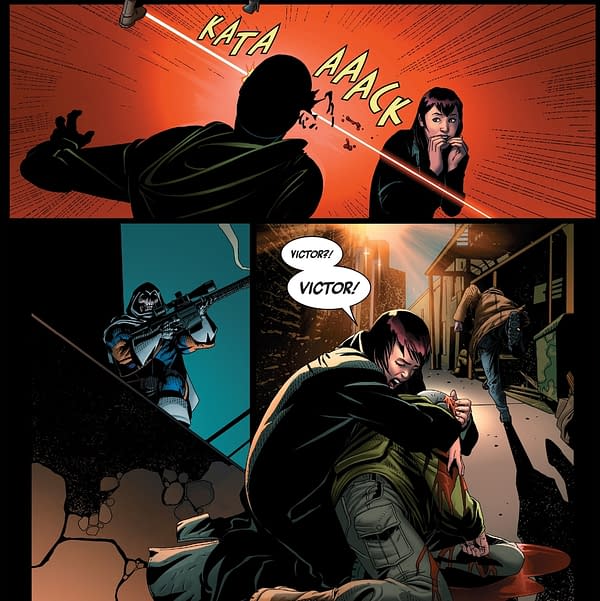 While over in Amazing Spider-Man #33…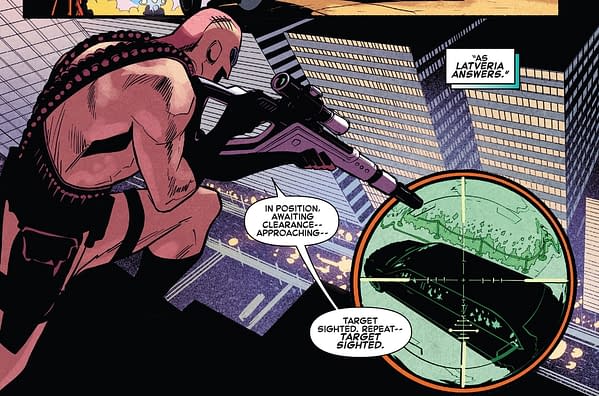 I mean how many rooftop snipers can there really be trying to kill Doctor Doom? And how many of them are robot duplicates?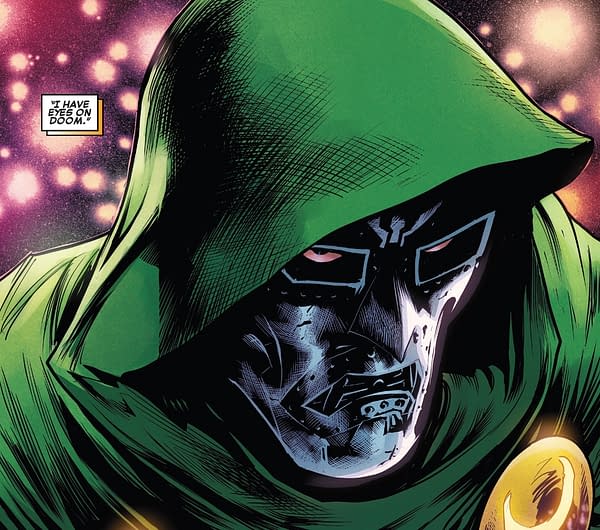 At least today's Savage Avengers #7 has a different sort of threat…
And what of a certain painting hanging Doom, of the god Saturn, or Cronos, devouring his own children, as pained by Goya. The god of the harvest – but the price is a very high one.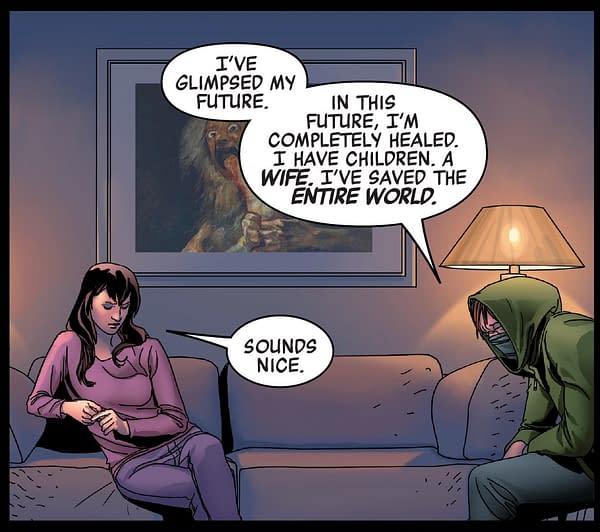 Will Doom find himself destroying Latveria in issues to come?
AMAZING SPIDER-MAN #33 2099
(W) Nick Spencer (A/CA) Patrick Gleason
THE FUTURE IS IN PERIL!
• Miguel O'Hara's mysterious return to the present threatens his life and his entire future. But why?
• As for OUR time's Spider-Man, he's got his hands full with classic villains, family problems and international incidents that intertwine in terrifying ways!
Rated TIn Shops: Nov 06, 2019
SRP: $3.99

IMMORTAL HULK #26
(W) Al Ewing (A) Joe Bennett (CA) Alex Ross
• He's got an underground fortress. He has powerful allies. He's even got henchmen.
• He's got everything he needs to declare war on human society as we know it. He's the most dangerous man in the world…
• …and BRUCE BANNER is just getting started.
Parental AdvisoryIn Shops: Nov 06, 2019
SRP: $3.99

DOCTOR DOOM #2
(W) Christopher Cantwell (A) Salvador Larroca (CA) Aco
DOCTOR DOOM has been taken prisoner by the world itself… but he may find unexpected aid in his escape. Now vulnerable and without his usual strength, he must keep a low profile on the streets of New York, or else risk being captured again. He'll seek out an old 'frenemy' for help and battle lethal opportunists, all while wrestling these visions he continues to have of a better, happier life.
Rated T+In Shops: Nov 06, 2019
SRP: $3.99

SAVAGE AVENGERS #7
(W) Gerry Duggan (A) Patrick Zircher (CA) David Finch
• Elektra and the Sorcerer Supreme, Doctor Strange, fight together against Kulan Gath's forces.
• Voodoo learns more about the evil sorcerer's plans to dominate Planet Earth.
• And Conan's trek North though South America takes an interesting detour…to Latveria. 'Nuff said!
Parental AdvisoryIn Shops: Nov 06, 2019
SRP: $3.99