DC Publishes Donald Trump Tweeting That He's Better Than Superman (Doomsday Clock #9 Spoilers)
Today sees the long-awaited publication of Doomsday Clock #9 by Geoff Johns and Gary Frank, the unauthorised sequel to Watchmen published by DC Comics.
Set in the very near future of the DC Comics universe, Donald Trump is still very much in office as President of the USA and is being presented with the series of events that has Superman being part of the Firestorm event in Moscow that killed hundreds. And being told what he has to do by his staff, in response…
'Huge' and 'Very Dumb' are the telltale signs. And the threat of prison being what turns him. As is his method of getting the word out, as the public tide turns against the superheroes in their midst. And the President of the United States tweets the new position of the United States Of America towards Superman.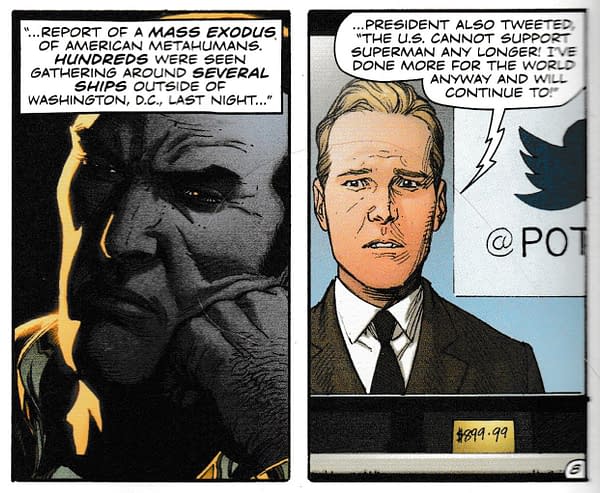 'The US cannot support Superman any longer. I've done more for the world anyway and will continue to.'
Dot dot dot dot dotdotdot… and Trump makes the case that he's done more than Superman. To be fair, Superman only rebuilt a wall rather than build one from scratch… with his brick vision or something.
While for those criticising Superman, the Green Arrow has a few choice words.
I wonder how much Superman or Green Arrow's… urine would be worth? And if it was in a Russian hotel room, would it be worth even more?
DOOMSDAY CLOCK #9 (OF 12)
(W) Geoff Johns (A/CA) Gary Frank
The critically acclaimed series by master storytellers Geoff Johns and Gary Frank reaches its most shocking chapter yet when the DC Universe collides with its greatest threat: Dr. Manhattan. But nothing is hidden from Manhattan, and the secrets of the past, present and future will rock the very foundation of the DC Universe.In Shops: Mar 06, 2019
SRP: $4.99