Doomsday Clock, the unauthorised sequel to Watchmen published by DC Comics, is currently taking up much of DC President Geoff Johns and Gary Frank's time. But before that, they were working together on the Batman: Earth One series — and indeed Gary Frank may have used the Batman design from that series of graphic novels on the Batman in Doomsday Clock, redesigning the near future look of the character in the process.
But what of Batman Earth One Vol. 3, on which art had begun?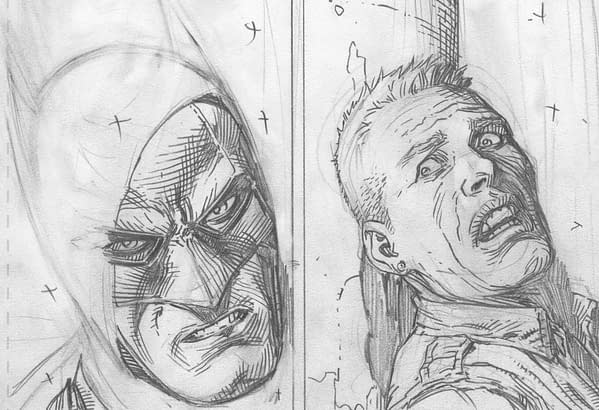 Gary Frank laid down the lay of the pages when asked.
We did about two thirds before starting Doomsday Clock. The plan is to get DDC done and then finish on BE1. Then we're going to….oh. No. I'm not allowed to say anymore, sorry.

— Gary Frank🥃⚽️🇬🇧🇮🇹🇪🇺 (@1moreGaryFrank) March 30, 2018
So two-thirds of Batman: Earth One Vol. 3 finished… so that's around a hundred pages in the can. More when it's available, I'm sure. Geoff Johns got a first look at pages when he visited London back in the summer of 2015.
Batman: Earth One is a series of graphic novels published by DC Comics as part of the Earth One line by Geoff Johns and Gary Frank. Vol. 1 was released on July 4th, 2012. Vol. 2 was announced for a 2013 release but postponed and, as a result, was released on May 6th, 2015. Doomsday Clock is the main reason we're not getting Vol. 3 in 2018.
Enjoyed this article? Share it!