Is Geoff Johns Using Doomsday Clock to Bring Back the Legion of Super-Heroes? (#4 Spoilers)
Doomsday Clock, the unauthorised sequel to Watchmen published by DC Comics, reaches its fourth issue today. And previews were there none…
The emotional focus of this issue is going to be Moth Man. Appearing briefly in Watchmen as a member of the Minute Men, institutionalised into an asylum for the insane, memorably seen in the introduction of Zack Snyder's movie as well, it is Reggie's own psychiatric break as a result of Veidt's genocidal action in New York with the 'psychic squid' that brings them into contact with each other. And it's utterly brilliant, touching, and possibly my favourite Doomsday Clock moment to date.
But there is also a sign of Geoff Johns bringing more of his continuity together. And just as previous issues have seen a nod to him returning the Justice Society of America to continuity, as the back of DC Rebirth Special #1 promised… could be now see Legion of Super-Heroes doing the same? And if so, does that mean Shazam is also on the cards for the series?
Because in Doomsday Clock #3 Batman put Reggie Long, the new Rorschach, son of the original Rorschach's psychoanalyst Malcolm Long, into the DC Universe's Arkham Asylum. Sensitive bugger. Of course, someone else has been there as well. Saturn Girl. Who appeared in DC Rebirth #1 by Doomsday Clock creative team Geoff Johns and Gary Frank… A Legionnaire from the future… Dubbed a 'Jane Doe' and placed in Arkham Asylum. While in Justice League vs. Suicide Squad, Emerald Empress came looking for her. Joined the Justice League of America to gain more information about her.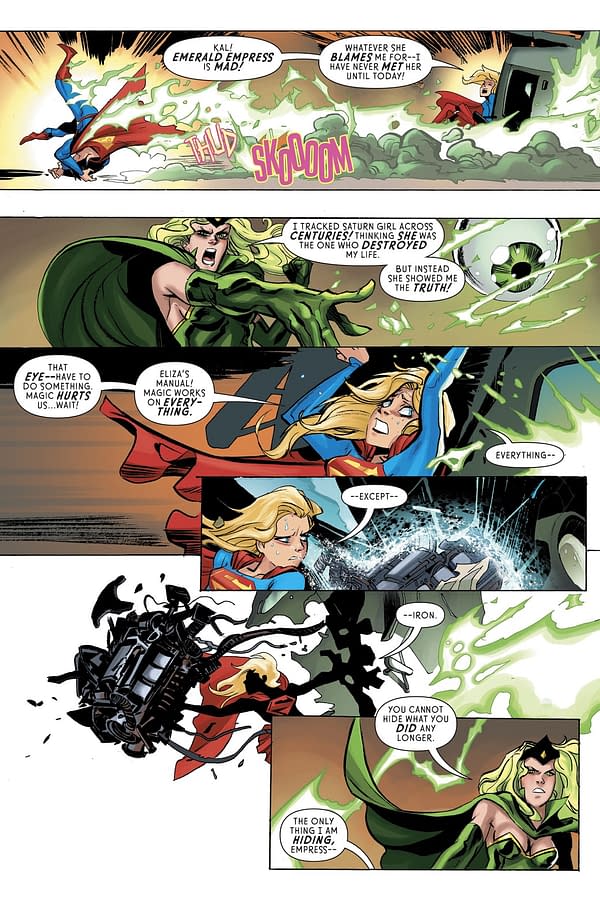 But in Supergirl, appears not to have found what she wanted.
While in the Batman/Flash crossover The Button, also written by Geoff Johns, we see her dealing with history playing out.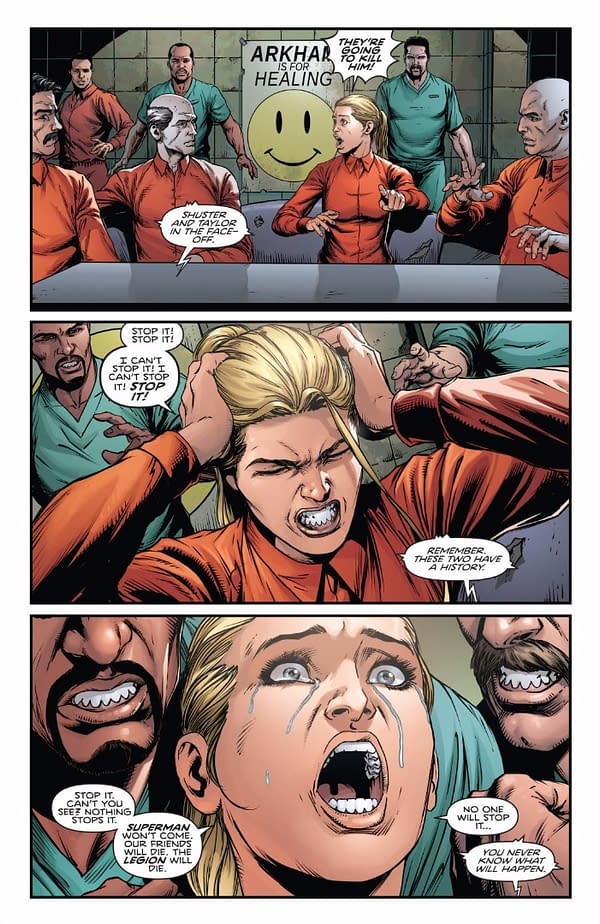 It didn't go well. And now, in today's Doomsday Clock, it's Reggie's turn to be psychoanalysed. Again. Just as the original Rorschach was by Reggie's father, Malcolm Long. Not that they know his name, he is another John Doe.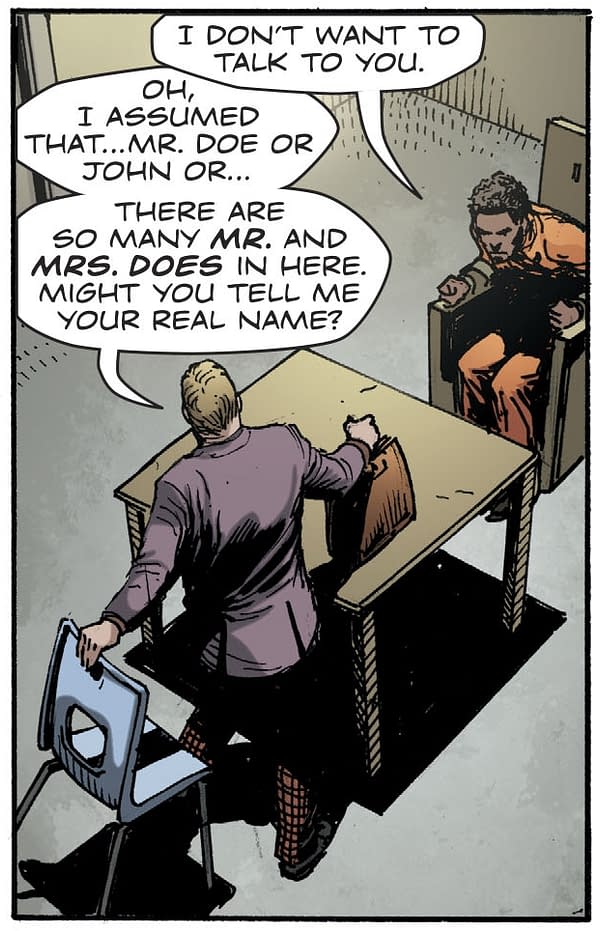 And we already know of another of the Jane Does at Arkham Asylum.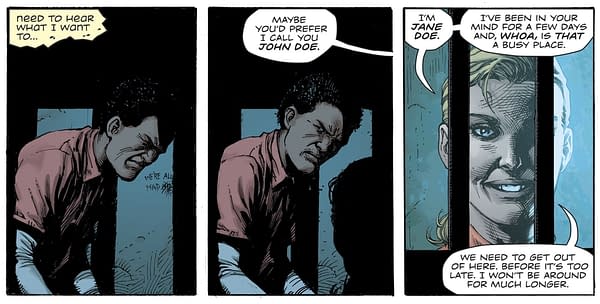 And, yes, there is a blue light. A big blue light…
Hello, Mothman. And a very cool ending too…
DOOMSDAY CLOCK #4
(W) Geoff Johns (A/CA) Gary Frank
The series you thought you'd never see reaches its fourth issue with a shocking revelation about the aftermath of Ozymandias' actions and how they reach into even the darkest corners of the DC Universe. Don't miss the latest chapter by the acclaimed team of writer Geoff Johns and artist Gary Frank!In Shops: Mar 28, 2018
SRP: $4.99