Dynamite Keeps The Talent Happy – The10th Anniversary Panel at NYCC with Diggle, Wagner, Calero, Van Lente, Pak, Gischler, Barbiere, Smith
Dynamite turns 10 in 2014, and Andy Diggle, Matt Wagner, Dennis Calero, Fred Van Lente, Greg Pak, Victor Gischler, Frank Barbiere, and Cory Smith turned out as part of a pretty impressive line up at the end of Dynamite's first decade.
Andy Diggle spoke about his "supernatural crime thriller" Uncanny, drawn by Aaron Campbell, where central character Weaver can steal abilities from people by making skin contact. The new series Control, announced this week by Diggle, is a book that he's writing with his wife Angela, who he's managed to talk into "officially" co-writing with him. Control , drawn by Ben Oliver, is a police procedural thriller set in Washington DC, with "power players at the top" and "the guys at the bottom". Dennis Calero is working with Steve Niles on Ash: Army of Darkness with "skeletons, wizards, and sexy ladies in night outfits".
Fred Van Lente is doing a revival and reboot of a '60's comic in Magnus featuring a superhuman who has been raised to liberate a city from robot control. There's a lot of "karate chopping robots' heads off", he warned. Cory Smith added that he's happy about working on the "legacy" that Magnus has and combining new elements "organically". Van Lente is also working on an often sold out humorous series The Mocking Dead, tracing initial outbreak and the series of misfortunes that lead to apocalypse. While the world is "collapsing around them", nerds realize the events in play are similar to an old horror movie, which they attempt to track down.
Greg Pak will be writing Turok: Dinosaur Hunter, about a young Native American who is estranged from his tribe, so when dinosaurs start to appear in his world, "he has to make some decisions about who he's going to stand with". The situation and character raise a lot of questions, such as "What about this world could explain that kind of information?" Looking back over the original Gold Key series, Pak saw lots of "consuming of dinosaurs" and thought they were "awesome". He wants to "be true to this crazy ideas we've come up with" and "enjoy it".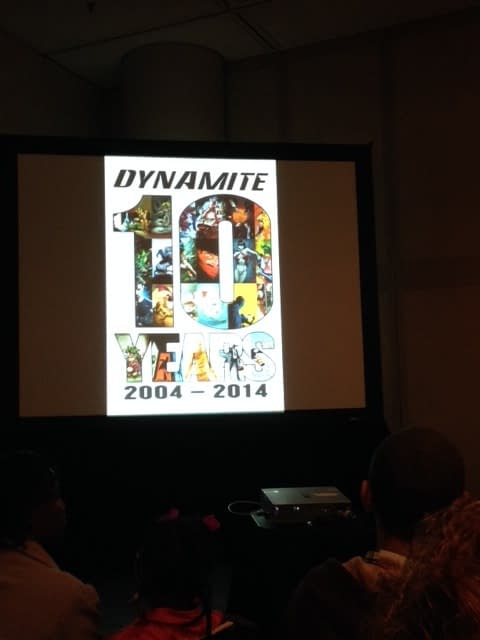 Victor Gischler will be working on more Noir, with Black Sparrow and Miss Fury in a cross-over. The Shadow is guest-starring in the first issue.
Frank Barbiere will be joining the Gold Key relaunch with Doctor Solar. It's traditionally been a very sci-fi book, but he's been working on building an "internal world" and "focusing on a network of characters that make him more interesting, show who he is and why he is important". Barbiere loves the '60's stuff behind the character, but he's built a new supporting cast and family, and played with the powers of Solar. There'll be plenty of action and sci-fi, but also a grounding in character. Barbiere says that for him, it was "an awesome opportunity to say, ok, here's what I think is cool about Doctor Solar" rather than being handed an older story and being expected to simply update it.
Dynamite publisher and CEO Nick Barrucci spoke about approaching properties as Dynamite always has, asking, "Why hasn't this been made into a comic? and "What needs to be done?". The two-pronged approach is what seems to have allowed these creators the freedom they are looking for, to start with a property that inspires their imagination, and then to move in directions that go well beyond simple updating into a more modern vein. With reinterpretation allowed, and even encouraged, Dynamite is setting up a strong position for keeping the talent happy as they enter their second decade.
Hannah Means-Shannon is Senior New York Correspondent at Bleeding Cool, writes and blogs about comics for TRIP CITY and Sequart.org, and is currently working on books about Neil Gaiman and Alan Moore for Sequart. She is @hannahmenzies on Twitter and hannahmenziesblog on WordPress. Find her bio here.