Posted in: Comics | Tagged:
---
Eisner Awards 2020 Judges Announced – Jamie Colville, Martha Cornog, Michael Dooley, Alex Grecian, Simon Jimenez, Laura O'Meara.
Jackie Estrada has announced the six judges for next year's Eisner Awards, to be presented at San Diego Comic Con. And we at Bleeding Cool are especially pleased to see that friend-to-Bleeding Cool, Jamie Colville, is among them, as well as Martha Cornog, Michael Dooley, Alex Grecian, Simon Jimenez, and Laura O'Meara.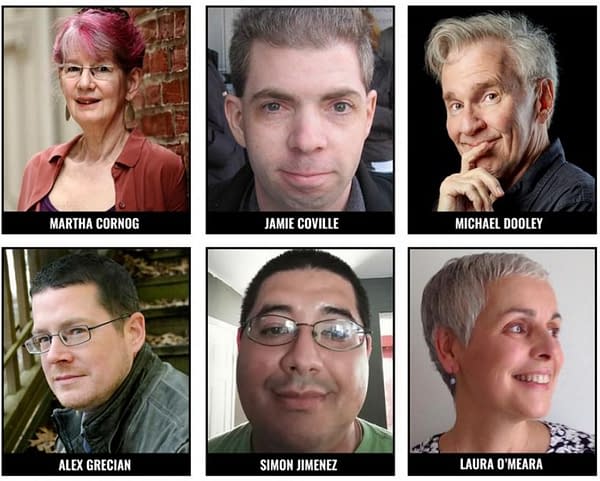 Martha Cornog has written graphic novel reviews and articles for Library Journal since 2006. With her late husband, Timothy Perper, she co-edited Graphic Novels Beyond the Basics (2009) and Mangatopia (2011), as well as written reviews and articles about comics for Mechademia, International Journal of Comic Art, The Journal of Sex Research, Contemporary Sexuality, and Sexuality & Culture. She adapted three volumes of Katsu Aki's Manga Sutra into English for Tokyopop; was a judge for the Glyph Awards to honor the best in comics made by, for, and about people of color; and has moderated panels at the American Library Association, the Wildcat Comic Con, and the Graphic Medicine Conference. She is currently writing and drawing Comic Troika, a comics adaptation of three Russian literary satires, for McFarland Publishers.
Jamie Coville has been researching and writing about comic book history since 1996. From 1998 to 2012 he did interviews, comic book reviews, and other articles for CollectorTimes.com. His work is referenced in numerous print books and academic papers. Since 2005 he has been audio recording panels at various conventions around the United States and Canada, which are placed on TheComicBooks.com and get used by numerous comic book news sites. He was on the Nomination Committee of the 2008 and 2010 Joe Shuster Awards. Starting in 2015, he has been compiling all the "best comics/graphic novels of the year" lists into a single spreadsheet, identifying the books with the most picks by hundreds of different reviewers.
Michael Dooley has been writing comics features, essays, and reviews for more than 30 years. He wrote for The Comics Journal and Amazing Heroes in the 1980s. In 1990 he became a contributing editor at Print, the graphic design magazine, which includes interviews with Trina Robbins, David Mack, Peter Kuper, Keith Knight, Denis Kitchen, Mimi Pond, and Ted Rall. Michael currently teaches Design History of Comics and Animation at L.A.'s Art Center College of Design, with guest speakers such as Bill Sienkiewicz and Howard Chaykin. His books include The Education of a Comics Artist.
Alex Grecian is a New York Times bestselling author of comic books and thriller novels, including The Yard and its sequels. He wrote and co-created the critically acclaimed comics series Rasputin and Proof. Both series are currently being developed for TV. He also wrote the original graphic novel Seven Sons, as well as numerous short prose and comic book stories for various publishers including DC/Vertigo and Image, and successfully crowdfunded the comics anthology Bad Karma. He is the proud recipient of an Inkpot Award. He lives in the Midwest with his wife and son, and a dog and a tarantula.
Simon Jimenez is a freelance writer, part-time journalist, blogger, and podcaster who focuses in the areas of Japanese manga, anime and its history, American comic books, and both the underground and subcultures aspects of pop culture. Simon has served as a volunteer with the San Diego Comic-Con since 2000 and currently works on the Robert A. Heinlein Blood Drive. He has also been a judge on the Russ Manning Promising Newcomer Award committee for the past few years.
Laura O'Meara has co-owned and operated Casablanca Comics in Portland, Maine with her husband, Rick Lowell, since 1987. In addition to fostering a love of reading comics and graphic novels with customers, Laura has worked with over 100 libraries over the past 20-plus years, building their collections. Selecting graphic novels for juvenile, young adult, and adult collections that result in high circulation thanks to the quality and merit of the material has been her passion. Working with her husband, she has helped to identify artists such as Jeff Lemire, Raina Telgemeier, and Kazu Kibuishi early in their careers to host as guests at their Maine Comics Arts Festival (MeCAF). Laura embraces the challenge of curating the shelves of Casablanca Comics by selecting works that highlight the stunning talents of the comics industry.
The judges will meet in San Diego in late March to select the nominees that will be placed on the Eisner Awards ballot. The nominees will then be voted on by professionals in the comic book industry, and the results will be announced in a gala awards ceremony on Friday, July 24th at Comic-Con in San Diego. Guidelines for submitting material for the judges will be announced on the Comic-Con website in early January. The deadline for submitting nominations is March 13th, 2020.
The Eisner Awards are presented under the auspices of the San Diego Comic Convention (Comic-Con) a California Nonprofit Public Benefit Corporation organized for charitable purposes and dedicated to creating the general public's awareness of and appreciation for comics and related popular art forms, including participating in and support of public presentations, conventions, exhibits, museums and other public outreach activities which celebrate the historic and ongoing contribution of comics to art and culture.
---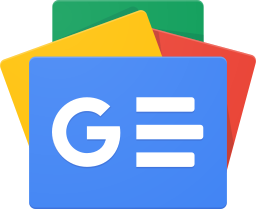 Stay up-to-date and support the site by following Bleeding Cool on Google News today!