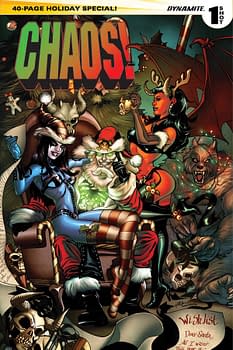 Steve Seeley has been working with his brother Tim Seeley on the latest Evil Ernie series for Dynamite and now he's getting into the Christmas spirit with the Chaos! Holiday Special. Byron Brewer spoke with him about the upcoming special and his involvement with the relaunch.
BYRON BREWER: Steve, your brother Tim has really been a big part of the return of the Chaos! characters. Are you enjoying this resurgence in these classic characters at Dynamite?
Steve Seeley: Oh man, absolutely. I've been a fan of Chaos through all of it's incantations starting way back with the Eternity Evil Ernie series. Dynamite definitely has done the Chaos justice.
BB: Chaos! Holiday Special: Is this one-shot mostly reprints, new material or a combination of both?
Steve Seeley: All new material! It's three stories. A Chosen story by Mike Moreci, a Ernie story by me and then a bizarre holiday paradox song featuring Lucifer and his minions writing by me as well.
BB: So what fun Chaos creatures will we be seeing in this special? Any previously unseen since the CU's return in Dynamite Comics?
Steve Seeley: No previously unseen Chaos characters but all kinds of fun creatures. I really wanted to figure out a Lynch Mob story, but Ernie is just too perfect to put through the Christmas filter.
BB: Tell us a little about the plot.
Steve Seeley: Ernie and Smiley break into Santa's North Pole compound because they have a plan to streamline their whole "killing of bad guys" thing. However it doesn't quite go as planned.
As for the song, it was me channeling Weird Al. It's a parody of a classic Christmas time jam involving Lucifer's attack on a war torn town. However it's not all that funny. Infact its sort of bleak. Sorry Weird Al. But fear not, both The Chosen and Ernie story are tons of fun!
BB: We will see any killer Santas? Maybe some psycho snowmen on the loose??
Steve Seeley: A little of both. My Santa isn't a killer though. But he is extremely shiny and buff.
BB: How has it been working with artists as talented as Rodolfo Rodriguez, Juan Antonio Ramirez, Carlos Reno? Very cool!
Steve Seeley: It's been a pleasure. All those guys are talented as hell so seeing the pages come in has been super exciting.
BB: Do you see any Chaos character spinning out of this one-shot to a solo?
Steve Seeley: Buff Shiny Santa definitely has a future in the Chaos universe. Move over Chasity, there's a new sexy in town!
For more on the Chaos! Holiday Special, click here.
Enjoyed this article? Share it!