Ethan Sacks' Fire Breathing Writer's Commentary on Kiss Zombies #5
You may now know him from the new Covid Chronicles from AWA on NBC.com, where he is definitely working for Axel Alonso and not Bill Jemas. But Ethan Sacks has a Writer's Commentary for his Kiss Zombies comic just out from Dynamite Entertainment. He writes.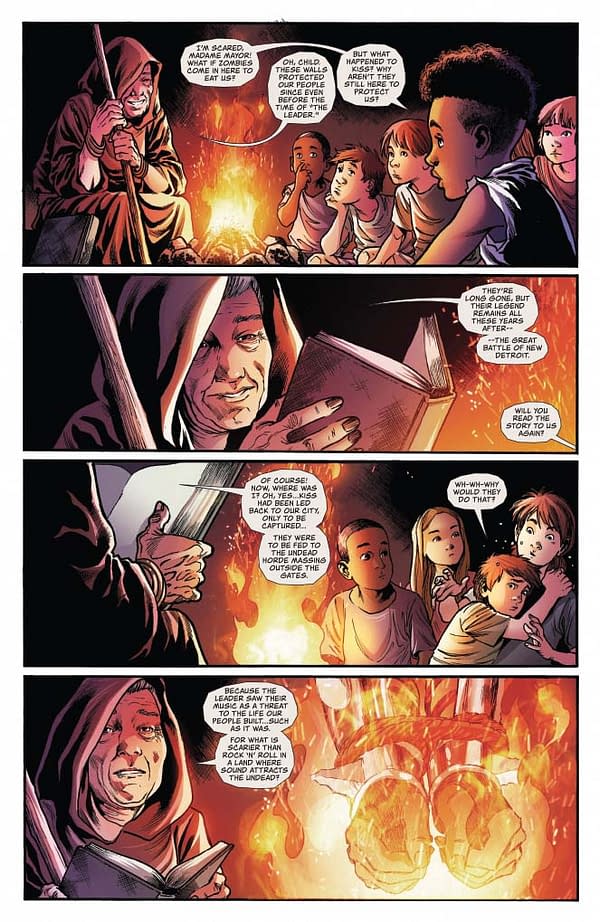 Page 1:
It all comes down to this! When crafting my original pitch and outline for Kevin Ketner, my editor at Dynamite, I wanted to end the series with a big showdown in New Detroit. In order to convey the appropriate scale of that battle, I thought I'd bookend the issue with a flash-forward: a mysterious narrator who is passing on the tale to a younger generation. But they are huddled around a fire, seeming to indicate that maybe the battle was lost as they seem to be hiding in the dark. Really going for a sense of mystery there.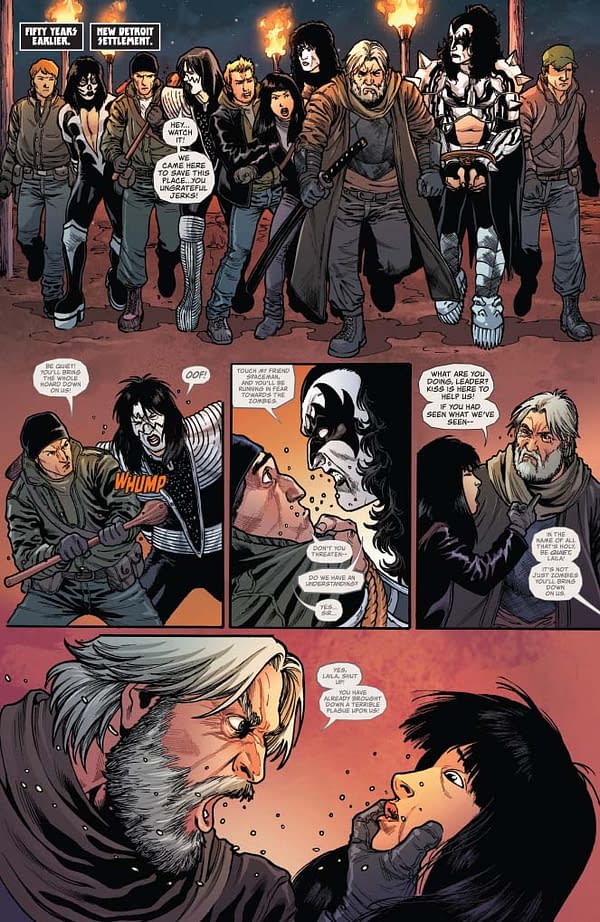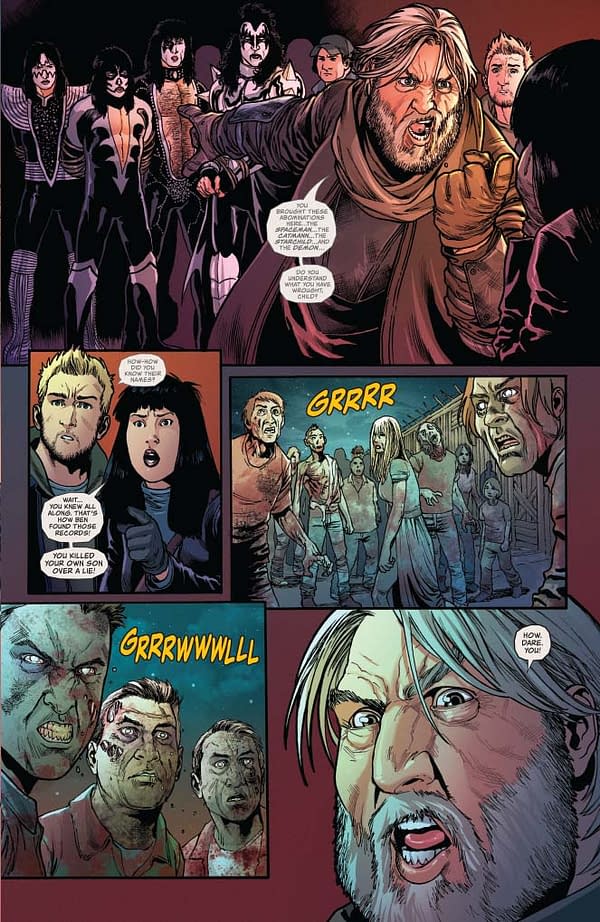 Page 2-3:
Cut back to the "present" – which is actually 70 years from our present – where we pick up where we left off from the last issue. Kiss has been captured by the forces of the Leader and are going to be executed. Over the next few pages, we learn more about the extent to which the Leader will cling to power. He believes he's acting for the best interest of his people. After all, rock music is loud, and the zombies that have overwhelmed the planet are drawn to sound…
But he inadvertently reveals to Laila that he knows the name of the band members – Demon, Starchild, Catman, and Spaceman – which shows he knows more than he's telling. Remember when he had his own son sacrificed to the zombies at the beginning of issue one of the series? It turns out that Ben had stumbled on his own father's old records.
Now we all know Rodney Buscemi, our amazing artist, draws a mean zombie, but I hope readers have noticed that he draws tremendous detail into the individual faces. They look so lifelike as if they were once real people. Well, they are. I can say that because THAT'S ME and two of my friends, Raj and Gem, in the bottom panel. We look like we let ourselves go slightly more than usual. At least I know what happened to me during the zombie apocalypse. Sigh.
Page 4-5:
As the confrontation between Laila and the Leader gets more heated, they stop modulating their voices, which starts to draw a bigger horde towards the gates. When the Leader orders Laila's execution, her boyfriend, Crusher, loses it and blurts out that he killed his own best friend, Hank (back in Issue 3). In the process, he's revealed that he's been spying on Kiss for the Leader. That is not going to be good for his relationship.
Page 6:
All the yelling has drawn enough zombies to breach the gate and speaking of drawn, notice Rodney's zombies on that virtual splash page. What did his poor friends do to him to warrant such horrific depictions?
Also note the amazing job by colorist Dijjo Lima, who manages to bathe the truly horror beats in darkness and make the zombies' pallor look so creepy. To me, he's been as important to the mood and tone of this series as cinematographer Darius Khondji was to "Se7en."
Page 7-8:
From the beginning of this series, I wanted to loop back to Ben's death at the instructions of his own father at the beginning of Issue 1 in the final issue. I wanted the Leader to be eaten by the zombified version of his own son—a little bit of a metaphor for the way hate devours itself. Talk about an inter-generational inability to understand each other!
On the flip side, Laila steps up as a leader, coming up with the plan to save her people….
Page 9:
From the beginning, as a Kiss fan myself, I wanted to have two major action beats feature Gene Simmons that mirrored his signature concert theatrics. We did the flying on bat wings stunt in Issue 2 when he jumped off the top of Madison Square Garden. And now, we did the fire breathing stunt. So cool to see him charbroil some zombies that way.
And another shoutout for Dijjo, whose flames look so real you can practically feel the heat rippling off the page.
Page 10-11:
I didn't want to leave the rest of Kiss out of the fun. This is a four-piece band, and so I wanted to give Paul, Ace, and Peter their solos, so to speak.
Also, we start to see the plan: You have the best rock and roll band in the world, you may as well put on a concert!
Page 12-13:
This two-page spread was envisioned from the beginning of the series. The way to stop zombies that are sensitive to sound is to basically Shout It Out Loud! Originally in the script, I had the opposite perspective, looking at the stage from afar from the perspective of a sea of zombies. Rodney flipped the script…literally. That's a great artist, kids, he had a cinematic eye and made it so much better than I originally imagined.
Also, the letterer is the rhythm section of the band of comic creators. And Troy Peteri really nailed this series, on everything from rock lyrics to truly disgusting sound effects.
Page 14-15:
In any work of fiction, you need to make sure the major characters go through an arc, and Crusher, as despicable as his crime was, is no exception. I wanted to give him a heroic death. Whatever other qualities he had, he did love Laila and was willing to sacrifice himself to buy her and the others more time.
Page 16-17:
The plan works! Kiss played loud enough to blow the minds of their audience literally. That was the payoff we planned from the beginning. I listened to "Shout It Out Loud" about three dozen times in a row as I wrote that scene.
Page 18-19:
For the coda after the big finale number, I wanted to sow the seeds of a potential sequel. How cool would it be to see Kiss traveling across a zombie-infested North America kicking ass ("Cannibals of Canada?!?")? And after putting in little homages to movies, particularly the Romera film nods in Issue 3, the bus is a little tip of the cap to "Road Warrior." You know, just in case we get that sequel…
Page 20:
On the final page, it's revealed that the narrator from the beginning of the issue is none other than Laila! In a masterful stroke by Rodney, she's drawn in the exact same pose as the younger version of her 50 years earlier. But we see the future isn't as bleak as we hinted on page 1. There's now hope for the future as (New) New Detroit looks a lot more idyllic than it once did. Ah, the power of rock n' roll!