Archie has announced a new ongoing series, Betty & Veronica Vixens, coming to comic shops in November from Archie editor and writer Jamie L. Rotante and Eisner-nominated Kim & Kim artist Eva Cabrera.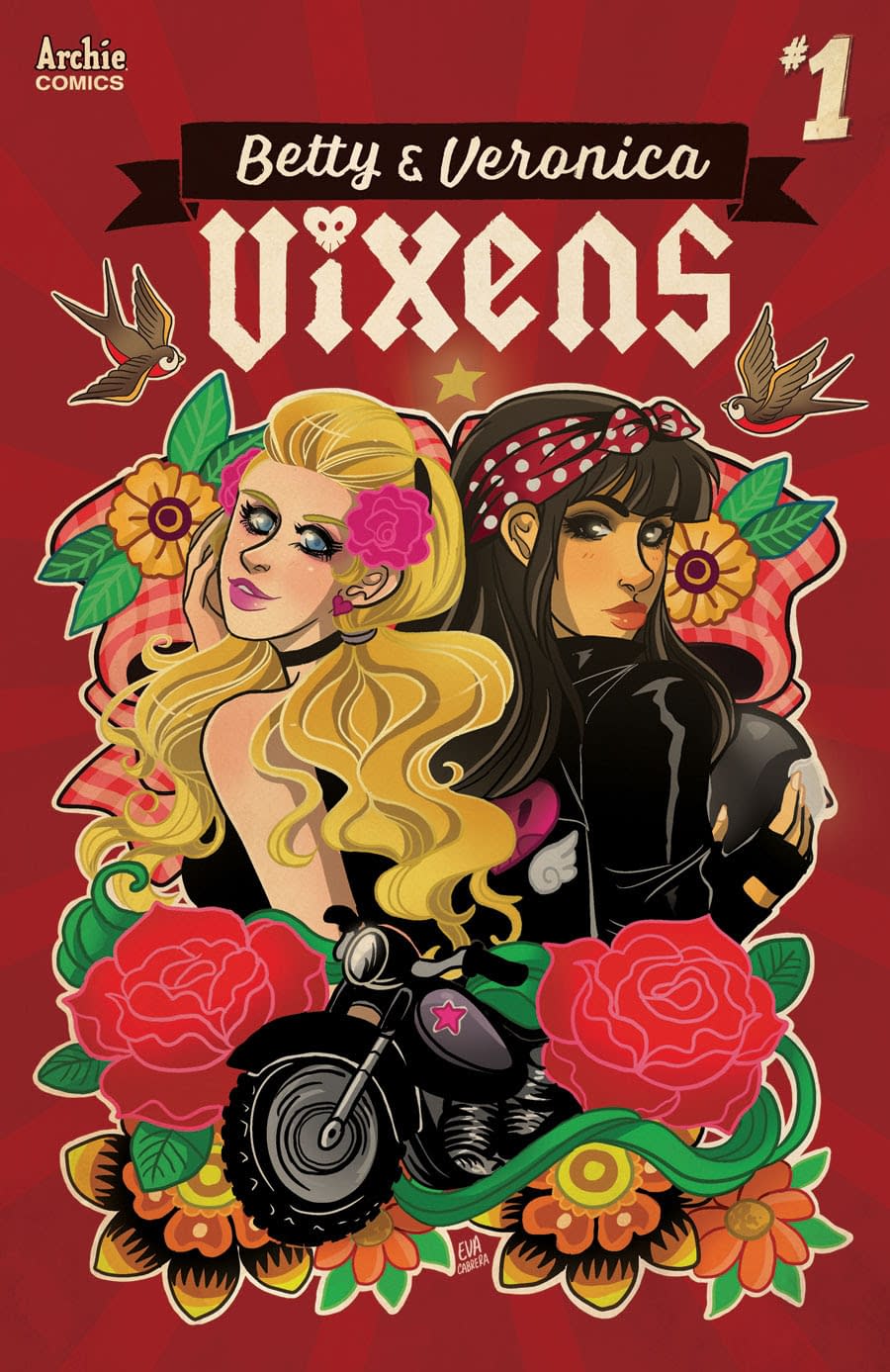 Along with a new Mighty Crusaders series from Ian Flynn and Kelsey Shannon and an upcoming Cosmo revival from Flynn, Betty & Veronica Vixens is billed by the publisher as an expansion of their catalog, a power grab for market share across multiple genres.
"Archie can do anything," said Archie Comics CEO/Publisher Jon Goldwater in a press release. He did not specify whether they could shoot someone on fifth avenue and not lose readers, but it was probably implied. "It's not just one kind of comic, show or concept. You can do a horror Archie story, you can do a superhero Archie story, you can do a drama or comedy."
Could you do an Archie story with a goat? Would you do one on a boat?
"Archie Comics has a wide, diverse and multi-faceted library of characters and we're trying new things with our IP in order to keep fans engaged," Goldwater bragged.
So what's this particular new thing about, you ask? What's not to get about it? We already told you, Kim & Kim artist Eva Cabrera launches Betty & Veronica Vixens series. It's right in the headline.
Okay, fine. The press release has details if you're not already sold:
The world's most famous BFFs return with a vengeance this November! Betty and Veronica are the leaders of the toughest gang in Riverdale, the Vixens, in the new ongoing series from writer Jamie L. Rotante, artist Eva Cabrera (Kim & Kim), colorist Elaina Unger and letter Rachel Deering. An intense and action-packed journey alongside the girls of Riverdale High begins on November 15 in B&V VIXENS #1.
"Betty and Veronica aren't just two young ladies who happen to like the same boy—they're two hard-working, intelligent and strong women who maintain a friendship despite their differences; consistently defying all expectations to overcome the odds stacked against them," said Rotante in the press release. "That's something I really wanted to explore with this series—and not just Betty and Veronica, many of the female Archie Comics characters will get a chance to tell their own unique stories in a way that's fun and action-packed."
"Working for Archie Comics is a dream come true for me, and this was the very reason I started doing comics!" said Cabrera. "I feel this project was meant for me because I adore Motorcycles AND the Archie girls! I'm sure everyone will love it! Besides, who doesn't love all-girl motorcycle groups?"
Nazis, probably. Nazis don't like all-girl motorcycle groups.
This one hits stores in November.
Enjoyed this article? Share it!