Kong On The Planet Of The Apes is a series currently published by Boom Studios by Ryan Ferrier, Carlos Magno and Alex Guimaraes. With King Kong. On the Planet of The Apes. The clue is in the name. The series is being collected for October from Boom – but it appears that Loot Crate subscribers will get an exclusive early version of the collection in June's crates.
The theme for June 2018 is Colossal. So you'd expect a lot.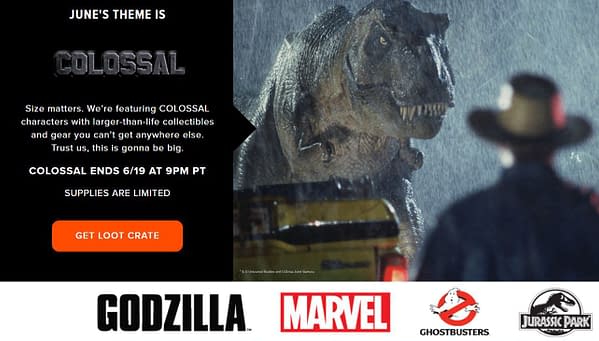 But it won't be in the standard crate, which will have items from Godzilla, Marvel, Ghostbusters and Jurassic Park. Instead, the Kong On The Planet of The Apes exclusive release will be in the rather more expensive Loot Crate Dx version.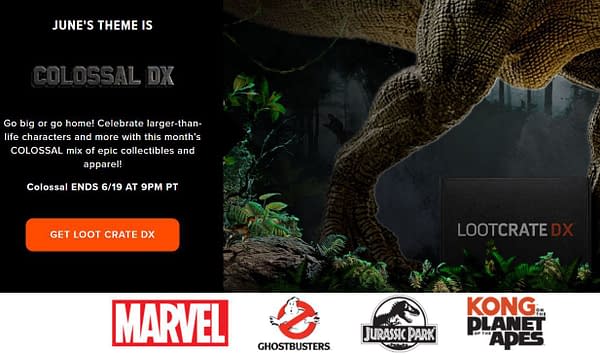 With items from Marvel, Ghostbusters, Jurassic Park and, yes, Kong On The Planet Of The Apes.
You can sign up for either crate at this link, with the code BLEEDINGCOOL to get added discount if you wish.
Here's a preview of the collection with the general release cover.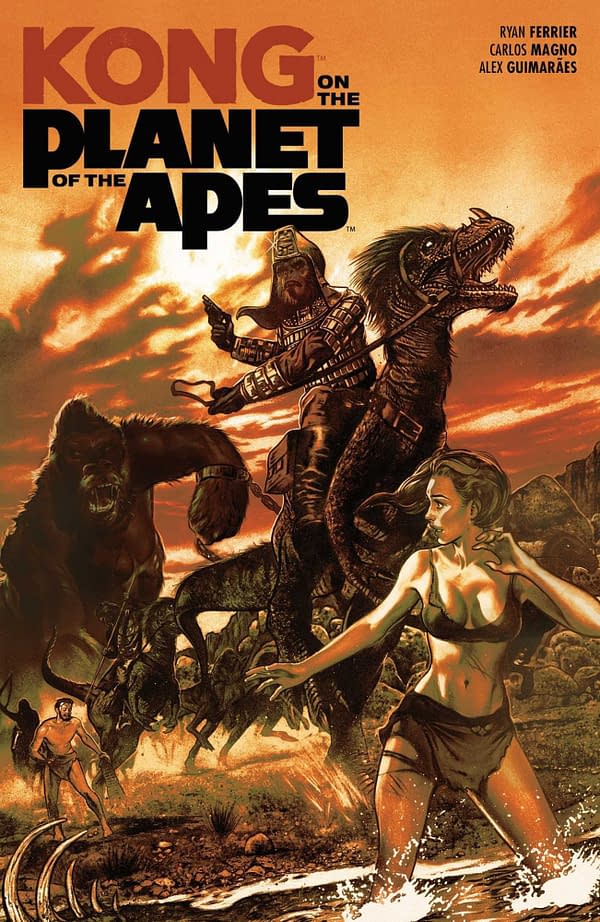 The last remaining Kong is brought to Ape City but when he sees what the Apes have done to humanity, Kong fights back!

Following the events of the original Planet of the Apes 1968 film, Dr. Zaius and General Ursus lead a small group of soldiers to the Forbidden Zone to destroy any remaining evidence of Taylor's time among them. To their surprise, they discover…A KONG! Now they must venture to Skull Island with Cornelius and Zira to discover the truth, but they may not survive the deadliest journey of their lives!

From fan favorite Ryan Ferrier (D4VE, Batman/Teenage Mutant Ninja Turtles II) and critically-acclaimed Carlos Magno (Kong of Skull Island, Planet of the Apes) comes the ultimate showdown of Ape vs. Kong!
Loot Crate is a monthly subscription box for the geek demographic that has been running since 2012. Their themes change monthly and can be anything from 'Invasion' to 'Anti-Hero' to 'Future'. Loot Crate teams up with lots of companies such as DC, Marvel, and Nintendo to create a what is intended to be an exclusive and value-added array of merchandise in every crate. One-off crates with particular themes have been released, such as for Fallout 4 and Mass Effect. Loot Crate has also spun off into Loot Crate DX, Loot Crate Anime, Loot Pets, Loot Wear and specific brand boxes such as Firefly, JK Rowling's Wizarding World, Halo and more. They may have benefitted from the recent bankruptcy of rival subscription box Nerd Block.
Enjoyed this article? Share it!