Exclusive First Look At Dynamite's Books Shipping In November
Yesterday we did exclusive first looks at the covers and solicitation text for the second issues and trades shipping from Dynamite Entertainment in November. Today we have the balance of their books for the month including Battlestar Galactica, Evil Ernie, Grimm and Smosh.
BATTLESTAR GALACTICA VOL. 3 #4
Cover A: Alex Sanchez Cover B Subscription: Michael Adams Writer: Cullen Bunn Art: Alex Sanchez
There is peace between the Colonial Fleet and the Cylons, but calling it tenuous doesn't even begin to describe it. Mortal enemies must fight side by side against a grave threat just to stay alive. Can this treaty be trusted and for how long? The Battlestar Galactica continues its journey through uncharted space… And its strangest adventure yet!
BOO, THE WORLD'S CUTEST DOG #3 (OF 3)
Cover A: Agnes Garbowska Cover B: Steve Uy Cover C: Billy Martin Cover D Subscription: Photo Variant
Writer: Fernando Ruiz, Eric M. Esquivel, Agnes Garbowska Art: Fernando Ruiz, Agnes Garbowska, Rob Robbins
The adventures of the world's most adorable Pomeranian pup continue as internet sensation Boo and his best friends, Buddy and Bluebeary Pie, bring you along for the ride in this sensational third issue! Readers of all ages will be charmed by Boo's delightful demeanor and fun-filled stories!
CONTROL #6 (OF 6)
Cover: Ben Oliver Writer: Andy Diggle, Angela Cruickshank Art: Andrea Mutti
Kate has discovered the deadly secret of the Black Room. But the men who hold the keys to power will not let her live to reveal it to the world. This is no time for politics and professionalism: it's kill or be killed…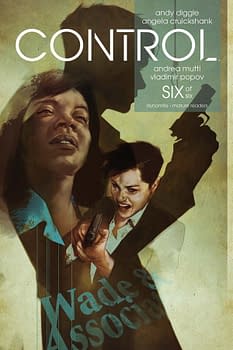 EVIL ERNIE: GODEATER #4 (OF 5)
Cover A: Lucio Parrillo Cover B: Kyle Strahm Writer: Justin Jordan, Keith Davidsen Art: Colton Worley, Cezar Razek
Hell has gone to hell with the arrival of the Godeater, and Ernie has one last chance to stop it before it's too late: he has to bring Heaven down to the pits! Justin Jordan, fan-favorite writer of The Strange Case of Luther Strode, continues his mind-blowing Chaos Comics epic! Meanwhile, in Chapter Four of our "Last Ditch Bitch" back-up story: How do you save death metal rocker Liv Halvorsen from the goddess Mistress Hel? Special guest star Chastity wrestles with the dilemma… while fighting tooth and nail against the Dead Onez!
GREAT DIVIDE #3 (OF 6)
Cover A: Adam Markiewicz Cover B: Ben Dale Writer: Ben Fisher Art: Adam Markiewicz
Paul fights for his life in the "Tiger Pit," while Maria is forced to choose between continuing her journey to Seattle alone or risking it all to save the man who killed her brother. Each issue of THE GREAT DIVIDE comes with unique digital content. Issue #3 includes a chapter from Sebastian Gibbs' self-help guide to post-Apocalyptic serial killing!
GRIMM VOL. 2 #3
Cover A: Maria Sanapo Cover B: Kyle Strahm Writer: Caitlin Kittredge Art: Maria Sanapo
When things have completely spiraled out of control, who can you call on to help set them right? Why the woman who is responsible for putting you in a coma, sleeping with your boyfriend, and turning you into a hexenbiest, of course! Juliette must fight her urges to get feral on Adalind in order to save innocent lives in the team-up we never expected to see.
LONE RANGER / GREEN HORNET #5 (OF 5)
Cover: Jan Duursema Writer: Michael Uslan Art: Giovanni Timpano
"The Lone Ranger Meets the Green Hornet: Champions of Justice" #5 of 5! In this last issue concluding the saga of the Reid family, the torch finally passes from The Lone Ranger to The Green Hornet… but is the price that must be paid in blood worth it? We cannot provide any more details of this story without using spoilers, but we truly believe our readers will find the denouement uplifting while at the same time being emotionally affected by the intense ending of a tale that has been 80 years in the making!
GARTH ENNIS' RED TEAM: DOUBLE TAP, CENTER MASS #5 (OF 9)
Cover: Dan Panosian Writer: Garth Ennis Art: Craig Cermak
With Trudy's life hanging in the balance, Eddie's behavior grows increasingly dangerous- until a new angle on the Eric Nightingale case sends him into uncharted waters. Meanwhile, another threat to Red Team emerges- this one from within, and entirely unforeseen.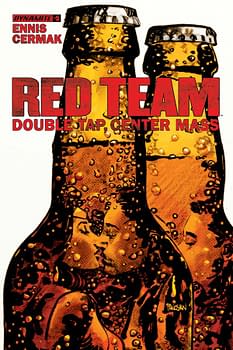 SIX MILLION DOLLAR MAN: FALL OF MAN #5 (OF 5)
Cover: Ron Salas Writer: Van Jensen Art: Ron Salas
The dissection of Steve Austin commences now. The race is on between O.S.I. agents and mad scientists alike to be the first to carve him apart and unlock the secret to building a cyborg army. Against overwhelming odds, and with the future in jeopardy, Steve has to hope he has at least one ally left.
SMOSH #6 (OF 6)
Cover A: Jerry Gaylord Cover B: Franco Viglino Writer: David Atchinson, Yale Stewart Art: Jerry Gaylord, Yale Stewart
Fortune and fame turn ugly when Box Man is forced to choose between money and morality when he's ordered to endorse boxguns. To use his powers for good instead of evil, Boxman goes on the lam, attempting to get as far away from the weapons as he can. But with no friends, no money, and the most recognizable face in America, how far can a man made of boxes truly get? And how does he stop his sponsor from unleashing boxguns on the world? Will Boxman find the love that eluded him as a human, now that he's a box? All these questions and more are answered in the Box Man origin finale, aka Smoshverse # 6!"