Exclusive First Look At Dynamite's Trades Shipping In November
And here we have an exclusive first look at the covers and solicitations for Dynamite's trades and graphic novels shipping in November. These include a Sherlock Holmes Omnibus, collections of Gold Key Alliance, Lords of the Jungle and Vampirella and an Art of Red Sonja.
ART OF RED SONJA VOL. 2 Hardcover
Cover: Jenny Frison Writer: Various Art: Various
Format: Softcover Page Count: 336 pages
Fiery in spirit, skilled in combat, lusty and bawdy in her revelry, the crimson-tressed heroine Red Sonja, known also as "The She-Devil with a Sword", is renowned as fantasy's most prominent female character. Since 2005, Dynamite Entertainment has been the proud home to Red Sonja, publishing hundreds of comics that have garnered critical acclaim and the devotion of a ravenous fan base. This second volume of the Art of Red Sonja showcases the fantastic illustrators and painters that have so perfectly captured the character's essence on cover artwork since 2010, including such comic book luminaries as Jay Anacleto, Ed Benes, Dan Brereton, Amanda Conner, Sergio Davila, Jenny Frison, Lucio Parrillo, Paul Renaud, Alex Ross, Mel Rubi, Marguerite Sauvage, Nicola Scott, and many more!
GOLD KEY ALLIANCE Trade Paperback
Cover: Felipe Massafera Writer: Phil Hester Art: Brent Peeples, Felipe Massafera
Format: Softcover Page Count: 120+ pages
Turok, Dinosaur Hunter. Magnus, Robot Fighter. Solar, Man of the Atom. The Mighty Samson. The legendary heroes whose adventures have thrilled comic book readers for over half a century are back, only this time they all share the same time and the same world – ours! Each warrior wrestles with the perils of the twenty-first century, but a greater evil is approaching, one that will unify the legendary champions in a struggle destined to change each forever.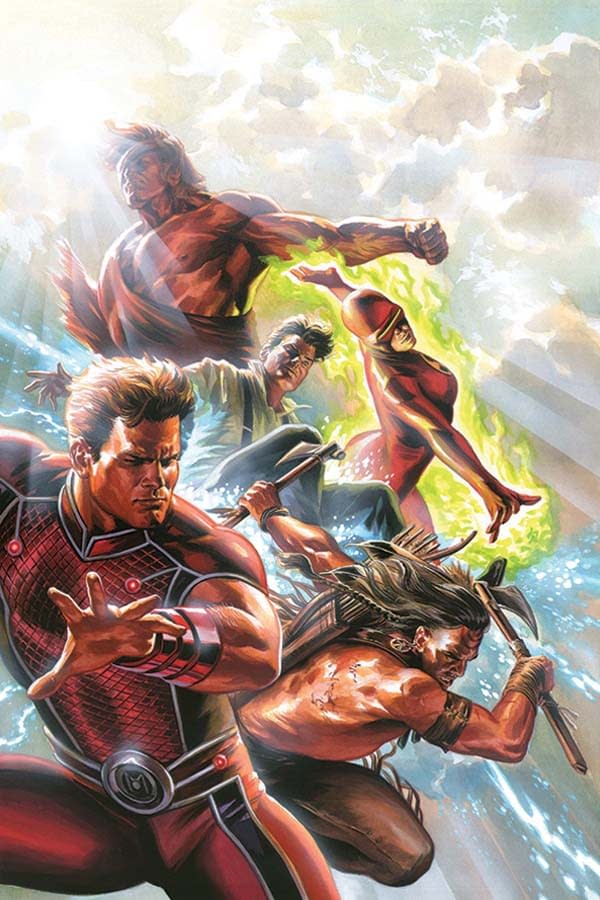 LORDS OF THE JUNGLE Trade Paperback
Cover: Alex Ross Writer: Corinna Bechko Art: Roberto Castro, Felipe Massafera
Format: Softcover Page Count: 152+ pages
Tarzan has long been the protector of his jungle stronghold… but now he journeys deep into his enemy's territory: the heart of London! Half a world away and nearly a century later, Sheena battles foes of her own when she is mysteriously swept through time and space to 1930's Africa, leaving her own land unprotected. Will these two Lords of the Jungle find enough common ground to join forces? Or will the resulting culture clash lead to mutual destruction? For the first time ever, literary great Edgar Rice Burroughs' Lord of the Jungle teams up with Sheena, the Queen of the Jungle created by comic book legends Will Eisner and Jerry Iger!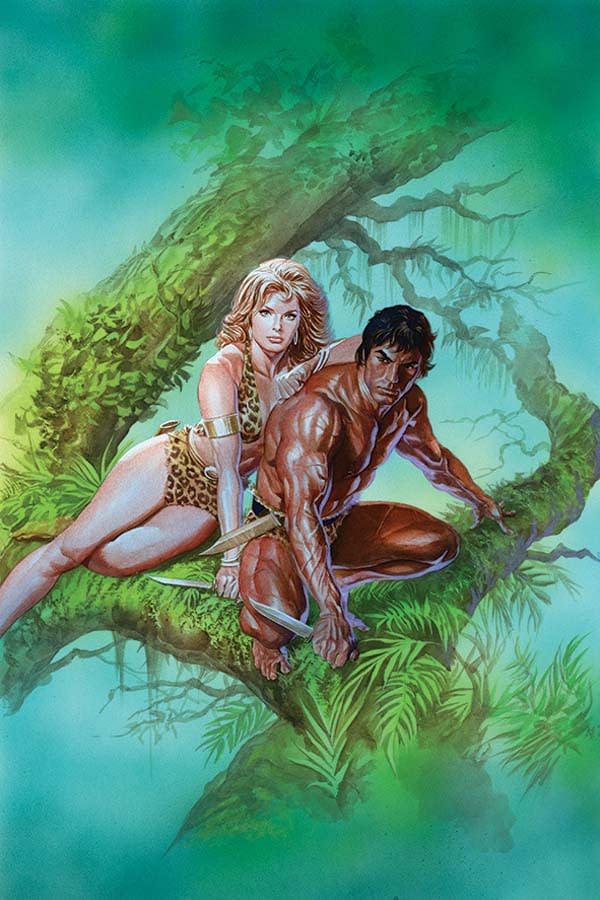 SHERLOCK HOLMES OMNIBUS VOL. 1 Trade Paperback
Cover: John Cassaday Writer: Various Art: Various
Format: Softcover Page Count: 400 pages
Presenting three captivating mysteries of Arthur Conan Doyle's beloved sleuth, Sherlock Holmes, in the first-ever Omnibus collecting his comic book adventures! From young Holmes' first encounter with Dr. John Watson, to the detective's role reversal as a suspect for murder, to a rash of Liverpool killings seemingly committed by a supernatural entity, the finest whodunnits in the Dynamite Entertainment library begin with this very volume! Collects the complete "Trial of Sherlock Holmes", "Year One", and "Liverpool Demon" storylines.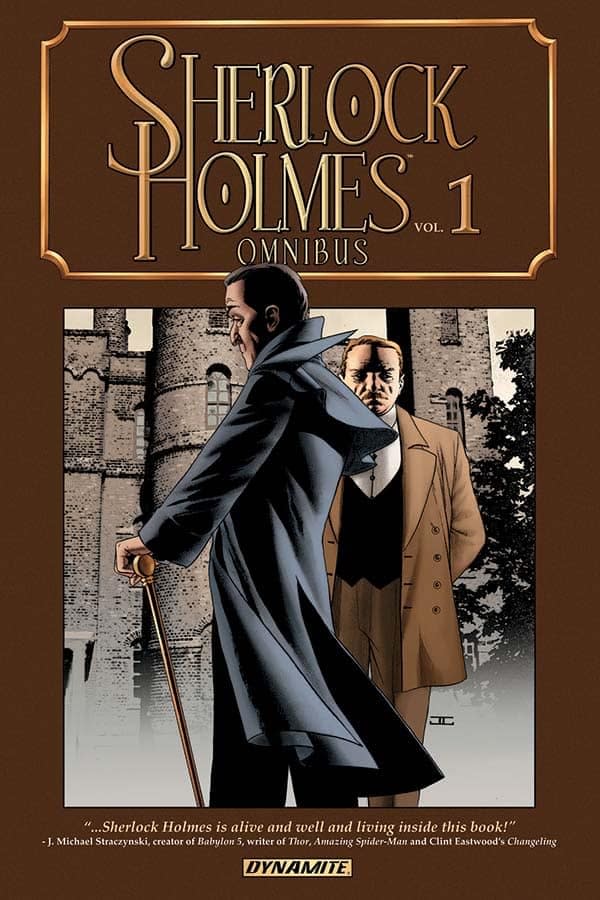 VAMPIRELLA: HOLLYWOOD HORROR Trade Paperback
Cover: Jenny Frison Writer: Kate Leth Art: Eman Cassalos, Chrissie Zullo, Sergio Fernandez Davila
Format: Softcover Page Count: 160+ pages
Vampirella takes Hollywood in this new adventure of the classic monster-slaying, thrill-seeking vampire queen! When her stately manor is attacked, the heroine begins to unravel a plot as old as the silver screen, using her public status as a viral video sensation to discover what monsters really lurk in the shadows of the City of Angels. Everyone in Hollywood seems to have their secrets, from the mysterious Slade to her new agent, Juliette Court. As Vampi's star rises, so do the stakes! XENA: WARRIOR PRINCESS – ALL ROADS Trade Paperback
Cover: Greg Land Writer: Genevieve Valentine Art: Ariel Mendel, Jenny Frison
Format: Softcover Page Count: 128+ pages
To the thrill of rabid fans the world over, television's Xena: Warrior Princess is back for swashbuckling new adventures! After the Twilight of the Gods, the world is precariously uncertain, and Xena and Gabrielle have been missing for twenty-five years. The power of Rome is growing; Caesar is determined to conquer by lies what he can't conquer by force, and the people at its edges know what's coming. Our heroines return to stop him before they have to wage war against a man they once called a friend… but along the way, Xena will have to confront her past against a rogue band of women warriors, and Gabrielle, whose secret visions are becoming prophecy, will have to protect her partner at any cost.