Cate Harrow was a talented little girl who displayed genius-level mastery of the piano and experienced a happy childhood.  It wasn't until her father left that Cate's mother became desperate for work to keep her daughter's lessons coming and was willing to do anything for money.  She found an innocuous job selling candles, marketed to fulfill the one true desire to anyone who blew the flame out.  Testing one out herself, Cate's mother wishes for their money troubles to go away and quickly finds all the child support she needs sitting on her dining room table.  With her doubts in the candles dispelled, Cate's mother signed a contract with the company and began her career of "selling desires."  Despite her mother's best attempts to dispel any fears, Cate comes up with a braver alter ego named Kate and finds comfort in this her bravery.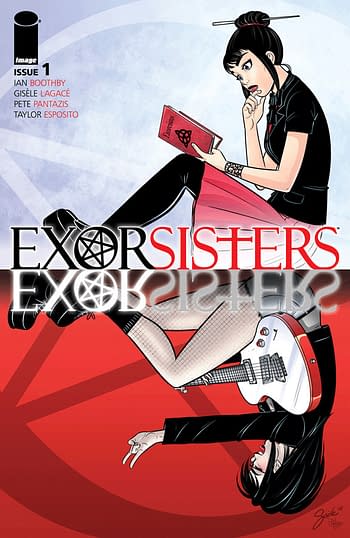 Soon Cate's mother learns that her customers are getting ALL their wishes granted, even the murderous ones.  She attempts to quit her job only to learn she has been working for demons and every candle blown out equals one soul for hell…hers included.
Instead of letting them cash in on her soul, Cate's mother sells her out and promises her daughter instead.  When the demons come to collect, the frightened little girl instead signs away her alter "Kate," and watches her soul get dragged down to hell without her.  After growing up unable to cry, love, care, or feel anything at all, Cate goes to hell to retrieve her soul herself.  Instead of being reunited as one, Cate's soul developed into the alter Kate and the two embark on a vendetta against hell as the Exorsisters.
Ian Boothby (lead writer of the Simpsons and Futurama comics), displays his worth as an Eisner Award winner with this smart and quick-witted graphic novel.  It was entertaining and insightful, putting a fresh spin on the girl-turned-warrior narrative.  Cate and Kate have a dynamic and believable relationship as "sisters," who share a complicated relationship with their mother and have love for their fire pet Fish.   They bicker about appetites and then jump head first into hell to fight tu-tu wearing devils and come together to rally against ex-boyfriends.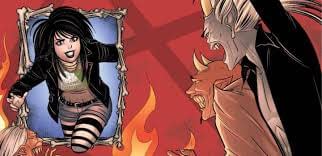 Gisèle Lagacé's artwork reflects her work from Archie Comics, with round faced and bright eyed characters.  The demons and hell were threatening foes, but the overall vibe for the comic will work well for children and adults.  This trade moves along well and the art marries nicely with Boothby's happy-go-lucky writing, and is genuinely funny for all ages.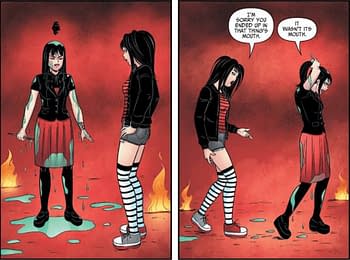 I sincerely enjoyed this story from cover to cover and initially expected less than what I got.  Instead of the same teenage tropes repeated, Boothby brings enough new elements into Exorsisters that I have yet to see in other demon-fighting stories.  With this fresh twist and recognizable art styles, I recommend picking up this trade if you're missing the fun feel of Buffy the Vampire Slayer while simultaneously wanting something new.
Enjoyed this article? Share it!