The Return Of The Externals With X Of Swords To Die?
The mysterious X-Men event, X Of Swords begins with a prelude in Free Comic Book Day 2020 X-Men. And it looks like the mysterious Externals are returning to Marvel as part of the crossover. The event will see ten Krakoan mutants given legendary swords that they will use to battle for the future of the living island of Krakoa.
First named in X-Force #10 from Fabian Nicieza, Rob Liefeld and Mark Pacella. The Externals are all mutants with the additional gift of immortality and, as expressed by Cable, they play an important role in the future and Apocalypse's rise to power. Externals typically cannot die, but seem to possess an immortal healing factor rather than invulnerability. They suffer injuries just like any other person, and can even appear dead if mortally wounded, but will eventually restore themselves to life and health. Each External was claimed to represent an intangible concept… here's how they broke down: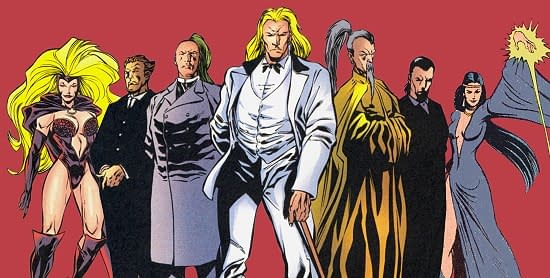 Absalom – despair
Burke – fortitude
Candra – guile
Crule – ferocity
Gideon – opportunity
Nicodemus – wisdom
Saul – patience
Selene – corruption
Cannonball – hope – however, Selene and more recently Cable, had stated that Cannonball is not an External.
Apocalypse – evolution or destruction – taken away by the Celestials, his status as an External is still unclear. But Powers Of X #3 named him such in the backmatter.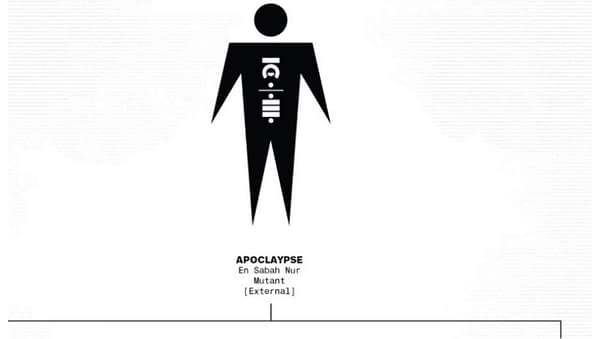 And it looks like they are coming back, with Apocalypse, in this preview to Excalibur #12, part of the X Of Swords event.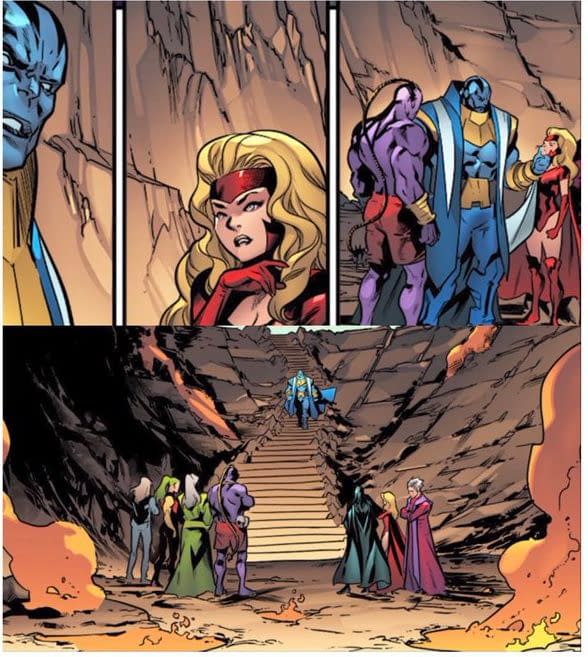 How do you kill an External again? Highlander style of course…running a blade through their hearts. Ten swords. Ten hearts. Ten arcane energies to be absorbed.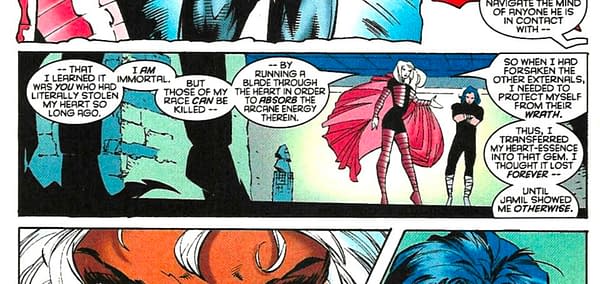 Say, who has an arcane sword just hanging around?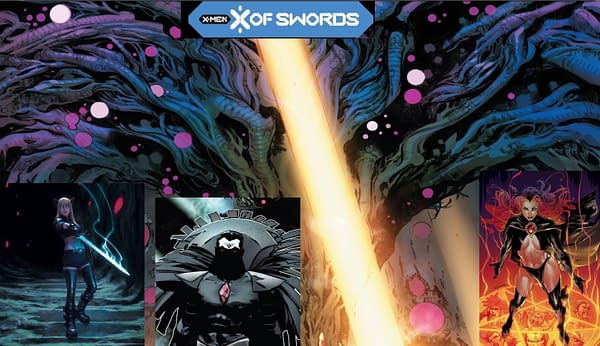 Illyana of course. Are we getting Inferno as well, these cover images suggest a commonality here. So many folk appear to be coming back for this one… and Carlos Gomez' production artwork for major tie-in book X-Factor reveals quite a few…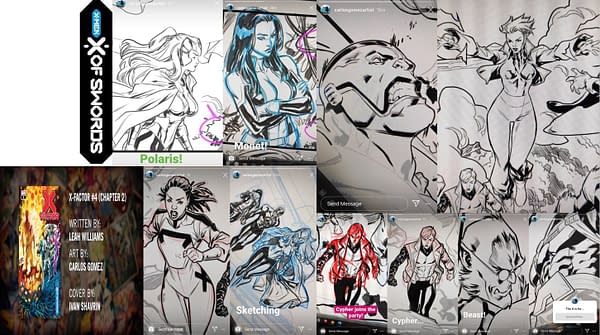 RB Silva is playing as well…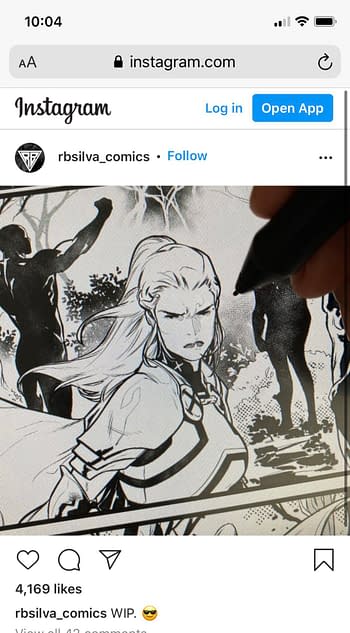 Such fun… coming in September – with a prelude in July.
FCBD 2020 X-MEN #1
(A) Pepe Larraz
FCBD is headlined by a brand new X-Men story by Jonathan Hickman and Pepe Larraz that will lead into a game-changing summer for all of X! Plus: a secret second story foreshadowing an upcoming epic tale by Tom Taylor and Iban Coello. Stay tuned in the months to come for exciting announcements about Marvel's Gold title on freecomicbookday.com!
Rating: TeenIn Shops: July 15, 2020

EXCALIBUR #12
TINI HOWARD (W) • MARCUS TO (A) • Cover by MAHMUD ASRAR
X OF SWORDS — Secrets of the Book!
With Rictor in his clutches, Apocalypse must survive long enough to begin the ritual he has waited on for eons.
32 PGS./Rated T+ …$3.99
ORDER USING APR200907

X-MEN #12
JONATHAN HICKMAN (W) • LEINIL FRANCIS YU (A/C)
X OF SWORDS — THE SUMMONING BEGINS!
A lead-in to the biggest X-story of the year.
32 PGS./Rated T+ …$3.99
ORDER USING APR200891

X OF SWORDS: CREATION #1
JONATHAN HICKMAN (W) • PEPE LARRAZ (A)
Cover by PEPE LARRAZ & MARK BROOKS
X OF SWORDS – CHAPTER 1
A tower. A mission. A gathering of armies.
72 PGS./ONE-SHOT/Rated T+ …$6.99

X-FACTOR #4
LEAH WILLIAMS (W) • CARLOS GOMEZ (A) • Cover by IVAN SHAVRIN
Variant Cover by R.B. SILVA
ANGEL TIMELESS VARIANT COVER BY ALEX ROSS
X OF SWORDS – CHAPTER 2
Death and rebirth. Corruption. A dark discovery.
40 PGS./Rated T+ …$4.99

X OF SWORDS HANDBOOK #1
MIKE O'SULLIVAN & THE OHOTMU TEAM (W)
Cover by RON LIM
The dramatic new era for mutantkind takes center stage in the official handbook!
This all-new collection of X-Men-related profiles will bring you up-to-date on Apocalypse, Wolverine (Logan), Magik (Rasputin) and Meggan just in time for X of Swords! This issue includes profiles for Cypher, Moira MacTaggert, two Captains Britain (Brian and Betsy Braddock) and Krakoa itself! Plus: the young Cable (Nathan Summers) and the X-Men!
48 PGS./ONE-SHOT/Rated T+ …$4.99