Falcon #6 Review: Superhero Romance Done Right
Falcon is late for a meet-up with Misty Knight due to an attempted robbery of an armored car. Misty is losing patience for this, but the Patriot is too busy to cover for Sam.
Little does the Falcon know that someone is working against him from the shadows.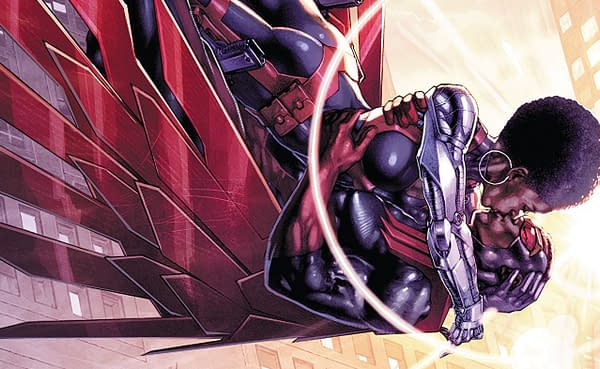 I'm so happy that Misty Knight is back in this comic.
Falcon #6 handles the idea of superhero romance quite well. In addition to simply giving Sam and Misty great chemistry, it doesn't handle the idea as a simple on/off issue not informed by the complicated circumstances of life. Sam still has feelings for Misty; Misty is unsure if she's ready to try again with Sam. Sam had to do some soul-searching after the events of Secret Empire, and unfortunately those didn't involve Misty Knight. Things just happen; situations can change.
True to form, Misty isn't just sitting there and pining over Falcon. She forces him to be more upfront with his intent.
Don't worry, this comic isn't entirely semi-romantic dialogue between Falcon and Misty Knight. Plenty of page space is still devoted to Sam stopping a crime and the villain working from the shadows (if you read Falcon #5, you know who this villain is).
The one glaring problem is that Patriot has a lady-crush we just meet in this issue, and the ending has a twist involving her which the comic doesn't quite earn. It's predictable too. It's still a bit shocking, but that's mostly thanks to the vivid artwork.
Also, Sam's costume seems to have some new gadgets that haven't been properly conveyed to the reader. He shoots arrows at one point. The comic doesn't even show where they come from. I choose to believe Redwing's mouth.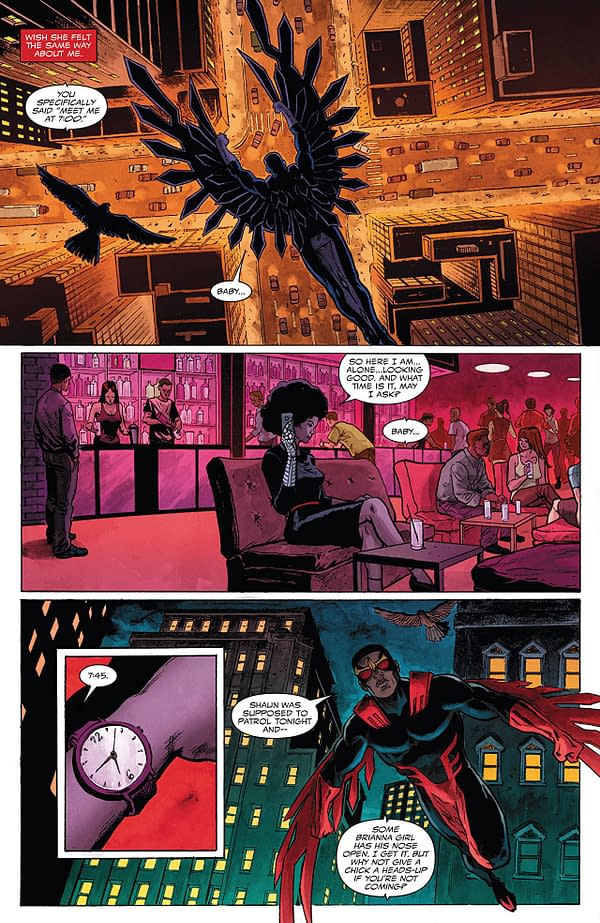 Speaking of which, Sebastian Cabrol's artwork is beautiful. Joshua Cassara did some fantastic work in Falcon, and he will be missed in the title. However, Cabrol fills in well with a wonderfully textured and phenomenally detailed world. The costumes look great, the characters emote well, and the action is solid. Rachelle Rosenberg backs this up with her always-great color work and vivid gradience.
Falcon #6 kicks off a promising new arc for the series. Misty is back and as badass as ever, Falcon is still a great lead, and the art is gorgeous. Rodney Barnes continues to kill it with this series. This one comes highly recommended. Give it a read.