Fantagraphics Super Hero Line Gets Its Own Colouring Pages We've all heard that Fantagraphics is to begin publishing a new shared universe superhero line – All Time Comics. But we all know that the only thing bookstores are interested in selling these days are colouring in books. Which is why All Time Comics has created free coloring book pages in a desperate attempt to drag people away from their fondleslabs.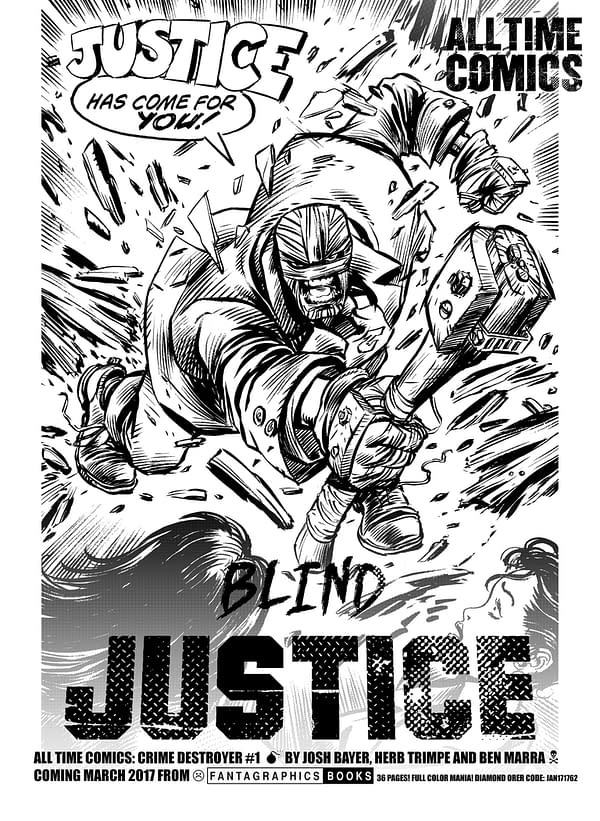 All Time Comics features a shared superhero universe featuring the world's most fanta*stic heroes… beginning in March.
ALL TIME COMICS: CRIME DESTROYER #1
Josh Bayer (story); Herb Trimpe (pencils); Ben Marra (inks); Jim Rugg (cover) + Johnny Ryan (cover); MARCH 2017
ALL TIME COMICS: BULLWHIP #1
Josh Bayer (story); Ben Marra (pencils); Al Milgrom (inks); Das Pastoras (cover) + Tony Millionaire (cover); APRIL 2017
ALL TIME COMICS: ATLAS #1
Josh Bayer (story); Ben Marra (story, pencils, inks); Das Pastoras (cover); MAY 2017
ALL TIME COMICS: BLIND JUSTICE #1
Josh Bayer (story and pencils); Rick Buckler (pencils); Al Milgrom (inks); Victor Martinez (cover); JUNE 2017
ALL TIME COMICS: CRIME DESTROYER #2
Josh Bayer (story); Ben Marra (story, pencils, inks); Das Pastoras (cover); JULY 2017
ALL TIME COMICS: BLIND JUSTICE #2
Josh Bayer (story); Ben Marra (story); Noah Van Sciver (pencils); Al Milgrom (inks); Das Pastoras (cover); AUGUST 2017