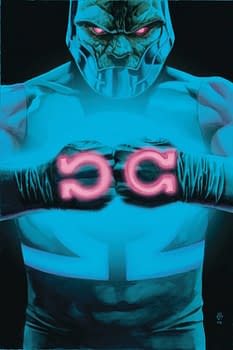 The Final Crisis 10th Anniversary Omnibus Anniversary Edition coming from DC Comics in September is big. Really big. But it's getting bigger.
Originally solicited thus:
Written by Greg Rucka, Geoff Johns, Grant Morrison and various. Art by Philip Tan, Scott Kolins, George Pérez, Doug Mahnke, Carlos Pacheco, J.G. Jones and various. Cover by JG Jones.
The event that asked, "What happens when evil wins?" is collected in an omnibus edition that features every tie-in miniseries and chapter, as Superman, Batman and the Justice League must face this reality when Darkseid and his followers win the war between light and dark! Includes BATMAN #676-683 and #701-702, BIRDS OF PREY #118, DC UNIVERSE #0, DC UNIVERSE: THE LAST WILL AND TESTAMENT #1, FINAL CRISIS #1-7, FINAL CRISIS: LEGION OF THREE WORLDS #1-5, FINAL CRISIS: REQUIEM #1, FINAL CRISIS: RESIST #1, FINAL CRISIS: REVELATIONS #1-5, FINAL CRISIS: ROGUES' REVENGE #1-3, FINAL CRISIS SECRET FILES #1, FINAL CRISIS: SUBMIT #1, FINAL CRISIS: SUPERMAN BEYOND #1-2, THE FLASH #240-241, TEEN TITANS #59-6 0and TERROR TITANS #1-6
But it is now having two more issues added and its pages count upped to 1512 pages. Justice League Of America #21 and Superman/Batman #76. Because they were Final Crisis too…
JUSTICE LEAGUE OF AMERICA #21
(W) Dwayne McDuffie (A/CA) Carlos Pacheco
Written by Dwayne McDuffie
Art and cover by Carlos Pacheco & Jesus Merine
Meet Libra and the Human Flame, two central villains in the upcoming FINAL CRISIS! Where'd the Human Flame come from, and who does he hate more than anything in the universe? As Superman, Batman and Wonder Woman assess the future of the Justice League, their days
may be numbered.
SUPERMAN BATMAN #76
(W) Judd Winick (A) Marco Rudy (CA) Nic Klein
Written by JUDD WINICK
Art by MARCO RUDY
Cover by NIC KLEIN
In the shadow of the "Return of Bruce Wayne," The Man of Steel remembers the fall of The Dark Knight as Dick Grayson takes the mantle of the Bat. But the new Batman is surprised to learn that his first obstacle is Superman! And a threat both alien and mystical erupts in Gotham City that will forge – or break – this new World's Finest team.
Enjoyed this article? Share it!