THE ISSUE: The First Crossover Reboot Event on American Newsstands
Happy Days #1, Oct 20, 1894 is the first issue of a 1563 issue weekly series running from 1894-1924. Happy Days is an illustrated fiction story paper rather than a comic book, but it's still something we're very familiar with in the modern day. It's a publisher's attempt to satisfy retailer demand and the changing marketplace by using an inter-company crossover to reboot one of his major franchises.
The Issue is a regular column about vintage comics and other vintage periodicals from throughout world history. The idea behind The Issue is simple: for each post, I'll choose something from my collection and talk about what's going on in it, and discuss the publishers and creators behind it. And essentially, I'm just going to end up stepping through comics history one issue at a time. There is only one rule in The Issue: No recent stuff. Everything will be from before 1940, and most of it will be from before 1920.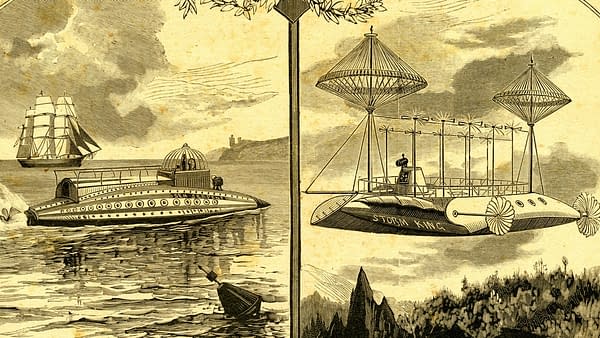 The 1890s were a period of rapid change on the American newsstand. The country was developing and refining both the electric grid and the national railroad network. The world had gotten connected up together via submarine telegraph lines laid across the bottom of the Atlantic and Pacific oceans. This was the 19th Century of the modern internet effect in a very real way. Communities sprang up around the shape of the new networks, both physical and cultural. More specific forms of content, like detective and science fiction, for example, could more readily find an audience. And the proliferation of the newsdealer network and the rise of major national distributors like American News Company gave rise to changes in the formats of periodicals to satisfy various distribution and newsdealer needs.
The debut issue of Happy Days is a textbook example of something that we've all seen countless times in recent years in comic books. When publisher Frank Tousey realized he needed to reboot his seminal sci-fi/adventure/horror story paper Boys of New York due to newsdealer demands for smaller, more handleable formats (Boys of New York was a full-size, newspaper-sized story paper, Happy Days is folio-sized, which is akin to a tabloid format), he stopped Boys of New York at issue #1000, then rebooted it with a new #1 issue which featured a crossover saga between two of his most popular characters — Frank Reade and Jack Wright. Brains against brains, as it notes there on this cover.
Inventor and adventurer Frank Reade is the character who is singly most responsible for the early science fiction boom in America which began in the late 1870s, and his adventures are the prototype for what we think of as steampunk today. In addition to serials in Boys of New York, the character had been featured in the quarto-format periodical Wide Awake Library, and also received his own series, Frank Reade Library, which is generally considered the first true science fiction-focused periodical published in America. Frank Reade was so popular that publisher Frank Tousey created another very similar character in Jack Wright, who was featured in titles such as Boys Star Library and Golden Weekly. After the debut of Happy Days in 1894, these characters were also featured in series like Frank Reade Weekly and Pluck and Luck during the color-covered nickel weekly era and were licensed to publisher Aldine in the UK for various series which lasted into the 1910s.
Essentially, Happy Days #1 is likely the earliest crossover reboot event to launch a new #1 issue. It worked. Happy Days lasted 1563 weekly issues from 1894 to 1924. On a personal note, I was over the moon to add this to my collection, as it's something I thought I might never own.