First Marvel/IDW Star Wars Crossover, High Republic, Out In the Fall
We have a few more details about the upcoming Star Wars: The High Republic crossover across novels and comic books coming out towards the end of 2020 courtesy of Disney Lucasfilm Press. For the first time it will entail a crossover between Marvel Comics who publish the main Star Wars comic book line, and IDW who publish the kids comics Star Wars line. It's a crossover being launched by Marvel writer Charles Soule – though not through the comics but by a novel.
The High Republic: Light of the Jedi by Charles Soule will be published by Del Rey, telling the story of "The Great Disaster" that kicks off the story. The events of that book are then reflected in Star Wars: The High Republic, an adult-targeted serialised graphic novel by Cavan Scott and published by Marvel. Scott is best known for his Doctor Who, Vikings and Penguins Of Madagascar comics, and wrote the Star Wars Adventures Annual: The Lost Eggs of Livorno for IDW.
Then IDW will publish Star Wars: The High Republic Adventures, an all ages comic written by Daniel José Older. Older is known for his YA novels Half-Resurrection Blues, Shadowshaper and wrote the Star Wars novel Last Shot, which served as a tie-in to Solo: A Star Wars Story set between Return of the Jedi and The Force Awakens with flashback settings before and after Solo.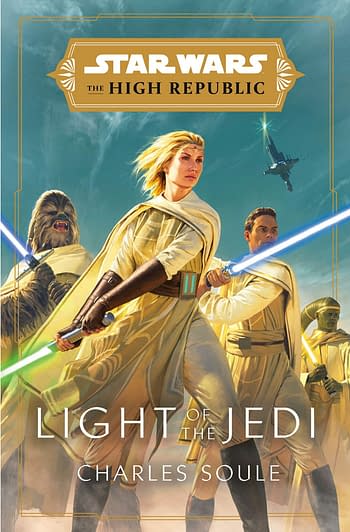 Lucasfilm Press will then publish a tie-in YA novel Into the Dark by Claudia Gray and middle-grade novel A Test of Courage by Justina Ireland. Other publishers will publish future books from The High Republic in 2021 and 2022, with Becker & Mayer, Insight Editions, Viz, DK, Abrams, and Titan all developing formats from "nonfiction" manuals and encyclopedias to behind-the-scenes books to in-world titles. Michael Siglain, creative director of Lucasfilm publishing sees this as "the Jedi Knights of the Round Table" and states that "you can follow the adult novels, but when a character you like pops up in a Marvel comic you can chase it there. Or a parent and child can be reading two pieces of the same story, and there's a shareability factor."
The novel listing reads "two hundred years before the events of Star Wars: The Phantom Menace, in the era of the glorious High Republic, the noble and wise Jedi Knights must face a frightening threat to themselves, the galaxy, and the Force itself."