Flame Con Is One Big Party, And It Is Absolutely Incredible
It's been a busy few weeks for me, travelling between cons, exhibiting and showing off my book, The Pride. For the last couple years, there's been one con in particular though that I have really wanted to do, for pretty obvious reasons. After all, The Pride is a book about a team of all LGBTQ+ superheroes. So I absolutely had to do Flame Con, a LGBTQ+ comic con that just had its third year, held at the Marriott Hotel in Brooklyn.
Last year, many of my friends went to Flame Con and had a lot of fun, leaving me with a whole weekend of jealousy. I was determined to do it this year, no matter what. And that included the knowledge that things may not have proven financially successful for me. After all, this would involve going out to New York for a weekend, with some stock of my books, and seeing how a convention held in a hotel would go.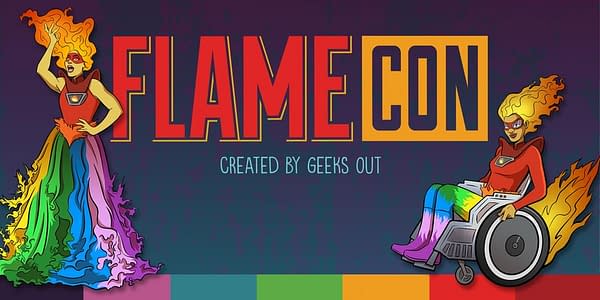 I had no idea what to expect, though I feared I'd make a loss. Which would be fine — at least I could say I did it, experienced it, and spread the word about my book. What I discovered couldn't be further from the case: Flame Con was easily one of the most fun conventions I have ever been a part of. There was a sense of energy and happiness about the convention, despite a couple weeks of some deeply troubling and disheartening times in the States. That didn't matter — everyone was there to have a great time and it showed. There was an atmosphere of celebration that was infectious. And everyone there was eager to check out brand new stuff, as well as meet the big names.
In fact, that was an awesome part of the show too: the big names like Steve Orlando, Sina Grace, Amy Reeder, and James Tynion IV weren't separated off to their own row or corner, or a different room even, but were instead mixed in with everyone else. This meant everyone got a fair look in with the audience, who may find something new that takes their fancy while looking for that big Marvel or DC creator that they want to sign something.
A big part of this, if you ask me, was the drive to be as diverse and accessible a show as possible. The panels were interesting and generated active discussions on the community — both the LGBTQ+ aspect and the comics community as a whole, but also various areas of intersection. The show and staff attempted to be as accessible as possible, and this helped generate the positive atmosphere.
But also, it was just the celebration of a community that can so often feel shut out or underserved in a medium that they love. So to have a show dedicated to their own enjoyment and representation, well, it goes a long way to making for a buzz that gets people into the best frame of mind for a comic con.
Then we have the later start on the Saturday and Sunday, allowing for creators and guests to feel fully refreshed and engaged — and that just helps make for a greater connection between the fans and the creators. Finally, there was hands down one of the best parties I've ever been to — a wild, rambunctious and entertaining cabaret night culminating in a performance from RuPaul's Drag Race contestant and queen of the nerds, Dax Exclamationpoint! Walking in to find a man wearing nothing but a jockstrap twerking next to a sexy Freddy Kruger was unexpected and wild, and the night just continued from there.
And at the end of the weekend, I went away making a big profit. More than I do at some UK shows, with much smaller travel costs. Flame Con was, frankly, a dream convention for this creator, as someone trying to keep making comics, on top of how much of an absolute blast it was as a queer comics fan.
Flame Con endeavours to be a con for everyone. Not just of the LGBTQ+ community, but all the intersections connected and to show that accessibility and togetherness is exactly what the comics community should be all about, and they're determined to make sure you have an incredibly fun time while they do it.
---
---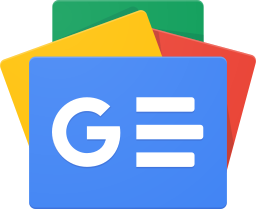 Stay up-to-date and support the site by following Bleeding Cool on Google News today!