Flatline Gets New Powers In Lazarus Planet For Dawn Of DC (Spoilers)
It's time for Damian Wayne's maybe-girlfriend Flatline to get some brand-new powers out of Lazarus Planet, in today's Next Evolution. Spoilers of course.
---
Recent new DC Comics character Flatline, a potential girlfriend of Damian Wayne, was born with the power to absorb the skills of the dead and became the protege of the resurrection con artist Lord Death Man in a hastily rewritten continuity. But it seems the falling Lazarus juices of Lazarus Planet may have an overactive effect on her – and those around her. In today's Lazarus Planet: Next Evolution #1, we see more DC characters going through… the change. We have met The Vigil – soon to appear in Detective Comics or maybe their own spinoff series. With shapeshifters, acrobats, electrical power generators and voyeur interests. But what of Flatline?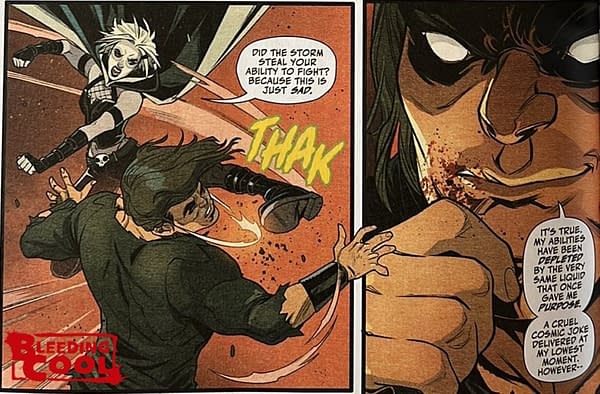 First, we see her fighting Ubu, the classic bodyguard of Ra's Al Ghul, who has been repeatedly replaced by the next Ubu but has been affected by the Lazarus juices falling down like Terrigen mists.
And, on finding her goal, the ashes of Ra's Al Ghul, a quick recap of her recent history with Damian Wayne (more of that for 2023, I am sure), we get a glimpse of her new powers. She's not just stealing the powers of the dead…
She gets to resurrect them as well, in a matter of fact. Say, does DC Comics want to bring Alred Pennyworth back from the dead? There is no better way for Flatline to impress Damian Wayne than bringing back the man who was killed by Bane to hurt Damian.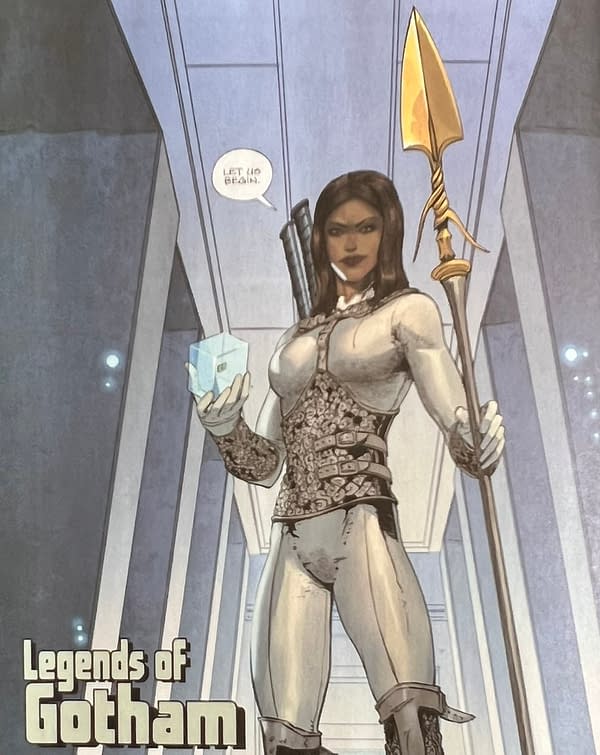 And with Talia Ghul making a reappearance in last week's Batman: Legends Of Gotham #1, with all the superhero and supervillain secrets stolen from Bane, there may be an interesting father-and-daughter reunion on the cards…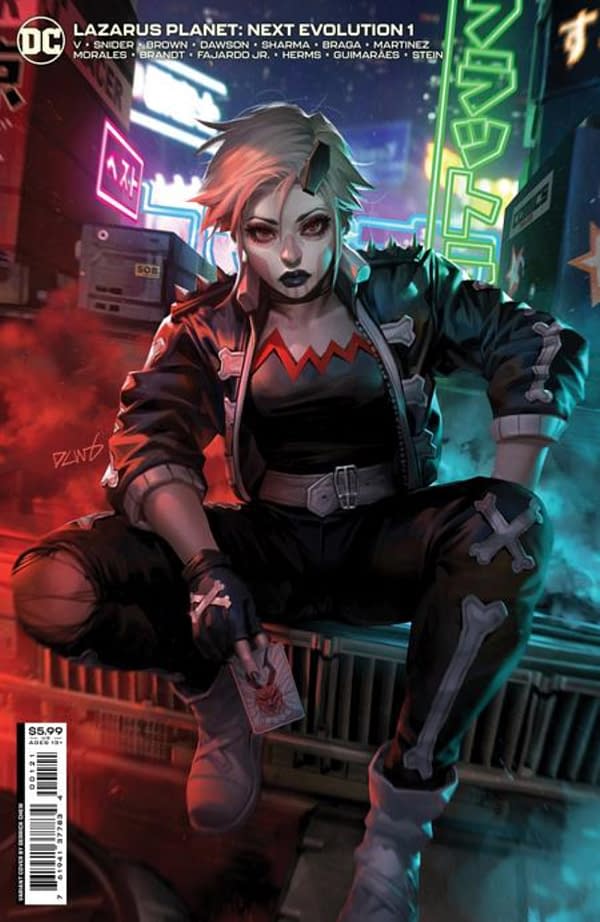 LAZARUS PLANET NEXT EVOLUTION #1 (ONE SHOT) CVR A DAVID MARQUEZ & ALEJANDRO SANCHEZ
(W) Various (A) Various (CA) David Marquez, Alejandro Sanchez
HEROES WILL BE FORGED! Written by Ram V, Brandon T. Snider, Chuck Brown, and Delilah S. Dawson Art by Lalit Kumar, Laura Braga, Alitha Martinez and Mark Morales, and Ro Stein Good and bad, yin and yang…all sides of humanity will be transformed by the Lazarus event…and in the DC Universe one thing's for sure: heroes will always rise. In this special we'll explore some of the amazing new powers gifted to the freedom fighters of the future…and we'll see what perils these villain-vanquishing virtuosos will face. What secret does Flatline seek from the heart of Talia al Ghul's HQ? Can Red Canary bring order to an out-of-control city? What secret does the heroic Dead Eye hold that will haunt him forever? And enter into a brand-new legend with the fantastic debut of Vigil!
Retail: $4.99 In-Store Date: 2/7/2023
BATMAN LEGENDS OF GOTHAM #1 (ONE SHOT) CVR A CARMINE DI GIANDOMENICO
(W) Andy Diggle (A) Karl Mostert (CA) Carmine Di Giandomenico
With Batman preoccupied, his deepest, darkest, most dangerous secrets are about to be auctioned off to the highest bidder. The guest list is strictly villains only, and the outlaw Red Hood fits the bill–putting him on a collision course with Batman's deniable black-ops team, the Outsiders! With Lazarus Island spawning wild-card superpowers across the globe, the stakes could not be higher. Jason Todd, Black Lightning, and Katana will have to put aside their differences to save Batman's legacy–and with it, the world. That's assuming they don't kill each other first!
Retail: $5.99 In-Store Date: 01/31/2023