FOC SPECIAL: Day Men #2 With A George Perez Cover And Brian Stelfreeze Screen Print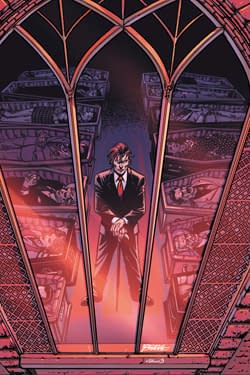 It's Final Order Cut-Off Day today. Which means retailer promotions! Such as for the second issue of Day Men. And Boom! Making the above George Perez variant available two copies for free to every account that orders at least one copy of the regular issue.
And the fifty retailers who order the most copies will by the end of the night will receive a hand-printed screen print (below) of Day Men art by Brian Stelfreeze, personalized to each store and hand-lettered and numbered by designer & lettererer Hannah Nance Partlow.