Four Dark Horse Comics, All Exclusive For San Diego Comic Con – The Strain, Catalyst, LMS And Star Wars
Are you going to San Diego Comic Con? Then you can buy these. If you can't then you can't. Unless you go to eBay afterwards. Or before… I hear Bleeding Cool's Will Romine might be able to sort you out. Until then, time to start building your checklist…
The Strain: The Fall #1 Comic – Exclusive SDCC Variant Cover by Rafael Albuquerque

The vampire plague has infested New York City in this continuation of the critically acclaimed comic by writer David Lapham and artist Mike Huddleston, adapted from The Strain trilogy by visionary filmmaker Guillermo del Toro and novelist Chuck Hogan. The Strain is also currently in development for an FX series!
Production Run: 500
Price: $5.00
Availability: 10 per person
Star Wars #7 — Exclusive SDCC Variant Cover by Rodolfo Migliari
This is Star Wars as you remember it . . . and as you have never seen it before! We're taking you back to those heady, adventure-filled days following the destruction of the Death Star—when the Empire ruled, the Rebels were on the run, and the galaxy was a dangerous place where anything might happen!
Price: $5.00
Product Run: 1,000
Availability: 10 per person
Catalyst Comix #1 — Exclusive SDCC Variant Jam Cover by Dan McDaid, Paul Maybury, and Ulises Farinas
Straight from the glory of Comics' Greatest World, Frank "Titan" Wells, Amazing Grace and the Agents of Change are back, baby! But you've never seen them like this! Superhero comics get a back-alley facelift as these very different champions confront cosmic threats and personal demons—and it all starts at the end of the world as we know it! Written by Joe Casey Sex, Gødland, Baker the Righteous Maker) with art by Artists Dan McDaid (Doctor Who), Ulises Farinas (Glory), and Paul Maybury (Aqua Leung)!
Price: $5.00
Product Run: 500
Availability: 10 per person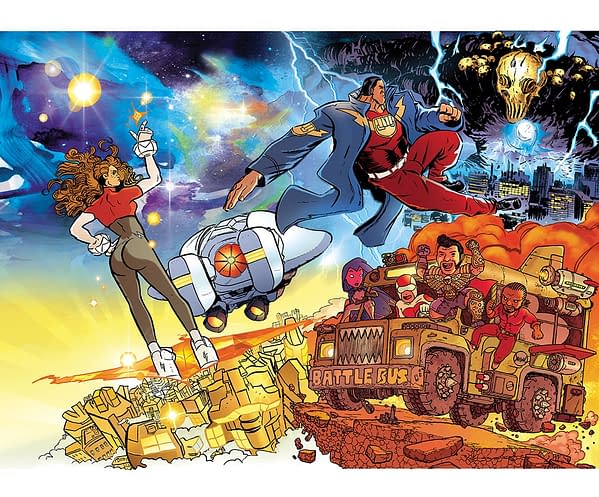 Last Man Standing Signed Hardcover Book
15.5" x 12.5", signed 266 page full-color hardcover art book w/ dust jacket
Price: $75.00
Production Run: 1,000
Availability: All days