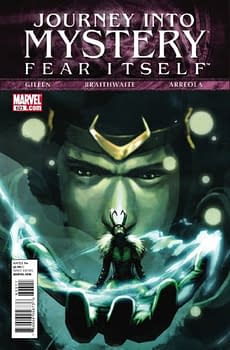 Nothing like a bit of balance.
1. Your Regular Hit.
The ongoing comic splits narrative into bite sized chunks, to be consumed in a serial nature. At Image, exactly how serial is in doubt, with several series running late, comics getting cancelled while future issues are still being solicited and books skipping months. Whereas Marvel's aberration are few and far between, Uncanny Avengers, we're looking at you. But so many other titles not only ship one a month, but twice, so you have to wait less time for your next chunk.
2. Your Regular Paycheck
Creator ownership is all well and good, but the vast majority of such comics never become multimedia franchises to fund a creator in his or her dotage. Indeed many Image titles won't pay minimum wage for the creators. Marvel offer a page rate that an artist can live off, on a fay to day basis. Image have been introducing page rates of late, but often offered to creators who, frankly, could afford to work without it. No wonder so many Image creators would rather do a Marvel or a DC work for hire title instead of another creator owned comic.
3. Your Regular Restrictions
Sometimes the creator's sellout work-for-the-beast comics can actually be better than their do-anything-for-love comics. Tight envelopes and restricted opportunities to be creative can actually inspire many to flights of fancy. Take Kieron Gillen, whose work on Journey Into Mystery, a comic trapped in crossover after crossover managed to tell a simple story about a boy, his dog and his girl with so much passion, intelligence and care, with just as much critical success as Phonogram and far more regularity and financial success. Frank Cho's Avengers are better than his Guns And Dinos, in so much as the former is actually published. And even in the most extreme issue of Howard Chaykin's Avengers 1959, there was no danger of turning the page to see a dozen flying penises flying around a cinema audience.
Not just Marvel either, Scott Snyder and Greg Capullo's Batman is a better comic than both their Severed and Haunt put together. May be sacrilege, but it's true. Creator owned comics are not always better than work for hire comics. Mostly, but not always!
4. Spider-Man.
Also. Wolverine.
Enjoyed this article? Share it!