We have a little look at the new Forbidden Planet comic book store opening in Glasgow ahead of its official launch tomorrow. The store has moved not too far from its current position at 168 Buchannan St to its new digs at 122-126 Sauchiehall Street.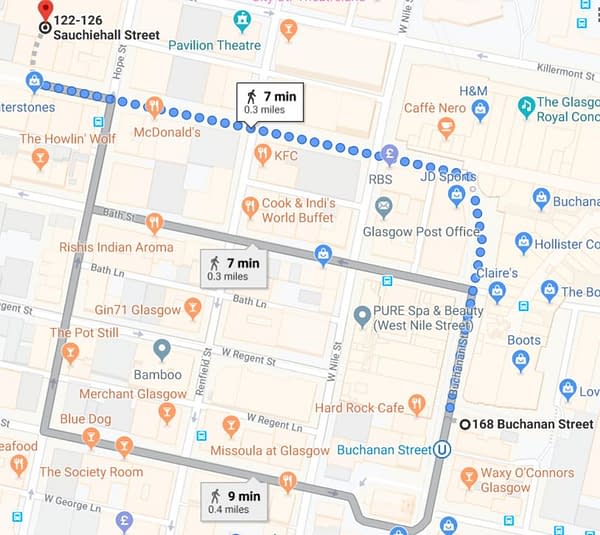 It opens at 9 am tomorrow and will be having a load of early customer free goodie bags, and various competitions throughout the day. The grand prize is an expenses-paid trip to the opening of the giant (40,000 sq ft) flagship Funko store in LA courtesy of Funko Europe.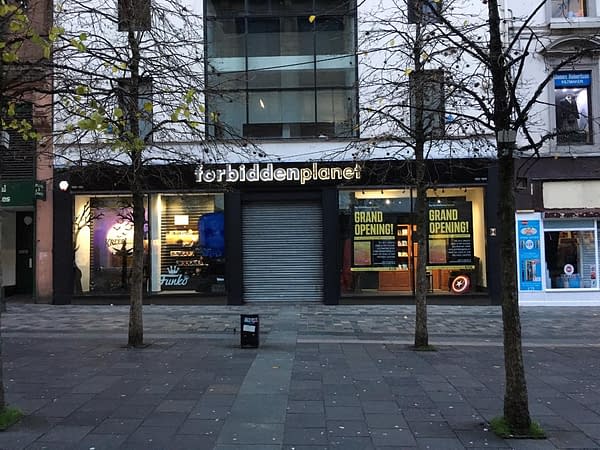 The previous store had only 1000 sq ft of store, the new one runs over 9500 sq ft over 4 floors. It allows Forbidden Planet Glashow to have much deeper stocks on almost all lines. The comics and manga sections alone are more than three times the size of the old shop.
It's also allowed them to reintroduce a back issue section – they haven't had one for over ten years – and add sections for Sci-Fi and Fantasy, tabletop and strategy games and a much larger breadth to the items they carry for everything from Disney to Fortnite.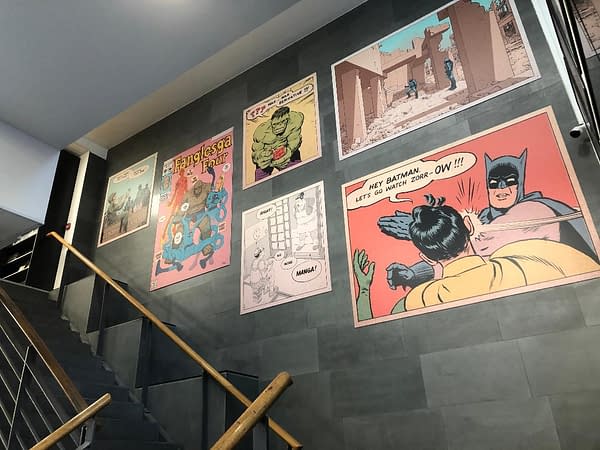 The store is situated about 30 metres from the largest Waterstones in Scotland, and on the same 400 metre stretch as stores like M&S and Argos – right in the heart of Glasgow prime retail. They are very hopeful that by taking such a prominent position they will truly bring the general Glasgow public who have been turned on to comics and Sci-Fi by the massive success of things like the Marvel movies, Stranger Things and the general growth of fantasy-based entertainment, through their doors, as an opportunity to spread the word on just how amazing and life-changing the creations we love can be.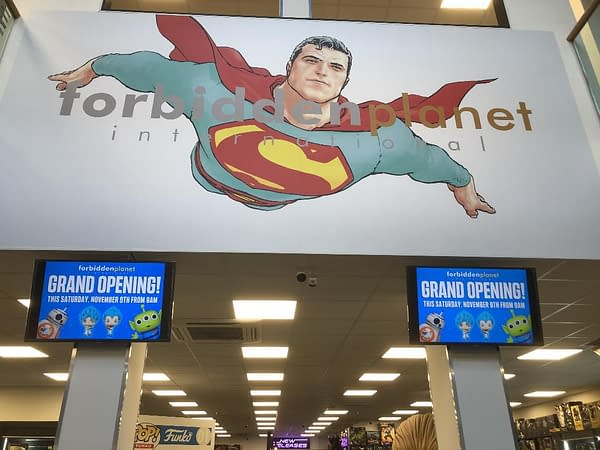 The shop has worked with legendary comics creator Frank Quitely on a good bit of internal decoration including a huge flying Superman which greets everyone who walks through the doors as he flies across the wall of the shop's floor to ceiling atrium space – with his work blown to spectacular sizes. It's hard to imagine a more iconic image than the Superman on entry. With Insta opportunities for the 8ft tall Chewbacca model, Funko box props and the like.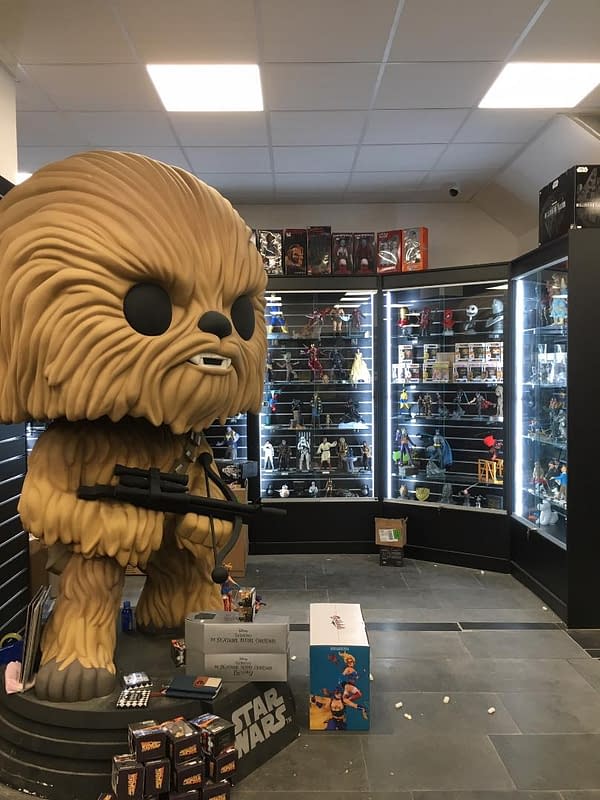 The store will currently trade on 2 floors but the 3rd is prepped ready to be completed when a couple of building warrants come through, around January, and then will expand to 3 floors with the current back issue section – which runs to around 3500 comics growing to a whopping 20,000 +.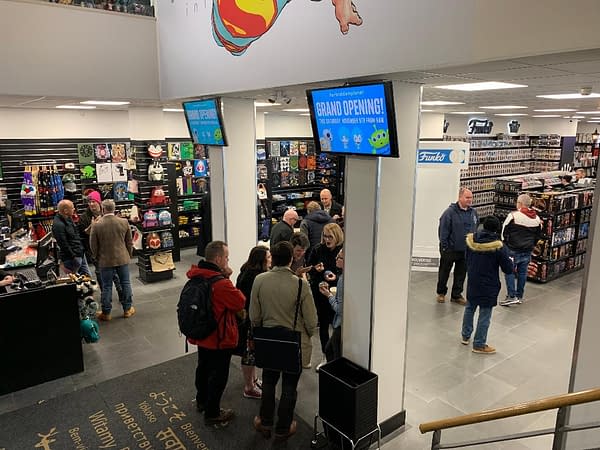 That floor will also be installing the first Funko Pop 'exchange' where you can come by and see retired and valuable pops, or trade some of your current ones in against others. You'll also be able to check out current valuations and take part in special events there from time to time. Amongst the large open spaces of the first 2 floors, they hope this 3rd floor where people who suffer from the hard-core collector's addiction can feel at home amongst the like-minded and truly indulge their hobby.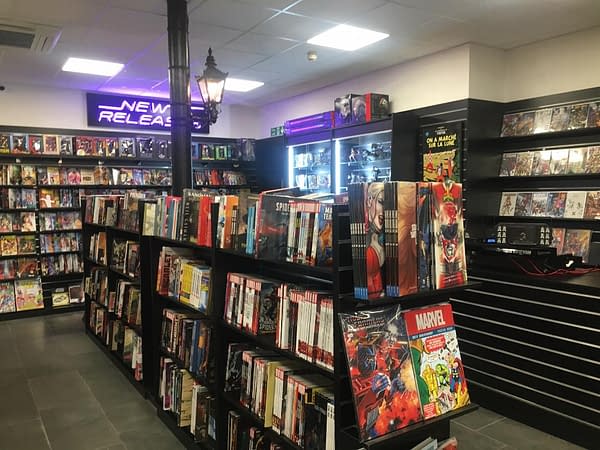 Their intention is for the store to become more than just a large pop Culture Entertainment retailer and become a part of the culture of Glasgow. With many suppliers already contacting them about launches for comics, books, games and associated merchandise, they intend to make the store where something is always happening. From 1000 sq ft to nearly 10 times that, feels like just the sort of platform they need to inspire people to look up at the stars not down at their feet…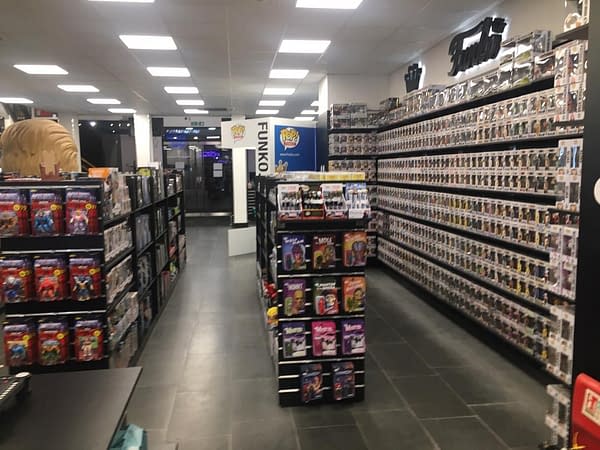 Oh and look they have an exclusive Funko POP of Elvira as well…
With only 3 days left until we open the doors of our new Glasgow Store, we're incredibly excited to announce that we're teaming up with @FunkoEurope to bring you guys this Exclusive Elvira Pop! Vinyl for the Grand Opening this Saturday! pic.twitter.com/o8Kzm9B74w

— Forbidden Planet International (@fpinternational) November 6, 2019
Enjoyed this article? Share it!