It's not the first time I've found myself in a novel. The first was The Tenth Circle by Jodi Picoult, a novel about date rape and the father/daughter relationship, tangentially set in and around in the comics industry. Picoult replicated the Lying in the Gutters column I wrote for CBR perfectly. I felt a little like a butterfly pinned in a collection.
Then, of course, I was the victim in a CSI spinoff comic book called Dying In The Gutters, by Steven Grant and Stephen Mooney, where I was murdered (spoiler) by Greg Rucka. I mean, I can't blame him. I own the original art of my death, my kids think it's hilarious.
The second prose novel was for a spinoff of the TV series, Leverage: The Con Job, set in a comic book convention. I was a walking, talking character in that, writing Bleeding Cool and on the case, pursuing scam merchants. It was all rather exciting and even my kids got a mention.
And now The Con Artist by Fred Van Lente. A murder mystery set and around the comic book industry. Bleeding Cool makes a few appearances — but then so does everyone else. Here, have a look.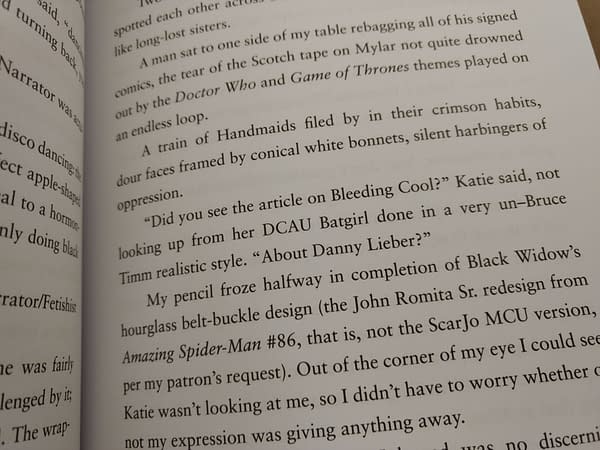 And more.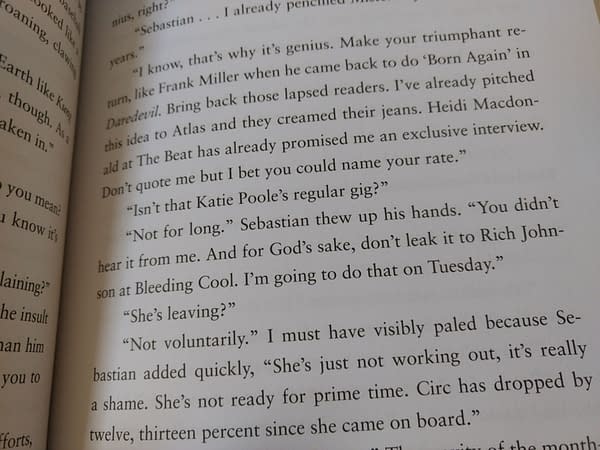 And I do promise to read the novel, rather than just skimming it for mentions of Bleeding Cool, honest.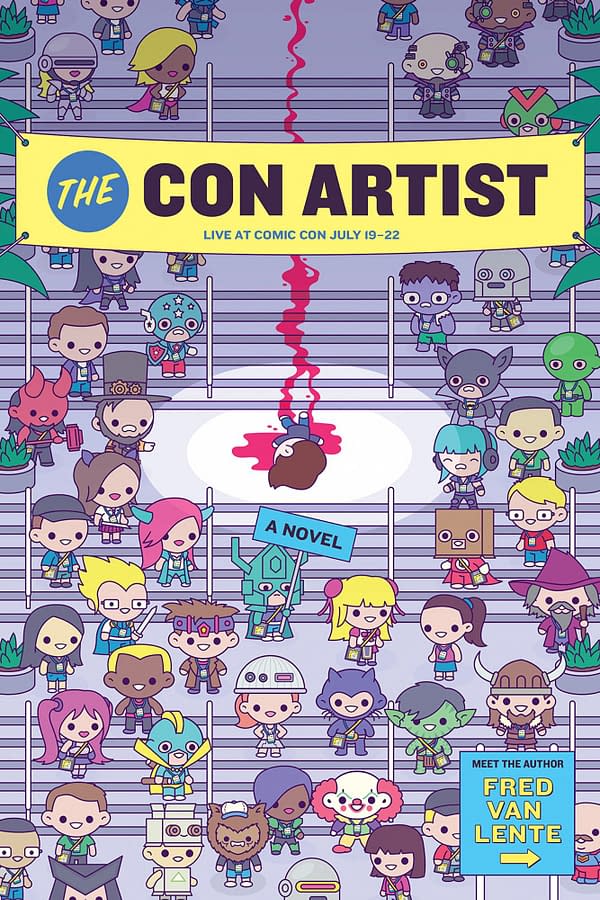 The Con Artist by Fred Van Lente and Tom Fowler is published by Quirk Book in the US and the UK on July 10th.
omic book illustrator Michael Yoo is having a terrible week. He's just arrived in San Diego for Comic-Con — the annual nerd Mardi Gras that triples the beachside city's population with 150,000 fans. Michael hopes to spend the next five days working his booth in Artist's Alley, where he'll sign autographs and sell sketches for $40 a pop. Instead he's implicated in the death of his editor, the widely feared and reviled Danny Lieber. There are plenty of suspects onhand — from rival illustrators to burlesque cos-players. But the most valuable clues might be hidden in Michael's own sketchbook. He's spent a good portion of the convention illustrating people he's met and places he's visited, and he's inadvertantly captured some very important information. The devil is in the details, and readers who pay careful attention to this book's black-and-white sketches will be on the right trail to unmask the murderer.
Enjoyed this article? Share it!