You may have noted an impending Star Wars movie titled, Solo: A Star Wars Story, featuring a young Han Solo. Out on the 24th of May in the UK, so expect plenty of 'May the Twenty-Fourth Be With You' jokes. Though it won't work quite as well in the US, as it's out there on the 25th. Sorry. Maybe for those lining up on the 24th it will still work and, to be fair, those are the type of folk who will find it funniest, even after the twenty-fourth time it's said.
Where was I? Oh yes. Young Han Solo. Because Star Wars fans get get an early take on just that thing on Free Comic Book Day on May 5th, the day after Star Wars Day. With a Star Wars Adventures comic from IDW that featured a young Han Solo and Chewbacca, set long before the events in the original Star Wars movie.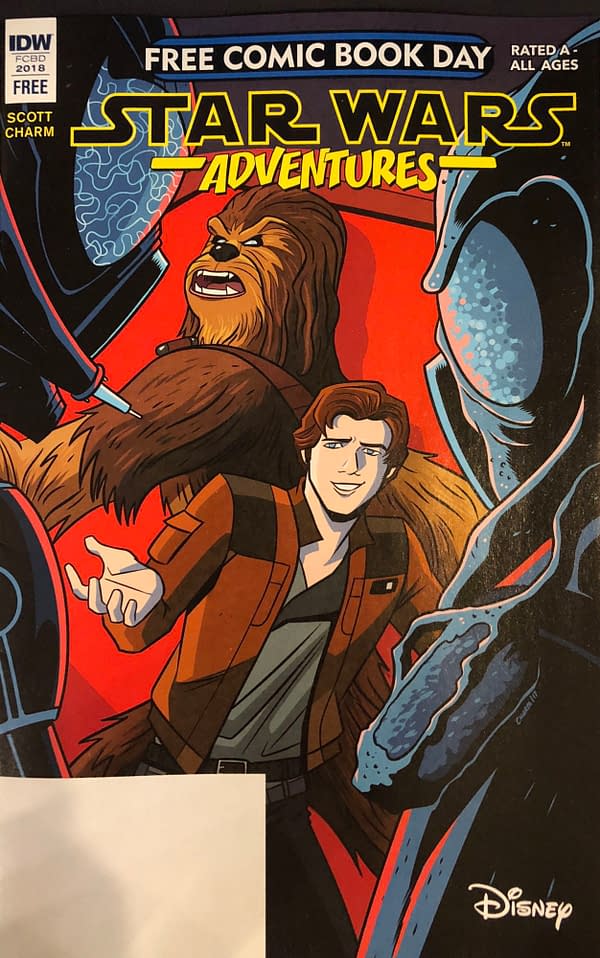 And it's the usual Han. Getting captured by bounty hunters and mouthing off to them…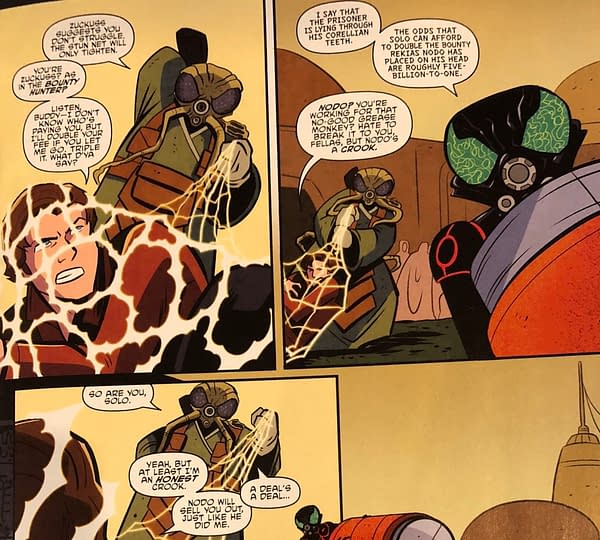 Keeping a Wookiee on retainer…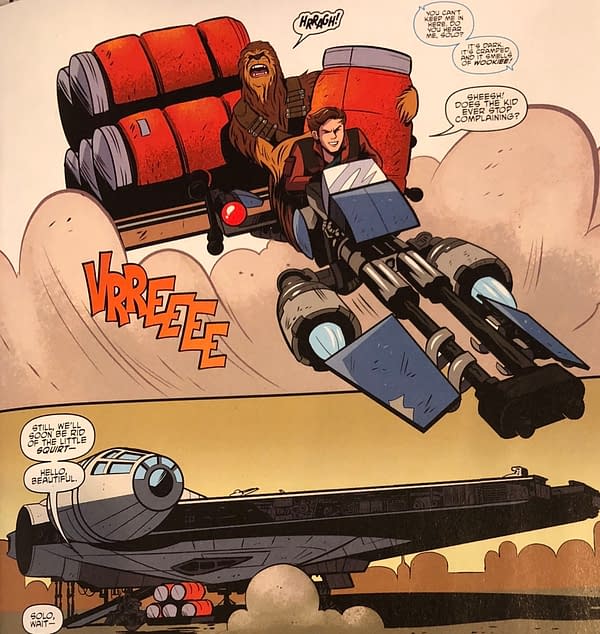 …oh, and a certain starship ready to leave at any given moment. And while it may be free, it also leads into the Star Wars Adventures series later that month which also stars a certain young Han Solo. With Star Wars Adventures #10 out the following Wednesday, May the tenth be with you.
It's almost as if they'd thought it through…
FCBD 2018 STAR WARS ADVENTURES
(W) Cavan Scott (A/CA) Derek Charm
In this all-new story set before Star Wars: A New Hope, feared bounty hunters Zuckuss and 4-LOM finally have two of the biggest scoundrels in the galaxy in their sights! Timed to follow hot on the heels of Star WarsDay 2018!
All-Ages.
STAR WARS ADVENTURES #10
(W) Sholly Fisch (A) Jamal Peppers (CA) Derek Charm
"Powered Down," Part 1 (of 2). Han and Chewie are on the run from bounty hunters and take refuge on a planet that mysteriously shuts downs all electronics. With no way off the planet, will our favorite scruffy duo be able to evade their pursuers? Also features a Lando Calrissian story by Elsa Charretier and Pierrick Colinet! Continues the story set up in the Star Wars Adventures Free Comic Book Day issue!In Shops: May 09, 2018
SRP: $3.99
Enjoyed this article? Share it!