The "clandestine mission" nature of the team is on full display in G.I. Joe #6 as a top-secret smuggling job takes a number of unexpected twists that are a gold mine of character development. With the world under the command of Cobra — which has gone from "oddball persistent threat" to "multinational technology and defense conglomerate which secretly planned to take over the world" and actually succeeded — the Joe team has become a scrappy, untrained group of insurgents fighting an impossible struggle. It's very fitting for the zeitgeist if very different than any previous incarnation of the franchise.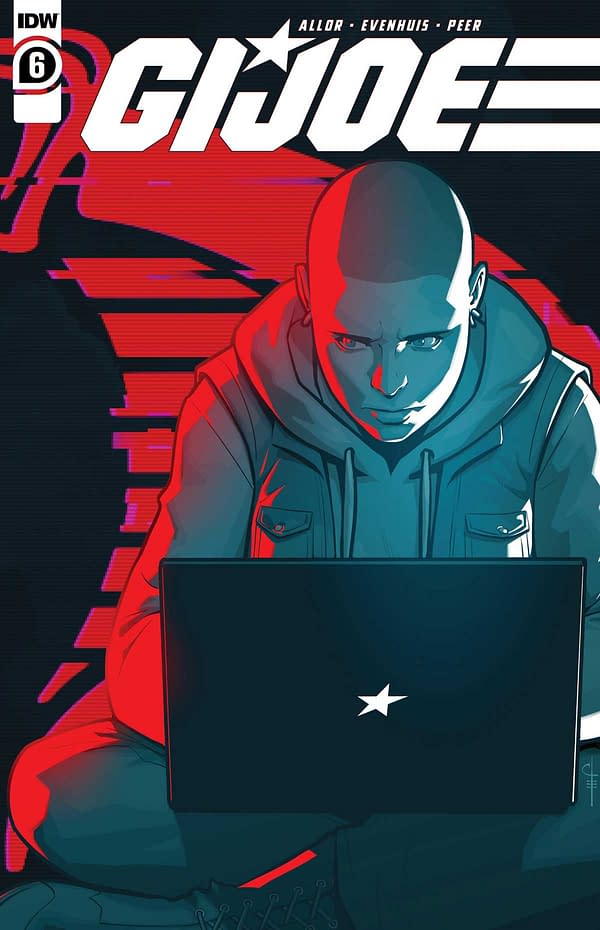 Anyway, this issue features super effective sequential art in a somewhat Patrick Nagel meets Jamie McKelvie kind of way — which is intended as a huge compliment for the specific work of Evenhuis and Peer, with Uyetake doing everything right to let this work shine. Taking on an "interview" style of framing device familiar to fans of The Office, this examines the mission in detail, allowing especially the character Fadeaway to really have some surprising moments.
Paul Allor is writing an almost literary approach to this, looking like a rebellion instead of the standardized tools of imperialism that the Joe team has been before. The problem with it, the one that keeps it scraping the sky instead of soaring, is that it takes out the most important part of the Joes — their individual excellence — and waters it down with neophyte identities and a lack of practical expertise. The much more interesting office politics of Cobra is at least performed by people who have accomplished something, and the slow boil of this is a long series of almost losses that could one day add up to a Battle of Yavin moment, but today G.I. Joe #6 is drastically less impressive. RATING: MEH.
G.I. Joe #6
(W) Paul Allor (A/CA) Chris Evenhuis
A mission to smuggle vital intelligence to Free Canada goes sideways when Fadeaway confronts someone from her past working in Cobra! The bonds of friendship are tested when lives are at stake!
Enjoyed this article? Share it!