Gail Simone, Joyce Chin's Vampirella Comic in Playboy for 50th Anniversary of Character
Vampirella is getting a exclusive comic book story in the new issue of Playboy Magazine, by Gail Simone and Joyce Chin for the character's 50th anniversary.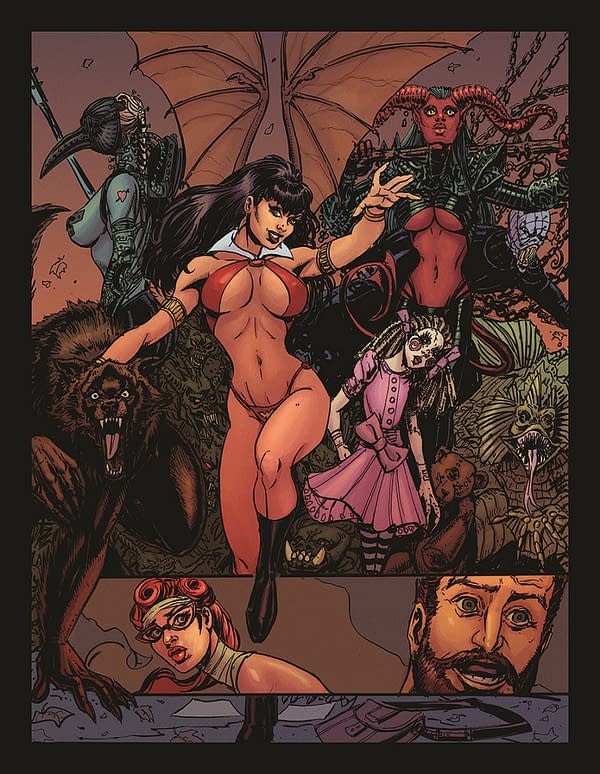 Arranged for Playboy's Spring 2019 Freedom of Speech issue available now, the six-page story colored by Addison Duke and lettered by Taylor Esposito, will tell a story about Vampirella protecting a couple of professional cosplayers from crazed cannibal peers. 'Cosplay, cannibalism and no kink-shaming!'
Simone and Chin previously collaborated on Vampirella for a Witchblade/Magdalena/Vampirella published by Top Cow/Image Comics in 2004. Vampirella is a superheroic vampire character created by Forrest J Ackerman and Trina Robbins in 1969 for Warren Publisher, later developed by Archie Goodwin from a horror-story hostessess to a leading character, with Frank Frazetta painting some of her more iconic images, including her first cover. The character was bought outright by Dynamite Entertainment in 2010.
Naturally, the decision for the character to appear in new exclusive stories for America's leading pornographic brand. It would be consistent with some of the ways Vampirella has been potrayed in her history, however. And very much in keeping with the Free Speech aspect of the issue in question.
"Vampirella is the original monster girl of comics. It's always a joy to tell stories with her, looking good and being bad," said writer Gail Simone. "There were two major enticements to do this story; one was to work with the wonderful Joyce again, who draws sexy evil like few can, and the other was to be part of that amazing legacy Playboy has had with comics and cartoons. The publisher was a known fan of the medium, wanted to BE a cartoonist at one time and provided a platform for the brilliant work of people like Harvey Kurtzman, Gahan Wilson and so many more. It's fun to bring Vampirella into that mix!"
Artist Joyce Chin chimes in, "Vampi is a nostalgic 60's hero for me, fun and campy. That great, classic Trina Robbins costume design, and the incredible art from people like José González, Frank Frazetta, Esteban Maroto, and so many more. There's a lot to love there. That she was having her own adventures and kicking monster butts in an era when very few female characters were prominently doing so, meant a lot."
"Vampirella is one of the most iconic characters in comics who has had some of the greatest creators in the industry work on her, from Trina Robbins and Frank Frazetta, to Mark Millar, Grant Morrison, Warren Ellis, Nancy Collins, James Robinson, Amanda Conner, Joe Jusko, Alex Ross, Joseph Michael Linsner, Louise Simonson, Archie Goodwin and so many more talented creators over her 50 year history," said Nick Barrucci, Dynamite CEO and Publisher. "We couldn't be more excited that Playboy worked with us to create this 50th Anniversary story, and to bring in two of the strongest female voices in our industry today – Gail and Joyce."
The issue of Playboy is available on newsstands and digitally on Playboy.com today. Vampirella #0 launches on the first Saturday in May for Free Comic Book Day.
Kelia Anne's cover is meant to reflect the butterfly effect, the idea that restraining freedom of speech, could have disasterous effects. The magazine also features Seth Abramson, Nas and Travis Scott, Ciara O'Rourke, the Reverend William J. Barber II, Yumna Al-Arashi, Lynsey Addario, David Harbour, Michelle Wolf, Fo Porter, Abigail O'Neill, Yoli Lara, Ali Mitton, Kayla Varley and Ana Dias.