Finding Garry Leach in the Hands of the Creator of CSI: Crime Scene Investigation
Anthony E. Zuiker is the creator of the popular TV franchise CSI: Crime Scene Investigation. Once upon a time, I was killed off in the CSI: Dying In The Gutters: Who Killed Rich Johnston comic book story, so I am personally invested.
Zuiker set up a comic book publisher with his wife Michelle Zuiker last year, with the aim of getting young authors to write their own story.
I came across them while wondering what Garry Leach, the original artist on the eighties Marvelman/Miracleman revival and creator of the Warpsmiths, was up to these days.
He is usually the sole credited artist on the Amazon listings for these graphic novels though he seems to mostly do the covers, and is co-artist on some of the titles, creating a house look for the line. He may be the inker, though that's not defined further in the credits. There is also no artistic credit on the covers, and they are relatively hard to find on the publisher's website. So I thought I'd at least amend that while spotlighting the books.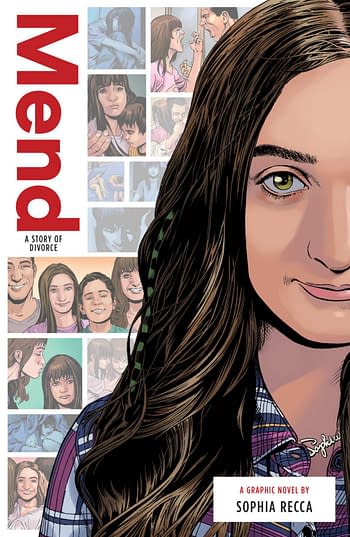 Mend: A Story of Divorce written by Sophia Recca, drawn by Nam Kim and Garry Leach, coloured by Fahriza Kamaputra, cover by Garry Leach.
Sophia, the fourteen-year-old author and protagonist, tells the heart-wrenching story of her parents' divorce. She was just nine years old, happy and enjoying life with her mom, dad, and little brother in Las Vegas, Nevada. Unexpectedly, one night, a violent argument disrupted her sleep and shattered her life. The next morning, her parents told her the dreaded news—they were getting divorced. Her dad was moving to California, while Sophia and her brother would stay with their mom.
Any child who has experienced the trauma of divorce will understand Sophia's reactions: First, she blamed herself. But then, she remembered a note a teacher once wrote on her report card, and was inspired to focus on bringing both parents back into her life. Even if they could not be under the same roof, she thought, they could still share in caring for her and her brother.
Sophia's story will resonate with children (and adults) who have faced a split in their family, or who have friends dealing with divorce. The book includes helpful advice for parents, as well as a special Teacher's Corner page.
SOPHIA RECCA is currently 14 years old and attends private school in Las Vegas, Nevada. She is a straight "A" student, plays volleyball, and loves reading. Blind-sided by divorce at nine years old, Sophia wanted to share her story with other readers to help ease the pain of young people who are going through divorce.
NAM KIM is a Philadelphia-based artist, founder and director of Studio Imaginary Lines, an all-purpose design house which produces original content for comic books, video games, mobile apps and commercial advertising. Nam is a self-taught illustrator who credits artists such as Burne Hogarth, Jim Lee, and Masamune Shiro for shaping his artistic style and vision. He has worked for Nike, TokyoPop, Radical Publishing and Image Comics where he illustrated the critically-acclaimed 'SAMURAI'S BLOOD."
FAHRIZA KAMAPUTRA was born and raised in southern Jakarta. In 2010 he worked as a colorist on a local comic book "Vienetta and the Stupid Aliens" which led to his work on the web comic "Rokki" and Madeline Holly-Rosling's "Boston Metaphysical Society" with the studio STELLAR LABS. Fahriza now works as a freelance artist.
---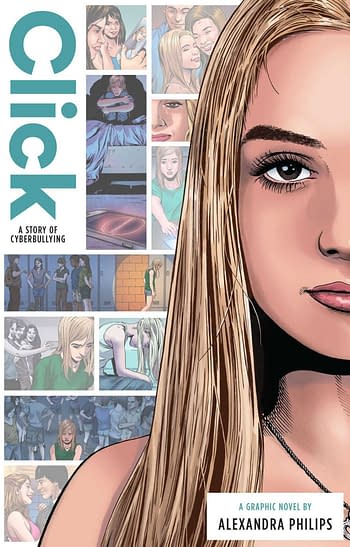 Click: A Story of Cyberbullying written by Alexandra Philips, drawn by Nam Kim, coloured by Fahriza Kamaputra, cover by Garry Leach.
Click: A Story of Cyberbullying is the second in the new Zuiker Press series of graphic novels written by young adults for their peers.
Lexi Philips is a confident, talented girl just entering middle school when a misunderstanding during a volleyball match leads to the loss of her friends, and to them relentlessly bullying her via social media. The torment inflicted on Lexi by these mean girls reduces her to a ghost of herself. She believes the posts saying she is ugly, or fat, or skinny, and unworthy of love . . . until her parents urge her to look to herself for strength and not allow bullies to define her.
Lexi finds the power within herself to overcome cyberbullying. And in a twist of karmic fate, the tables turn on her tormenters on social media.
Click includes helpful advice for parents, as well as a special Teacher's Corner page.
Lexi Philips is 17 years old and starting her first year of college. She loves playing volleyball, volunteering, and spending time with family. Overtaken by the devastating effects of cyberbullying at such a young age, Lexi shares her story to help other kids going through similar situations and hopes to remind them that they are stronger than those who try to beat them down.
---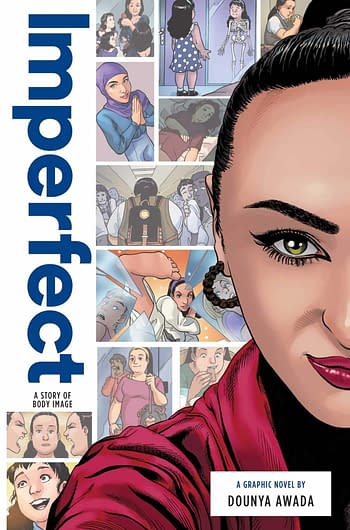 Imperfect: A Story of Body Image written by Dounya Awada, drawn by Miralti Firmansyah, cover by Garry Leach,
Dounya, a Muslim girl living in Las Vegas, Nevada, shares her very personal story of battling eating disorders when she was a teenager, in order to help other young people suffering from this affliction.
Imperfect: A Story of Body Image is the fourth in a series of graphic novels written by young adults for their peers.
Dounya Awada is a 24-year-old, devout Muslim, happy, healthy, and very much alive. But just a few years before, she nearly starved to death.
Her struggle began when she was six years old.
Little Dounya wanted nothing less than to be perfect, like her mother. She pushed herself hard every day, excelling in schoolwork and at home. She had to be the cutest, prettiest, smartest girl in the room. The slightest hint of imperfection led to meltdowns and uncontrollable tantrums. Her parents loved her fiercely but were unable to understand what was happening to their little girl.
Being perfect all the time was exhausting. In Dounya's culture, food is nearly synonymous with love. Food is nourishment, nourishment is love, love is life. Dounya began to eat to fill the growing need within her. She grew in size, eventually hitting over 200 pounds at just age 15. Food became her only friend. Her peers mocked her. She felt utterly alone.
As is the case for someone with dysmorphia, Dounya's obsession with food did a turnabout, and she began rigorous exercising and dieting. But even a substantial weight loss didn't satisfy her. She looked in the mirror and still saw the fat girl she used to be. She began the ugly cycle of bingeing and purging, eventually hitting a low weight of just 73 pounds.
Dounya's horrific struggle with eating disorders has led her to advocate for boys and girls facing the same hurdles with which she struggled. She is now studying clinical psychology, and hopes to open an eating and dysmorphia disorder facility in Las Vegas for boys and girls with her disorder. If her story helps just one person to recognize the beauty of their imperfection, then her pain will have been worthwhile.
Born to Middle-Eastern parents in Las Vegas, Nevada, Dounya is now a 24-year-old woman, a devout Muslim, and a college student, majoring in clinical psychology. Dounya's experience battling Body Dysmorphic Disorder—a dangerous obsession with real or imagined flaws in one's body—has inspired her to help other young people who suffer from this illness. Dounya enjoys cooking, writing, and hanging with her friends and family.
Miralti Firmansyah is an Indonesian artist who studied graphic design in Bandung. Her big break as a comic artist was on Marvel's Star-Lord & Kitty Pryde. She has also drawn Marvel's X-Men '92, The Unbelievable Gwenpool, and Thor vs Hulk. She lives in Jakarta, Indonesia.
Publication Date: April 16, 2019
---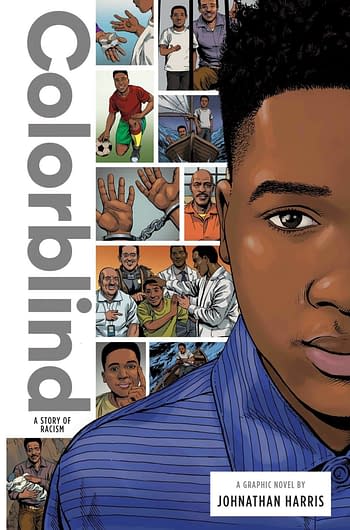 Colorblind: A Story of Racism written by Johnathan Harris, drawn by Don Hudson, coloured by Fahriza Kamaputra, cover by
GarryLeach.
Colorblind – Johnathan's story of multiculturalism – is a gripping story of a 15-year-old boy who had his civil rights violated by police officers in Long Beach, California. Jonathan's uncle, who was in prison at the time, teaches the young boy how to deal with racism by seeing the world through a multicultural lens rather than the color of people's skin. In the end, the two bestow upon each other the most valuable gift of all: freedom.
JOHNATHAN HARRIS is a 15-year-old boy from Long Beach, California. He is the youngest of four brothers. Johnathan likes to play competitive "travel" soccer and listen to rap music. His favorite artist is Snoop Dogg.
Don Hudson has been a professional artist in Los Angeles for twenty years. He's had the opportunity to work in comics, animation, advertising and even Broadway!
Publication Date: April 16, 2019