"Can We Stop It With The Gay Stuff?" – Dave Sim "Promotes" New Cerebus One-Shot Titled 'LGBTQ-People'
A week ago, we mentioned an upcoming Cerebus In Hell one-shot by Dave Sim, titled LGBTQ-People, with a parody of Stan Lee and Jack Kirby's X-Men #1 cover and, um, well, gay people I guess, was being published by Dave Sim's Aardvark Vanaheim. Today Dave Sim put the press release out, so a few other people noticed. It's been a while since Dave Sim trended on Twitter. And this is why.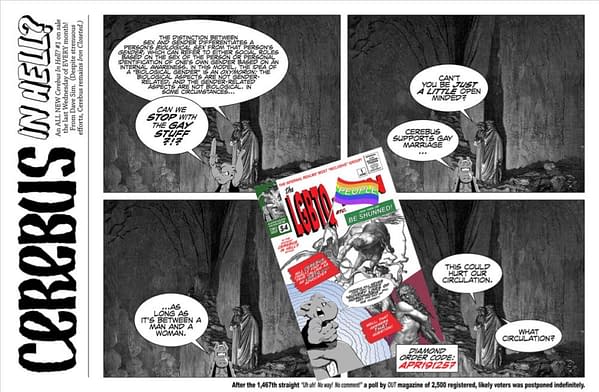 And in the release, he reinterprets X-Men #1.
In 1963, Stan Lee and Jack Kirby introduced THE X-MEN #1, and began a discussion about the blatant misogyny which results from bringing a teenage girl into an all-boys school, from the male members sexually objectifying Jean Grey when she first arrives ("WOW! She's a real living doll!" "A Redhead! Look at that face…and the rest of her!"), to Hank McCoy committing sexual violence by kissing her on the cheek WITHOUT her consent, to voyeurism as she tries on her new costume and they all watch from around the corner. This June, Aardvark-Vanaheim is proud to continue the dialogue with the 21st Century's version of "The Strangest Heroes Of All" in the latest CEREBUS IN HELL? one-shot: LGBTQetc. PEOPLE No.1!
It's hardly news to go over X-Men #1 like that, And certainly, everything he says is there – and more.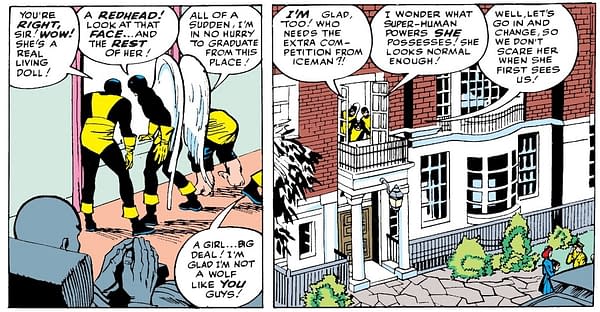 Of course, that was published in 1963. Cerebus is being published now.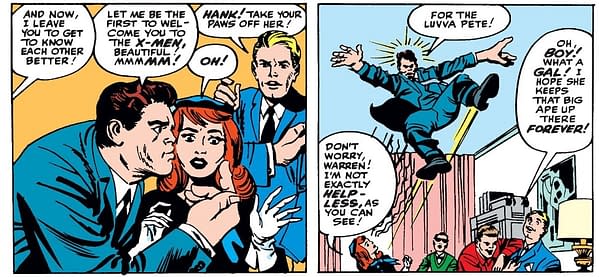 Things may have moved on.
They might even be said to have improved. Here's the full solicit.
LGTBQ ETC PEOPLE ONE SHOT
(W) Dave Sim (A) Dave Sim, Gustave Dore (CA) Benjamin Hobbs
Benjamin Hobbs parody of Jack Kirby and Dick Ayers' X-MEN No.1 cover (1963)
NOW WITH NO @#$%ING REPRINTS! EPIC-LENGTH ALL-IN-ONE 24-PAGE ISSUE!! MEET THE INFERNAL REALMS' MOST INCLUSIVE SUPER GROUP! LESBIANA HOMBRE™! Gay Chicano Female trapped inside the White Masculine body she never made! REDWOOD CITY™! He may look like a tree, but he's actually a mid-sized metropolitan California tourist destination (and excretes his own pine cones!) BORDERLINE BOBBIEY™! Amazingly, he changes gender identity every time you refer to her by a different pronoun! Just watch him! You go, girl! BELVEDERE™! Tired of being a stallion centaur Belvedere demands her right to give birth as a broodmare! "No WOMB! No PEACE!" Watch, as the STRANGEST HEROES AND FEMALE HEROES OF ALL go head-to-head with Cerebus! Can the aardvark and his WAVERY HOMOPHOBIA LINES hold up against a SUPREME COURT DECISION!? Features the hit song "Don't Pine for your cone, Redwood City!" ALSO! CEREBUS GOES ON STRIKE!In Shops: Jun 26, 2019 Final Orders Due: May 03, 2019 SRP: $4.00
Out in June, it will also follow his previous one-shot for May, Cerebus Woman. Which isn't far off the same, frankly.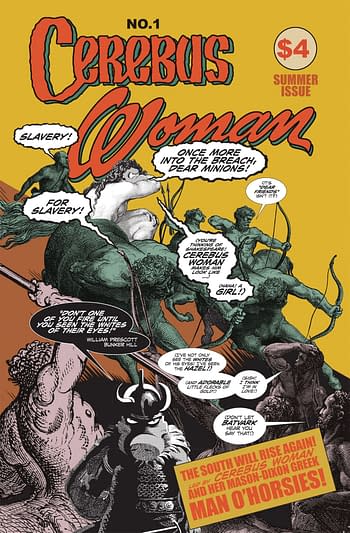 CEREBUS WOMAN
(W) Dave Sim (A) Dave Sim, Gustave Dore (CA) Benjamin Hobbs
Now with no reprints! Epic-length all-in-one 24-page issue! Ever wonder what the illegitimate daughter of Batvark and the Whore of Babylon would be like? Gosh! Who hasn't? Get ready for Cerebus Woman, the tyrannical queen of Real Amazon.com Island and her legion of Mason-Dixon Greek Man O'Horsies! First appearance of her invisible robot bulldozer! First appearance of the ancient Greek Real Amazon.com national anthem! Jingles, everyone's favorite CGC-dog comic collector, as Cerebus Woman's interspecies love interest! Don't miss Cerebus Woman tied up with her own magic lasso!In Shops: May 29, 2019 SRP: $4.00
The thing is, the insides of these comic books aren't reflected by the covers, either in tone or content. It's generally just cut-and-pasted images of Cerebus mooching around Hades as portrayed by Gustave Dore, illustrating Dante's Inferno, with relatively weak gags. The covers are comic book click bait.
Will they work? Well, maybe not. In a strip used to illustrate this particular issue, Cerebus bemoans the lack of sales these one-shots are getting.
February 2017's estimated order for the North American direct market by ComicChron saw Cerebus In Hell #1 get 5139 copies ordered. May 2018 saw The Undateable Cerebus #1 get 2198 orders. While February 2019 saw the more appealingly parodying Sim City #1 get 1765 orders. The more clickbaity the cover, the fewer the orders…
Dr Carol Tilly says,
I don't think anyone has to worry too much. Even Comicgate's Ethan Van Sciver, after hiring Dave Sim to script his Cyberfrog comic bemoaning a comic industry that had un-personed Davis Sim, suddenly decided to un-person Dave Sim himself after Ethan read a few other things Dave had written over the years.
More comics creators, including a few of his his contemporaries, have shared their thoughts….