George Takei, Sonic the Hedgehog, Red Panda & Moon Bear Kick Off New IDW Spanish-Language Program
IDW has announced plans for a new Spanish language initiative translating their most popular comics to Spanish to reach a new audience. George Takei announced the program at a National Council of Teachers of English event on Thursday, revealing that his bestselling graphic memoir They Called Us Enemy will be amongst the first IDW titles translated to Spanish in North America.
"It's been my life's mission to tell the story of the cruel and unjust incarceration of Japanese Americans during World War II, and I'm so honored by the outpouring of support for my graphic memoir, They Called Us Enemy," Takei said of the plans. "Having made this powerful tool for reaching young readers, I am thrilled to make the story accessible to a community that right now—today—is facing attacks that are all too familiar. This edition is especially meaningful to me since I was raised in the Spanish-speaking community of East L.A., which welcomed my family after our years of imprisonment."
IDW's Chris Ryall added in a press release:
IDW is proud to announce our new publishing initiative that reflects the increasingly diverse makeup of American readers and expands the accessibility of graphic novel storytelling to Spanish-speaking communities throughout the United States, Mexico and Canada. Spanish is spoken by more than 40 million people in the United States, making it the second most spoken language in this country. We're not only publishing for the readership that we have today, but also preparing for the growing readership of the next decade and beyond.
Sonic the Hedgehog and Red Panda & Moon Bear are the other titles announced for the program so far, launching in June 2020. Check out the solicits below: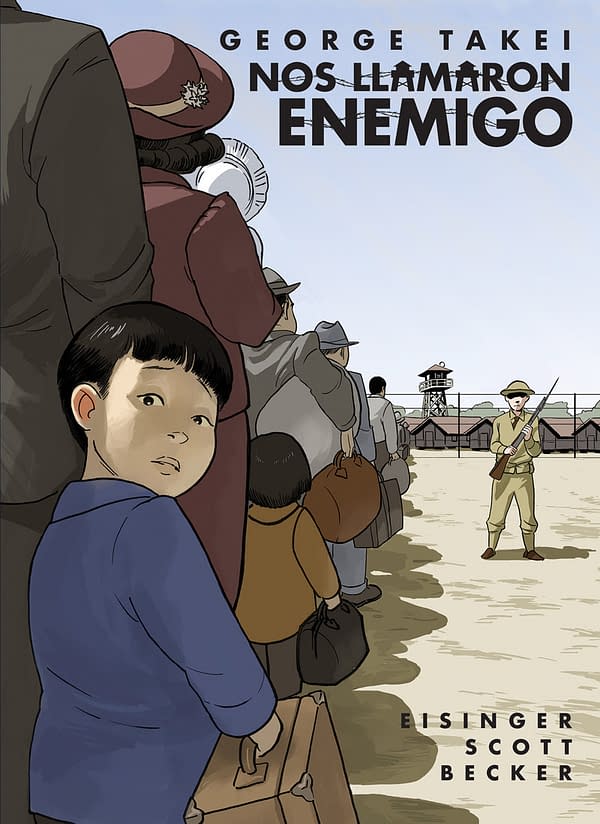 Nos llamaron Enemigo (978-1-60309-483-2), the Spanish language translation of They Called Us Enemy, is Takei's stunning graphic memoir, co-written with Justin Eisinger and Steven Scott and illustrated by Harmony Becker. Revisiting Takei's haunting childhood as one of more than 120,000 Japanese Americans imprisoned by the U.S. government during World War II, this gripping tale of courage, country, loyalty, and love is "a thought-provoking, critical look at the history of racism in American policies and culture" (Booklist). Nos llamaron Enemigo will be released on June 2, 2020.
Sonic the Hedgehog Volumen 1: ¡Consecuencias! (978-1-68405-749-8) is the Spanish language adaptation of Sonic the Hedgehog Vol. 1: Fallout, the first volume in IDW's wildly popular series based on SEGA's global video game phenomenon. Sonic the Hedgehog has long been a favorite in Spanish-speaking communities worldwide, so the debut of the ¡Consecuencias! storyline, written by Ian Flynn and illustrated by Tracy Yardley, Adam Bryce Thomas, Jennifer Hernandez, and Evan Stanley, promises to satisfy an eager Spanish-speaking audience in North America, arriving in stores on June 9, 2020.
Panda Roja y Oso Lunar (978-1-60309-484-9), by Cuban American writer/artist and educational researcher Jarod Roselló, is the Spanish translation of Red Panda & Moon Bear, a whimsical and tender-hearted adventure of two brave siblings who bttle supernatural threats to their vibrant Latinx neighborhood with the powers of science, magic, and some very special hoodies. Slated for release on June 16, 2020, Panda Roja y Oso Lunar will be an instant favorite for young readers, packed with Saturday-morning action and practically glowing with Caribbean sunshine.