Ghost Rider vs the Vulture by Dick Ayers, Up for Auction
Dick Ayers' Magazine Enterprises Ghost Rideris a stand out example of the artist's work, combining western, supernatural and herioic themes.
---
If you're unaware that there was a comic book Ghost Rider character before Marvel's versions, the typical explanation goes something like this: This comic book version was created by artist Dick Ayers and writer Ray Krank under the direction of Magazine Enterprises editor Vincent Sullivan. "Vin would come in and sit down and describe what he wanted in The Ghost Rider," Ayers later recalled. "He told me to go see Disney's Sleepy Hollow — Ichabod Crane, the Headless Horseman — and then he told me to play the Vaughn Monroe record, "Ghost Riders in the Sky." And then he started talking about what he wanted the guy wearing."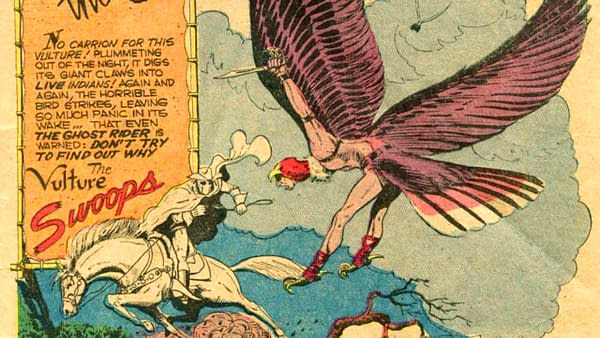 Of course, that's only part of the story. There are several examples of highly similar characters from the pulp and dime novel eras. They were sometimes even called Ghost Rider. The nod to a Headless Horseman gives us another clue as to where the Ghost Rider legends come from, but it's not exactly about Sleepy Hollow. The true roots of the character can be firmly traced to the American West and have a rich storytelling tradition.
The Magazine Enterprises version began in Tim Holt #11, and began to dominate the title's covers as the real-life Tim Holt's star power faded. Ghost Rider was soon spun off into its own 14-issue series while continuing to appear in the Tim Holt title and its successor Red Mask, until ending with the onset of the Comics Code in late 1954. This underappreciated material is Dick Ayers in peak form on this material, and Ghost Rider #9 is a stand-out example, with Ghost Rider going up against a costumed villain named the Vulture.
Ayers would have the chance to revive the character in virtually identical form at Marvel in 1967. But his lesser-seen Magazine Enterprises material is deserving of far more attention, and there's a Ghost Rider #9 (Magazine Enterprises, 1952) Condition: FN- up for auction in the 2023 March 12-13 Sunday & Monday Comic Books Select Auction #122311 at Heritage Auctions. If you're new to Heritage Auctions to check out their FAQ on the bidding process and related matters.

Affiliates of Bleeding Cool buy from and/or consign to Heritage Auctions.