Fox Consumer Products is launching 'Slay Day' on March 10th, the anniversary date of the launch of Buffy The Vampire Slayer back in 1999. And teaming up with the American Red Cross for nationwide blood drives, offering exclusive giveaways to donors at participating locations, and launching Buffy-inspired merchandise from key licensees.
You know what this means? You give blood. You get Buffy The Vampire Slayer comics books. Issue 1 of the new Boom reboot comic book series. First prints as well.
The Buffy blood drives will begin at the Red Cross's donation centre in Torrance, California, close to Torrance High School, the filming location for Sunnydale High. Other Red Cross blood drives will be held in other participating locations in Atlanta (multiple locations), Charlotte and Nashville and then in New York on March 11th. Fans who aren't near participating locations can sign up to donate tied to Buffy Slay Day via www.rcblood.org/Buffy.
While supplies last, donors at participating Red Cross donation centres will receive exclusive Buffy products, including an exclusive variant cover first printing of the sold out debut issue of the comic… while supplies last.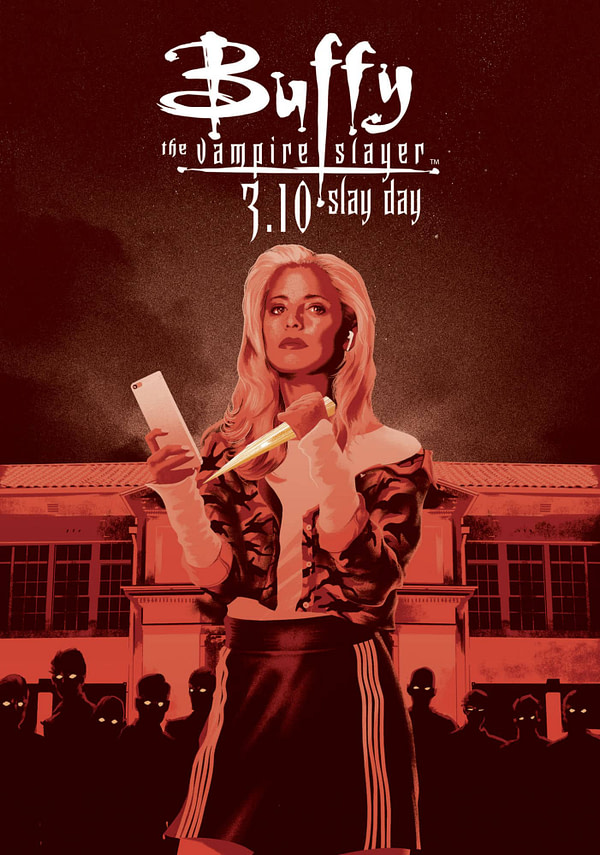 The first 15 presenting blood or platelet donors at each location may also receive complimentary Buffy goodies including Slayer, the new novel from Kiersten White, and Funko vinyl figures – including Buffy, Willow, Faith, Xander, and Giles.
Participating Red Cross blood donation centers include:
Sunday, March 10th 
Torrance, CA (7 a.m. – 3 p.m.):  2814 Sepulveda Blvd., Torrance, CA 90505
Alpharetta, GA (7 a.m. – 2 p.m.): 3000 Old Alabama Rd., Alpharetta, GA 30022
Atlanta, GA (7 a.m. – 2 p.m.):  1955 Monroe Dr., Atlanta, GA 30324
Duluth, GA (7 a.m. – 2 p.m.):  3090 Premiere Pkwy, Duluth, GA 30097
Marietta, GA (7 a.m. – 2 p.m.):  2145 Roswell Rd., Marietta, GA 30062
Charlotte, NC (11 a.m. – 4 p.m.):  2425 Park Rd., Charlotte, NC 28203
Nashville, TN (7 a.m. – 3 p.m.):  2201 Charlotte Ave., Nashville, TN 37203
Monday, March 11th
New York, NY (2 p.m. – 7 p.m.):  510 W 49th St., New York, NY 10019
Starting today through Buffy Slay Day, exclusive 2019 Buffy Slay Day merch launches on the official Buffy online store Shop.Fox.com. The items include an all-new exclusive tee showcasing BOOM! Studios' 2019 Buffy Slay Day graphic and commemorative logo. And lots of other stuff. Feel free to browse…