Gods Must Be Crazy: A Chat With Joe Casey About Valhalla Mad
By Jared Cornelius
Who's ready to party like it's 1999! Apparently Joe Casey and his cast of "Gods" from the new series, Valhalla Mad released this week from Image Comics. The series revolves around a group of God like beings who've returned to Earth for a bit of a holiday and maybe something more. For fans who might not be immediately familiar with Casey, he was one of the most prolific writers of the nineties and two thousands for Marvel, DC, and Wildstorm. His body of work not only included popular runs on titles like Cable, Wildcats, and Superman but in recent years he's found success with creator owned properties like Sex and The Bounce. But it's not just about creator owned books for Casey, he's also found a very successful second career with the popular Man of Action Entertainment studio collective who gave a generation shows like Ben 10 and Generator Rex. Before the launch of Valhalla Mad, Casey was kind enough to answer a few questions on the new series and share perspectives on original content, influences, and Kool-Aid, just in time for the series premiere this Wednesday.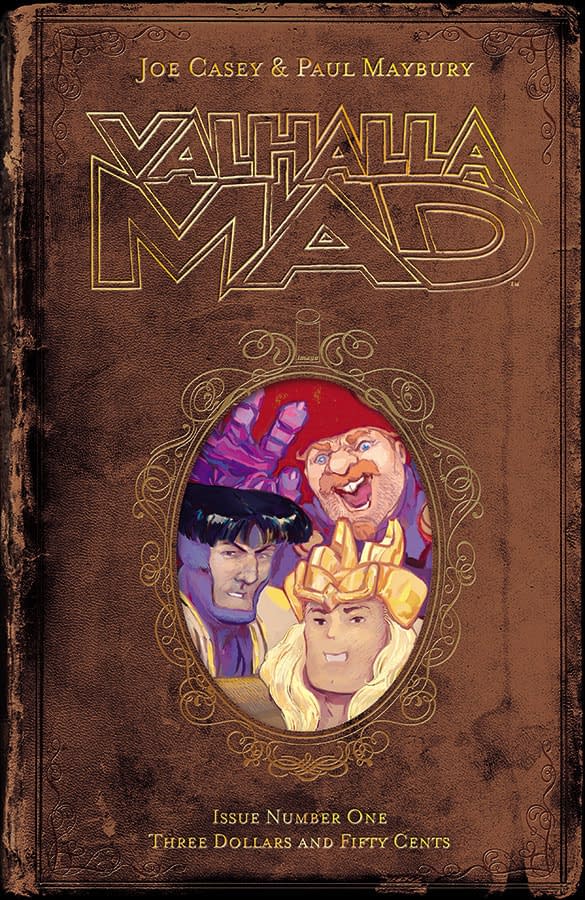 Jared M. Cornelius: Can you give our readers a little background on Valhalla Mad?
Joe Casey: It's a monthly comic book series, debuting this month from the Man of Action imprint on the venerable Image Comics publishing label. It's a full color affair. Each copy comes with a free decoder ring.
JMC: I got a real sense of influence from Jack Kirby in this book. Did the King influence Valhalla Mad and if so why?
JC: Everyone keeps bringing up the Kirby thing and, to be perfectly honest, I just don't see it. Besides, no one making comics today could shine Kirby's shoes, so to even try would be ridiculous.
JMC: The characters share a similar kinship with the Norse gods, but are from a place called Viken. Why the choice of wholly original gods and what drew you to the concept?
JC: Originality is something to be cherished… especially in this cookie cutter world we find ourselves living in. Simultaneously, Viken is a nostalgic nod to another magical work of cosmic fiction which is near and dear to my heart.
JMC: Our three main characters Knox, Greghorn, and Jhago haven't visited the mortal realm in 40 years. Would the absence been as meaningful if they returned in 1995 as opposed to 2015?
JC: Great question. As it turns out, I'd originally set this story in 1995. Or, more accurately, I thought of it back in '95, before I turned pro. I've held it close to my heart ever since. But this Apple tech/binge-watch world we live in turns out to be much better suited for the story we're telling.
JMC: They state there on Earth for, "Gluttonallia" a pan dimensional holiday if you will. If one were to celebrate, "Gluttonallia" what liquors would you recommend bringing?
JC: Well, I'm certainly no alcoholic, nor would I ever promote alcoholism in any form, even in a work of fiction. Personally, I would recommend an ice cold pitcher of cherry Kool-Aid, so you can ride that sugar buzz all the way into the upper atmosphere and you won't burn yourself upon reentry.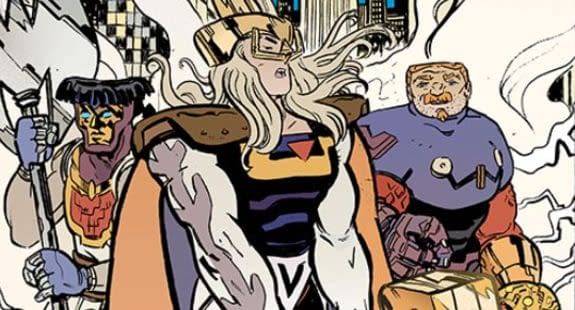 JMC: This also appears to be a world where mostly older people remember that some sort of otherworldly gods exist. However the younger characters seem to take their existence as folklore. Does the push and pull of the past and the future come in to play as the series progresses?
JC: What you've just described is actually a sub-genre of heroic fiction called "generational drama". If you've ever seen footage of a Frank Sinatra television special where they welcomed Elvis Presley back after a stint in the army… the duet mash up of "Love Me Tender" and "Witchcraft" really says it all… for me, anyway.
JMC: You're part of the very successful Man of Action Entertainment collective responsible for show like Ben 10 and Generator Rex. But in recent years you've also written more adult oriented titles like, The Bounce and Sex. Is there ever a transition period between writing more adult themes material and more kid friendly stories?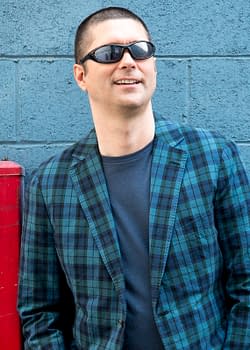 JC: MOA isn't just responsible… we created those shows, top to bottom. And I've always written for adults, when it comes to my comic books. It's not like a lot of kids read 'em, anyway. The balancing act happens more in my head than it does on the page. Each piece of billion-dollar entertainment is its own thing.
JMC: You've had a terrific career in super hero comics with credits on Batman/Superman, Wildcats, Hulk. But you have an impressive list of creator owned work as well. Do you find one more fulfilling than the other?
JC: Yes, I definitely do.
JMC: What made Paul Maybury the right artist for the Valhalla Mad?
JC: Ironically, he won the gig as a door prize at one of my many nocturnal gatherings. It's a semi-annual get together where we play Texas Hold 'Em and perform outrageous feats of strength. Paul thought he could sneak out… but the joke was on him. Everyone got a door prize at that party. It just so happened to get stuck with the VALHALLA MAD art gig as his.
JMC: If Valhalla Mad were ever made into a film or television series, who would you envision as the three leads?
JC: With digital technology, I'm convinced that Kim Coates could play all three. Officer Downe represent!
Valhalla Mad is available at finer comic shops and digital platforms this week!
Jared Cornelius is some guy from the Jersey coast whose final interview isn't tonight. To find out when more are coming down the line, follow him on Twitter @John_Laryngitis.