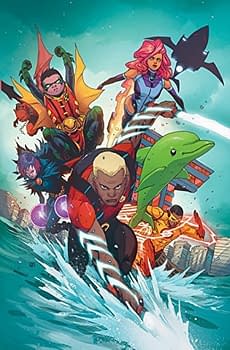 The Amazon listing for Teen Titans Vol 2, after the DC Rebirth, is an intriguing one.
The listing states,
The newest era of one of DC's greatest super-teams continues in TEEN TITANS VOL. 2! Written by Benjamin Percy (GREEN ARROW) with stunning art by Khoi Pham. Collects #6-7, #9-11 and #13.
#8 is part of the Lazarus Contract crossover currently burning through Titans, Teen Titans and Deathstroke.
So can we presume #12 will also be part of a crossover? And for one so soon after Lazarus Contract, a line-wide crossover?
Metal?
Could September be a… rather heavy month?
Enjoyed this article? Share it!