Harrow County #31 Review: Building Up the Tension for the Final Showdown
The citizens of Harrow County have surrounded Emmy and aim to kill her. The Abandoned wants her to protect herself, but she refuses to hurt the residents of the county, and she commands the Abandoned to do the same. He holds them off while Emmy makes her escape, but her powers have changed. She fears what she has become.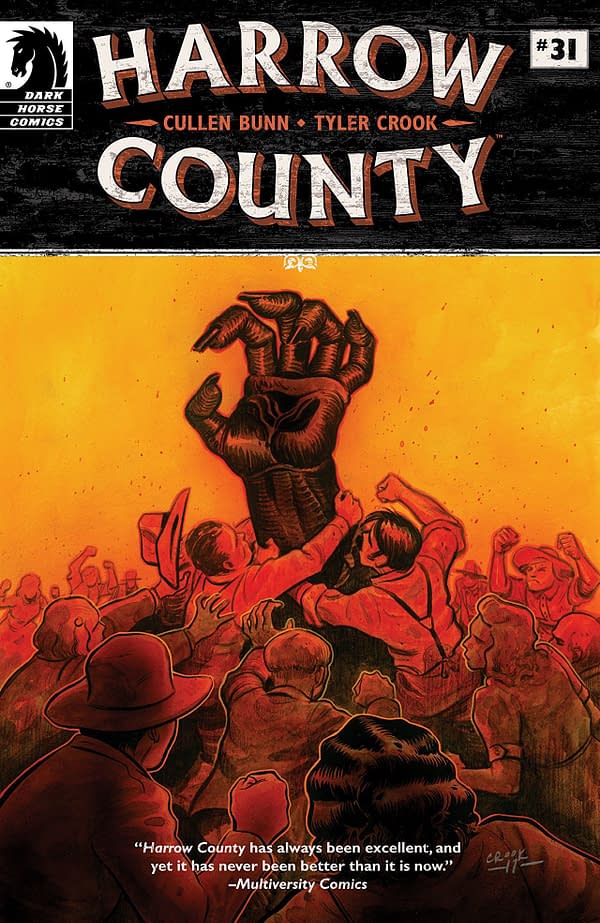 Harrow County #31 brings another intense and macabre issue of the celebrated horror series. In addition to the unnerving Invasion of the Body Snatchers opening of Emmy's friends trying to kill her, the comic focuses on the horror within Emmy.
That's where the comic shines brightest. Harrow County seems to warn Emmy of what she has become and what she may yet transform into. She had the best intentions — to stop Hester — but she may have crossed a threshold into something worse. The comic sells it too. The next issue is the finale to the series, and, the way this comic has gone, it is entirely possible that Emmy does something horrific in her quest to stop Hester. She arguably does something awful in leaving the Abandoned behind, but that's up to your discretion and a bit spoiler-y.
Speaking of Hester, the comic ends before their final duel begins, and the comic has set up this coming showdown excellently. I'm left excited for the conclusion.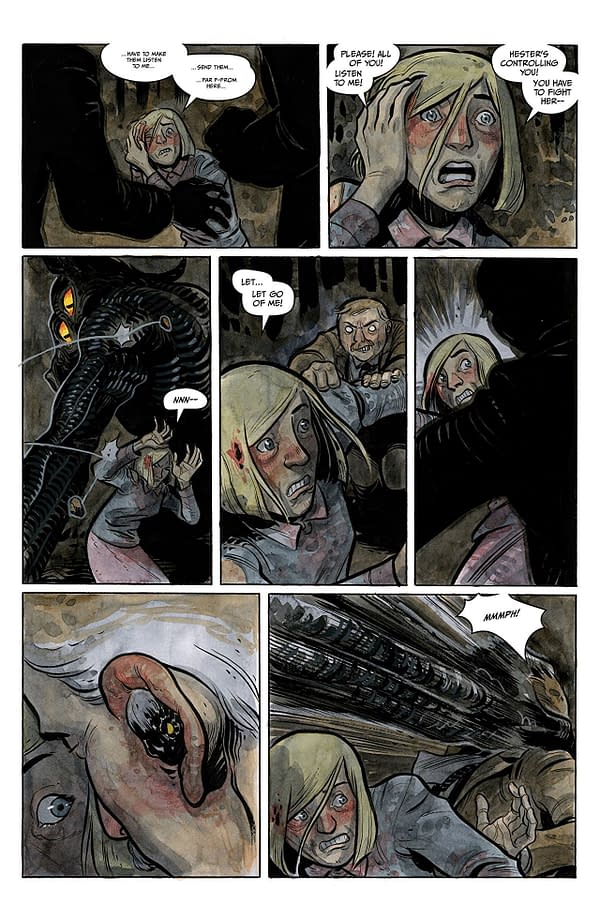 Tyler Crook's art continues to be a masterful mixture of beauty and detritus. The county is, as it always was, a grimy and foreboding place. Its people look both common and weathered. The Abandoned has a great design. Colors are played with in an interesting way, especially in some of the visions Emmy sees in the back half. This is another gorgeous installment for the series.
Harrow County #31 both beats the reader down and readies them for the finale. It is an emotionally taxing issue, but you know, whatever happens next, it's going to be big. Cullen Bunn and Tyler Crook have done excellent work with this book, and I can't wait to see how it ends. This issue earns a strong recommendation. Give it a read.