Heroes In Crisis' Sanctuary Mentions in Today's Flash #51 and Doomsday Clock #6 (Spoilers)
Heroes In Crisis is coming.
The Sanctuary is coming.
Already mentioned in a number of comic books (written by Tom King), today sees mentions of the Sanctuary, a place where superheroes can get treatment for PTSD from their superheroing lives. Poison Ivy has been sent there. It looks like Booster Gold is sent there. And Harley Quinn will be waiting for him.
Today, however, we get mentions from writers who are not Tom King.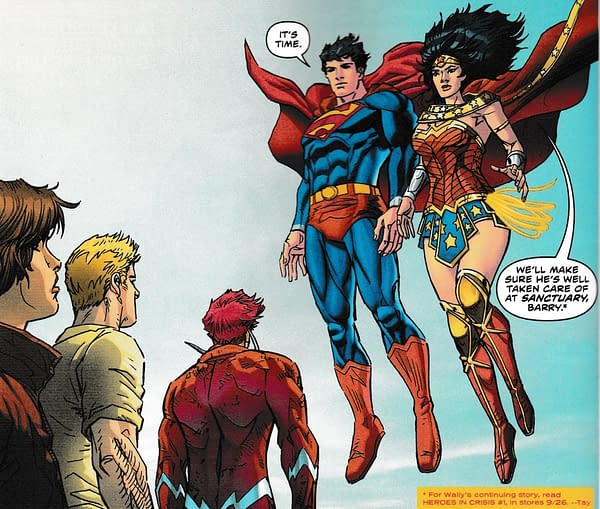 As we predicted, Wally West is sent to the Sanctuary, mentioned in Flash #51, written by Josh Williamson.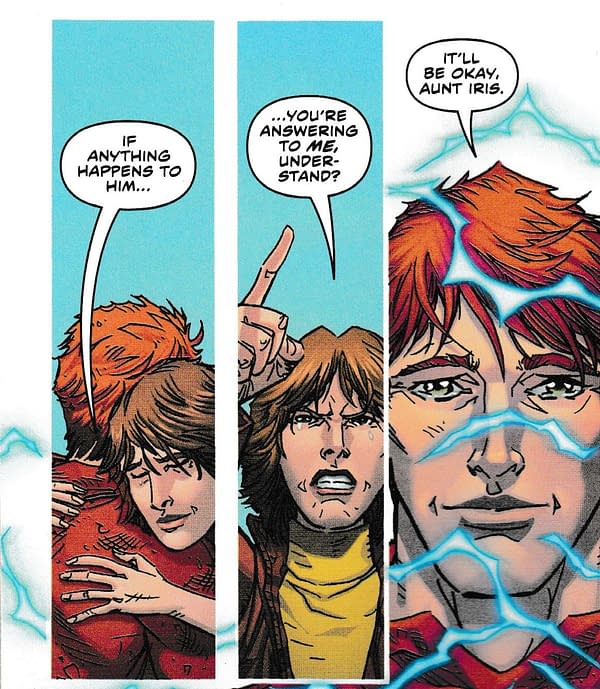 We have suggested that things may not be too rosy when he gets there though. And this bit of foreshadowing pretty much guarantees that.
And then there is also mentioned in Doomsday Clock #6, set in the near future of the DC Universe, written by Geoff Johns.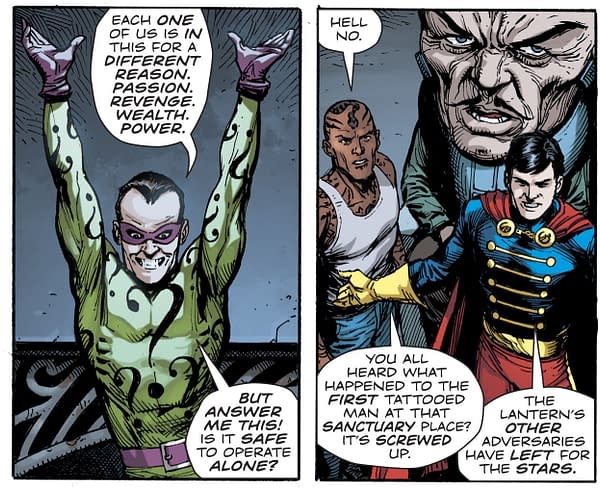 The First Tattooed man at Sanctuary? There have been three.
Abel Tarrant was a former sailor who turned to burglary, who could manipulate his own living tattoos, created by Gardner Fox and Gil Kane, in Green Lantern #23 in 1963. John Oakes, was a cellmate of Tarrant and earned his abilities from the latter through supernatural means, created by Jerry Prosser and Warren Pleece in Skin Graft: The Adventures of a Tattooed Man #1 (1993). And more relevantly and pictured here, Mark Richards is the current Tattooed Man, created by Geoff Johns and Ethan Van Sciver, first appearing in Green Lantern #9 (2006), although no longer a villain but a mercenary. So is it Abel in Sanctuary, or could it have been John?
Now that Sanctuary mentions are spreading their wings, are there other mentions out there? Send them in…
FLASH #51
(W) Joshua Williamson (A) Scott Kolins (CA) Howard Porter
As the dust settles in the wake of "Flash War," the Flash and his family of speedsters try to pick up the pieces of what's left. But bad blood can run deep. This is the one race the Flash Family can't win!In Shops: Jul 25, 2018
SRP: $3.99
DOOMSDAY CLOCK #6 (OF 12)
(W) Geoff Johns (A/CA) Gary Frank
The critically acclaimed super star team of writer Geoff Johns and artist Gary Frank continue this groundbreaking event as the Mime and the Marionette take center stage in DOOMSDAY CLOCK #6. In Shops: Jul 25, 2018
SRP: $4.99