Another Heroes In Crisis #1 Death Confirmation (MAJOR SPOILERS)
Last week, Bleeding Cool confirmed the first death in Tom King and Clay Mann's Heroes In Crisis series. It's a relatively minor character, it wasn't Bunker as DC Comics had proposed, but it wasn't one of the Big Seven that DC Nation had splashed on the cover.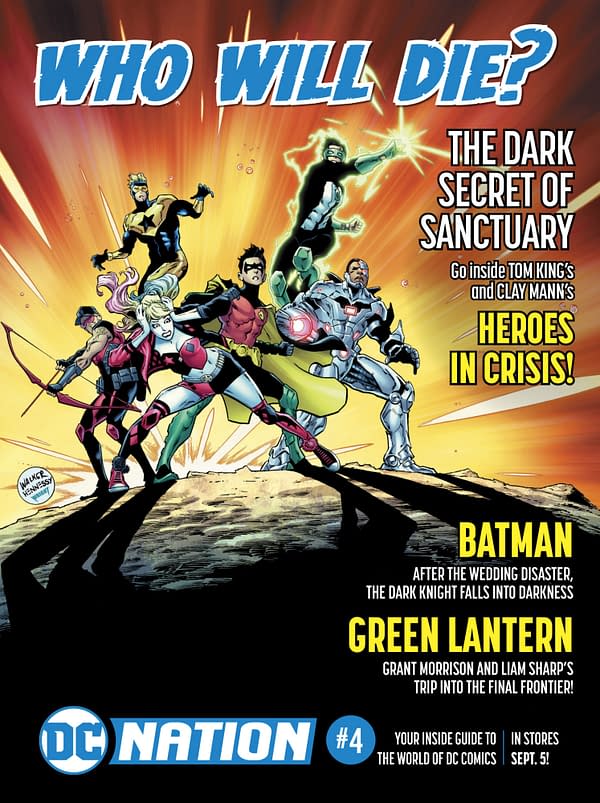 Or who they ran the odds for.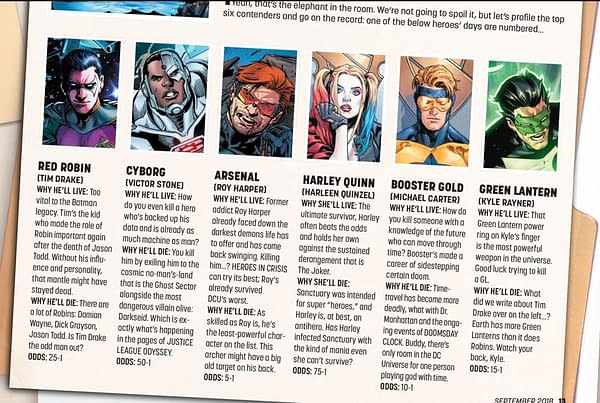 Because there are meant to be two major deaths in the series and the one we previously revealed wasn't that. We can, however, reveal which one of these is getting the chop. Spoiler warning time… Basically, it's the one everyone expects, Roy Harper. Speedy. Arsenal. Red Arrow. This seems to be the automatic go to, when in doubt, kill a Titan.
Created by Mort Weisinger and George Papp in 1941 as Speedy, the teen sidekick of the superhero Green Arrow, he is a world-class archer and athlete, he became a core member of the Teen Titans. He later reinvented himself as Arsenal, and Red Arrow, with membership of The Seven Soldiers of Victory, the Outsiders, the Justice League, and the Outlaws along the way. He's also known as a drunk and a heroin addict. And now targeted for the chop.
We are still expecting the murderer to be revealed as a freaked out Wally West, running through Sanctuary guns blazing. for some reason, somehow, and to come out the other end as a member of Suicide Squad, as written by Brian Azzarello.
As for the other death, so many fingers are pointing at Poison Ivy, though nothing as official as the nod we have had for Roy Harper. Who joins fellow Titan Hotspot on the death list.
More to come of course.
HEROES IN CRISIS #1 (OF 7)
(W) Tom King (A/CA) Clay Mann
There's a new kind of crisis threatening the heroes of the DC Universe, ripped from real-world headlines by C.I.A.-operative-turned-comics-writer Tom King: How does a superhero handle PTSD? Welcome to Sanctuary, an ultra-secret hospital for superheroes who've been
traumatized by crime-fighting and cosmic combat. But something goes inexplicably wrong when many patients wind up dead, with two well-known operators as the prime suspects:
Harley Quinn and Booster Gold! It's up to the DC Trinity of Superman, Wonder Woman and
Batman to investigate-but can they get the job done in the face of overwhelming opposition?In Shops: Sep 26, 2018
SRP: $3.99