The Golden Age of comics has a lot of subcategories underneath it. Over the past few days, Bleeding Cool readers have seen pre-code horror, good girl art, jungle girl, teen humor, and patriotic heroes. But there's one I have yet to touch on — bondage. Yes, bondage covers are also coveted by fans of this era. Wings Comics, the exciting war anthology series from Fiction House, was a staple on the newsstands during World War II. Wings Comics graced stands alongside other Fiction House staples such as Jungle Comics, Planet Comics, and Fight Comics. And now, this salacious copy of Wings Comics #90 can be yours from ComicConnect!
I've been a collector of Wings Comics for some time. The patriotic war stories are a good look into how pop culture was shaped by the real-world events of World War II. On top of that, the cover and interior art were lively, interesting, and fun. Issue #90 has always been more popular than most other Wings Comics because it features your stereotypical damsel in distress tied up. This cover also falls into the "headlights" category, due to how her chest has been drawn. Another famous example of a "headlights" cover would be Archie #50. Bob Lubbers drew an exciting and exceptional golden age cover, one that would go on to entice collectors for decades to come.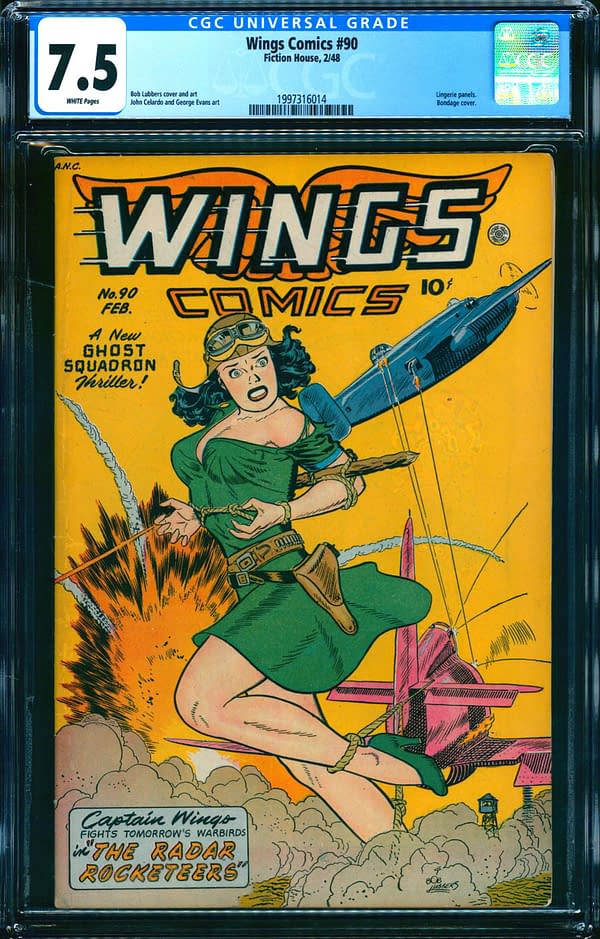 Currently, there are no GPA records for a CGC universal blue label 7.5 copy. A CGC blue 8.0 sold for $483 in September of 2010, while a CGC blue 6.0 sold for $535 in November of 2018. This book, which features white pages, will finish strong. This is an excellent book for collectors across the board, and it's still affordable enough for new Golden Age collectors to get their collection started!
The auction for this book ends on May 22nd and is part of Session 5 of Event Auction #42. Are you interested in owning this book? You'll need a ComicConnect auction to bid. But don't worry, accounts are totally free. Plus, you never know what other comic goodies you'll find! Good luck and happy bidding.
Enjoyed this article? Share it!