Hitsville UK – Making Music and Comics Work Together on the Page
Hitsville UK, the cult comic dedicated to the weirder corners of pop music launches a Kickstarter for the collected edition on the 3rd September. Daniel Cox writes,

John and I met on Barbelith, the Grant Morrison fan site that morphed into a much stranger beast. I needed an artist for a story about a psychic alien band called The Mentors who you inhaled through an aerosol. I can still remember the relief I felt when I saw John's portfolio, this guy was brilliant. After, we were discussing what else we were working on. John was doing a comic about music. So was I. Mine was all Serious with a capital, summoning demons on dancefloors, rave chaos magick. John's was a comedy set in a fictional record label. It took me about 40 seconds to realise his idea was far better. He had a name for it.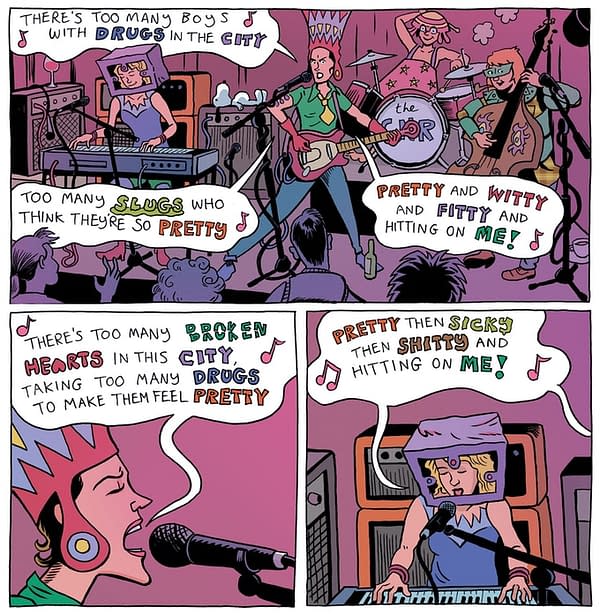 'Hitsville UK' after the Clash song that sounds nothing like a Clash song.
Music was important to both our lives. John was a trumpeter raised on classical and jazz before a well-timed C90 cassette from a mate turned his teenage mind on to indie guitars. When we met he was in the Little Philistines gigging around London and nibbling at the edges of the 6 Music playlist. I'd escaped from small-town England in my early twenties to Brighton, I did radio production for 'Brighton's music alternative' Surf 107.2 and wrote reviews and interviews for the multitude of listings papers and blogs. My friends were DJs, in bands, putting on free parties. I was tone-deaf, mal-coordinated, unable to learn chord C on guitar for any great length of time and chronically shy. Writing about it was my way of being involved.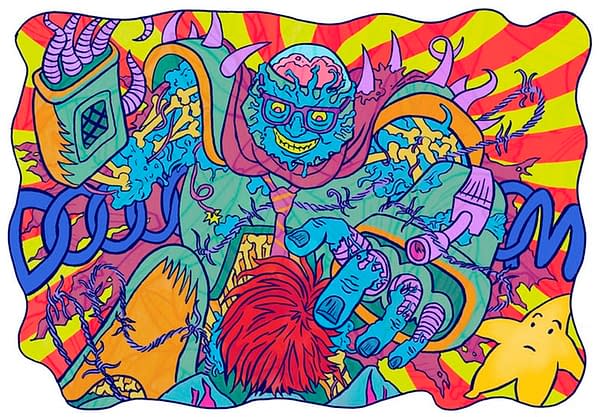 One of the reasons I wanted to do a comic about music was the difficultly. Comics are a silent medium. Well, comics are noisy as all hell kapowing, kablaming and bamfing all over the shop but just as space = time on the comic book page sound = visuals.
I found music difficult to read in comics. When Wagner, Grant and Gibson did National Song Week in Robo-Hunter, my brain bounced off the wobbly font and the notes and the knowledge that there was a tune there that I didn't know, conspired to make me skip the song sections. In the intervening years I hadn't seen anyone do it any other way. Part of our motivation was arrogance. Could we find a way to write and draw a comic that felt like music. Could we give people a sense of what our characters sounded like using text and images alone?

It helped that music and text were linked for us anyway. We were from the era where it was difficult to hear music, you had the Evening Session and John Peel (if you could get away with staying up for it) and if you missed them you missed them. You'd read about bands in the NME and Melody Maker and Select, take a guess at which ones you'd like then go and blow your weeks' paper round money on an album.
Another key influence was Deadline, that off the wall mix of comics and bands that blurred the boundaries between the two. There was that image of Hewlett, Bond, Ewins and Dillon looking as like a band as Cud or Kingmaker ever did.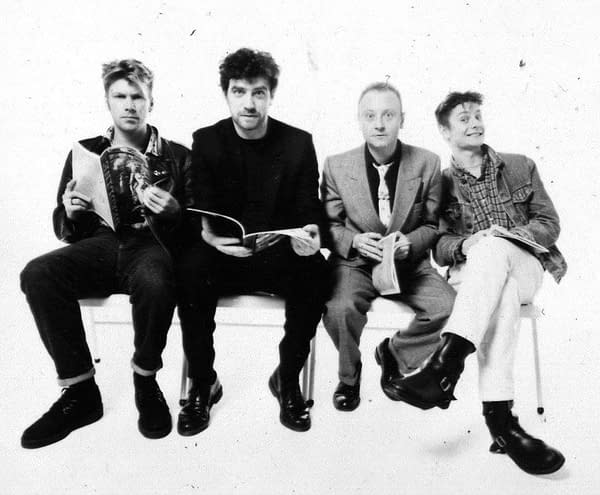 We took the characters John already had, a grotesque with the voice of an angel, a demonic accountant and wannabe mogul and created more bands form our influences and experience. Greg Pastis, violent music snob music producer based on the tale of Joe Meek, Phil Spector and a DJ I used to work with. The Carries based on a mix of Le Tigre and Brighton scene bands Electrelane and the Phil Collins 3, and a reaction to the horrors visited upon the band in Beyond the Valley of the Dolls. Haunted by Robots, a 15-year-old boy despairing of his pill-casualty dad and the school bullies, escaping into dreams imaginary robot who goads him to make doom-laden techno. And lots more. We created so many characters. The rule was each group had to be capable of leading a book on their own. All of them had their own story going on. Hitsville was where we'd bring them together and bounce them off each other.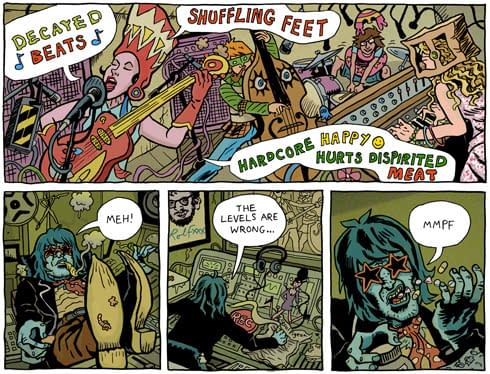 The first issue we wrote a version each and then smushed them together. Obviously this is an insane way to work and we dropped it immediately but it was necessary. We were learning to play with each other. Trying to figure out what the other person wanted this comic to be. We settled into a more sensible pattern of long conversations and emails trying to make each other laugh, spinning off in wilder directions, fighting for our jokes and our corner. Then as the plans and the plots became more solid we started improvising, trying to surprise the other person, give them something new. It was the most collaborative process I've ever been involved in. And it made me a much better writer. And it made Hitsville a much better comic.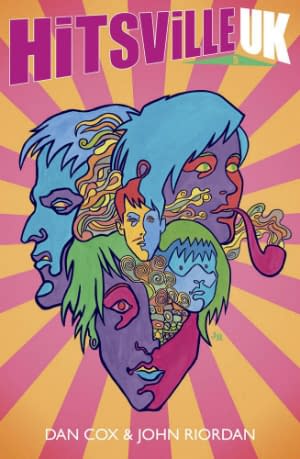 Somehow we completed it. Every issue felt like it would be the one to fail. Our printer the brilliant Rich Hardiman of Comic Printing UK took to Twitter to mock us for always being the last to send files for the Thought Bubble print run. But we got there and the book itself is something I'm very proud of. When we say it's about music we mean it's about a sense of identity, and trying to make something bigger than yourself, and those feelings of celebration and grief and loneliness and love and lust that music feeds. For every mental psychedelic wig out and transcendental moment of superstar bliss there's burnt toast and cold tea the lonely walk back after the gig through unlit streets lined with split bin bags.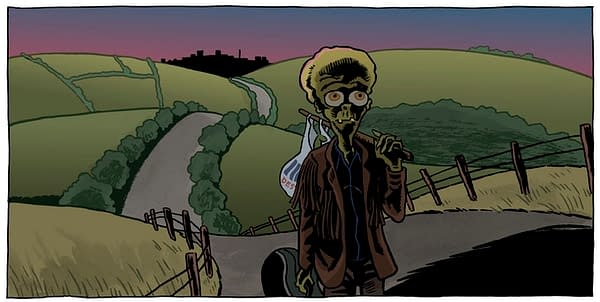 We're doing a Kickstarter because we want to reach out. We have a brilliant, solid fan base built up through the convention circuit and one of the best things about doing this book has been meeting those people and talking to them about the nonsense things that we all love. This is our opportunity to reach out further and try and find more like-minded people.
In closing I have no advice on how to run a Kickstarter, I don't know if we're going to be successful yet. But, one thing I have learnt, if you are putting on a rave of dubious legality in a warehouse then don't let the fire jugglers out before the stilt walkers, the oil all over the floor makes it tricky for them.
https://www.kickstarter.com/projects/1698871846/hitsville-uk-graphic-novel