So, Batman: Damned #1 is the comic book that will now forever be known as The One In Which Batman Got His Dick Out. But it may not have been the scene that the authors anticipated would cause the most furore.
But it has a number of other elements that might deserve unpacking.
We mentioned that this was coming, but publication has confirmed it. As well as Bruce Wayne remembering a demonic young girl running through his history – whether remembering her now, or if she is rewriting his memories, that is not clear.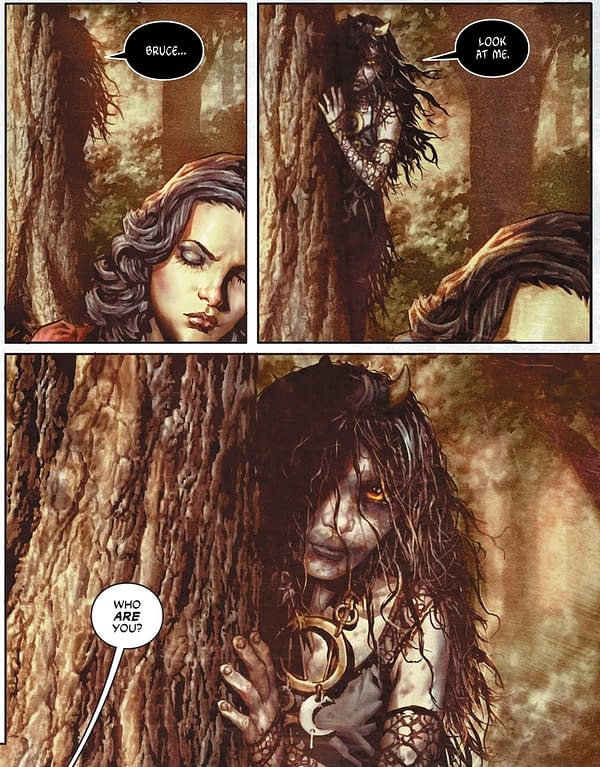 Though it may provide a get-out clause for this scene.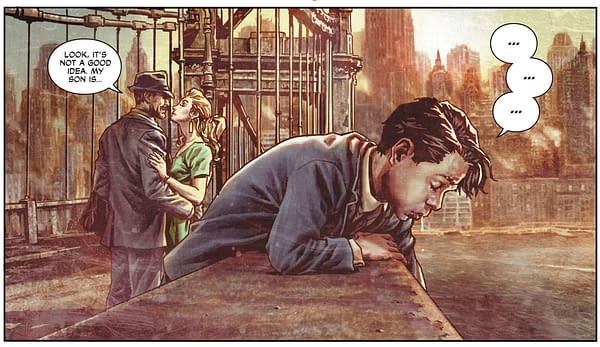 In which it is clear that while alive, Thomas Wayne is having an affair, and doing so in front of the oblivious Bruce Wayne. Who is heading for a fall.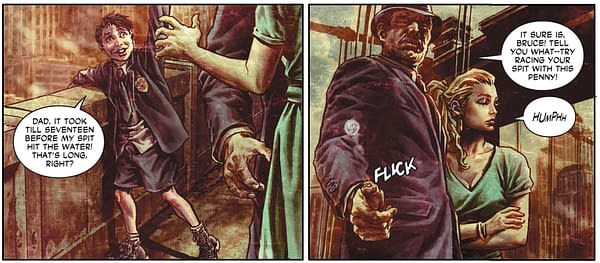 It was a similar rewriting of past history that caused much concern when Marvel revealed that Spider-Man's dead girlfriend Gen Stacy had had an affair with Norman Osborn, the Green Goblin, and had given birth to twins. Everyone has tried to forget about that since.
But with so much emphasis placed upon Thomas Wayne and Martha Wayne by the Batbooks, how much of this will seep through to the regular titles? Batman Damned really wants to be the new Killing Joke, and that's an example of continuity not necessarily intended for the main series making its way into the regular books…
BATMAN DAMNED #1 (OF 3) (MR)
(W) Brian Azzarello (A/CA) Lee Bermejo
DC BLACK LABEL, the highly anticipated new imprint from DC Comics, starts here!
The Joker is dead.
There is no doubt about that. But whether Batman finally snapped his scrawny neck or some other sinister force in Gotham City did the deed is still a mystery.
Problem is, Batman can't remember… and the more he digs into this labyrinthine case, the more his mind starts to doubt everything he's uncovering.
So who better to set him straight than… John Constantine? Problem with that is as much as John loves a good mystery, he loves messing with people's heads even more. So with John's "help," the pair will delve into the sordid underbelly of Gotham as they race toward the mind-blowing truth of who murdered The Joker.
BATMAN: DAMNED is a bimonthly super-natural horror story told by two of comics' greatest modern creators-a visceral thrill-ride that proudly puts the "black" in BLACK LABEL.In Shops: Sep 19, 2018
SRP: $6.99
Enjoyed this article? Share it!