Jules Rivera writers for Bleeding Cool:
Misfortune High is a story that sparked and then exploded into creation last year. So many other comics stories stew and bubble and brew in their respective creators' heads for years before they get off the ground, but that's not what happened here. The story, characters, and design was a dry field of grass and all it took was a spark to set the whole thing ablaze.
This is the story of a rich kid who gets sent to a magic school in the ghetto, after getting expelled from his fancy magic school. It asks the question I didn't see enough stories ask: how come we don't see magic schools outside of fancy neighborhoods or whimsical fantasy lands? What if someone took a twist on the traditional "slay the dragon" story and made it about getting out of a crappy school surrounded by hood rats and miscreants? Kind of like Harry Potter meets Dangerous Minds, except funny. What if?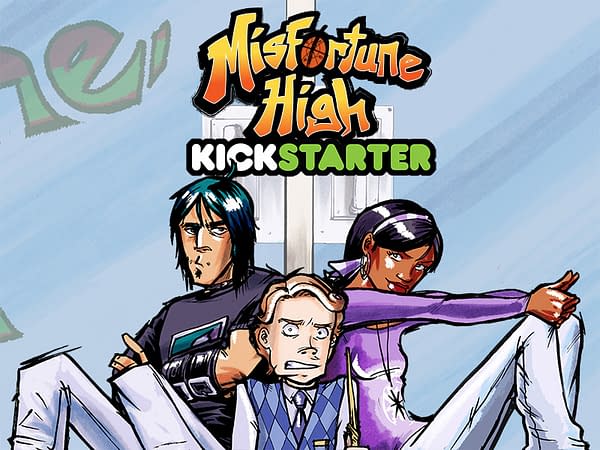 I turned out the script for book 1 last August and finished the artwork this past April. I'm a workhorse and a half, but finishing a book is one thing. Printing and marketing the thing is another. People would see the book and say "take the book to Kickstarter! You'll do great!" but I was skeptical. I spent seven years on the webcomics circuit, and while I built a modest following from that, I wasn't sure it was enough to fund a several thousand dollar Kickstarter campaign.
But you never know how dry that field is.
When I launched the Kickstarter for Misfortune High book 1, I was shocked to see it broke $1,000 within the first 24 hours. I don't suppose that's by accident. I pushed myself really hard on this book to make the art great, and killed myself on making that video (parallax effects are your friend). I pushed an early print run of the book pretty well during this summer's convention season, which did pretty well, considering I'm a relative unknown.
And everybody sure likes that elevator pitch.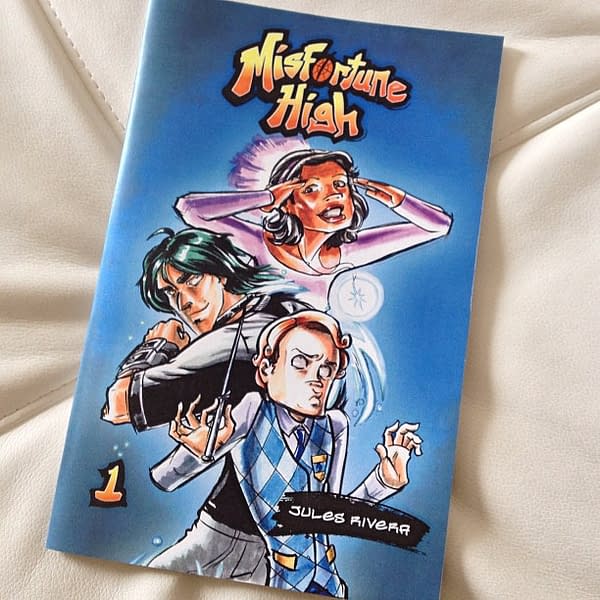 Right now, the momentum of the campaign has stabilized and I have some time to catch my breath…sort of. I'm still pushing this thing as hard as I can, making sketches, announcements, and even animations to push this campaign (you've never lived until you've had to edit Carly Rae Jepsen's "Call Me Maybe" for animation *shudder*). I'm worried and excited that I might've started a wildfire here. Excited that it started so brightly, but worried it'll burn itself out too soon.
There are 20-something days left of the campaign and I'll be shouting and drawing till my fingers turn blue and fall off. (Well, perhaps not so hard. I still need to do the other four books in the series.) If this campaign finishes well, that'll be a big achievement for all involved. If not, well, I'm in good company. Plenty of great projects don't hit their marks, but go on to find success anyway. Time will tell which side Misfortune High will end on.
I'm incredibly grateful for the support fans and friends have shown me both in the creation of this book and in the Kickstarter campaign . This wouldn't be possible without all their support and pledges. From the fire we've all helped started, they've shown me the power of a single spark.
Enjoyed this article? Share it!