Ryan Higgins of Comics Conspiracy, of Sunnyvale, California, while doing his orders from Diamond Comic Distributors got to the Marvel page.
Marvel is smoking some god damn crack with their Avengers "No Surrender" and GotG "Adam Warlock" variant incentives numbers.

— Ryan Higgins (@RyanHigginsRyan) October 23, 2017
Go on then, Ryan, let's go take a look. These two titles are Marvel's big January launches alongside Phoenix Resurrection and stores are having to order one month ahead of usual because of their 3D lenticular covers.
Well, it all comes down to a retailers' orders for Secret Empire #8, the sixth best-selling issue of August, behind Metal #1, Batman #28 and #29, Secret Empire #10 and Generations: Wolverines. And persuading them to order 200-150% as much for the launch of Avengers #675 and the same amount for Guardians Of The Galaxy #150.
So what do retailers have to do? Well, meet or exceed 150% of total orders of Secret Empire #8 with orders for Avengers #675 and they can order as many copies of Avengers #675 Acuna Party Variant, the Trading Card variant and the Skottie Young variant, and order 2 copies of the Avengers #675 Premiere Variant
There are staggered discounts on Avengers #675 if you order 200%, 175% or 150% of Secret Empire #8.
There's 1:25 on the Tedesco connecting cover variant, 1:100 for the Alex Ross variant, 1:200 for the Alex Ross Sketch variant, and the Mike McKone Avengers variant if you order 125% or more of Avengers #674
While Guardians Of The Galaxy #150 is tagged to stores who order 100% of orders of Secret Empire #8 to get the Trading Card variant or Skottie Young variant,
While there are tiers for 1:25 Aaron Kuder variant, 1:50 Mike Allred variant, 1:1000 for the Ron Lim remastered variant and 1:2000 for the black-and-white version.
And you have to have ordered 125% of Guardians #150 for the Mahmud A. Asrar Avengers variant.
The intent of all this is to encourage retailers to order more copies of a comic so they can order even more copies, and based on each retailer's ordering patterns in the past so as not to discriminate against smaller stores.
But in practicality, if a store ordered lots of Secret Empire #8, they are now in a worse position for supplying variant covers to customers than if they had ordered fewer…
And for some stores, such as Comic Conspiracy, it's a tier too much.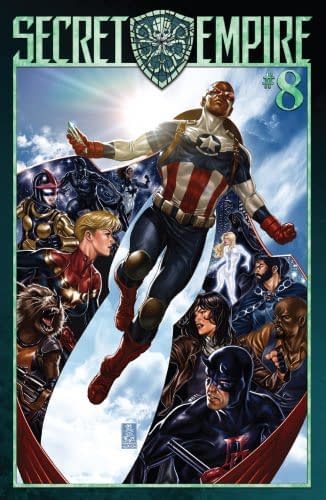 Enjoyed this article? Share it!