I Breathed A Body, Scout's Honor – AfterShock January 2021 Solicits
Aftershock Comics are laumching two new books in January, I Breathed A Body by Zac Thompson and Andy MacDonald, and Scout's Honor #1 by David Pepose and Luca Casalanguida. We have AfterShock Comics' January 2021 solicitations as well as previews of both debut issues, below.
I BREATHED A BODY #1 ANDY MACDONALD CVR
Aftershock Comics
NOV200992
(W) Zac Thompson (A/CA) Andy MacDonald
A science fiction horror series about social media, big tech, and influencer culture.
It's The Social Network meets Hellraiser. When the world's biggest influencer posts something irredeemably horrific online, the world changes in an instant. Now it's up to his social media manager, Anne Stewart, to fan the flames of outrage and create a sensationalist campaign that rewrites the rules of "banned content." Thus begins a carnival of lust, revulsion, desire, and disgust – all for viral videos.
Written by Zac Thompson (LONELY RECEIVER, UNDONE BY BLOOD, X-Men) and illustrated by Andy MacDonald (Multiple Man, Rogue Planet), I BREATHED A BODY is a horror series about the voyeurism of violence and the Big Tech companies who
engineer patterns of fear in society.
In Shops: Jan 20, 2021
SRP: $4.99
I BREATHED A BODY #1 15 COPY TREVOR HENDERSON INCV
SCOUTS HONOR #1 ANDY CLARKE CVR
Aftershock Comics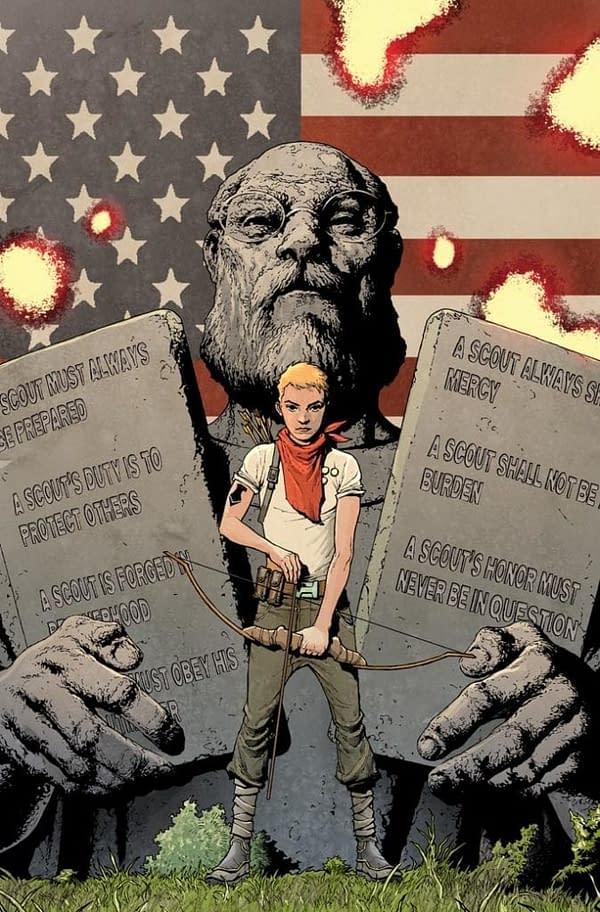 NOV200994
(W) David Pepose (A) Luca Casalanguida (CA) Andy Clarke
Years after a nuclear apocalypse, a new society has risen from the ashes…and their bible is an old Ranger Scout manual.
A young Ranger Scout named Kit has endured the harsh survivalist upbringing needed to con-quer the irradiated Colorado Badlands. But after discovering a terrible secret once lost to histo-ry, Kit must risk everything on a dangerous quest to uncover the truth behind the Ranger Scouts' doctrine.
From multiple Ringo Award-nominated writer David Pepose (Spencer & Locke, Going to the Chapel, The O.Z.) and artist Luca Casalanguida (James Bond, Lost Soldiers) comes a post-apocalyptic coming-of-age tale that proves when all you know is a lie, a Scout's Honor is the only way to move forward.
In Shops: Jan 06, 2021
SRP: $4.99
SCOUTS HONOR #1 15 COPY BRENT SCHOONOVER INCV
KAIJU SCORE #3
Aftershock Comics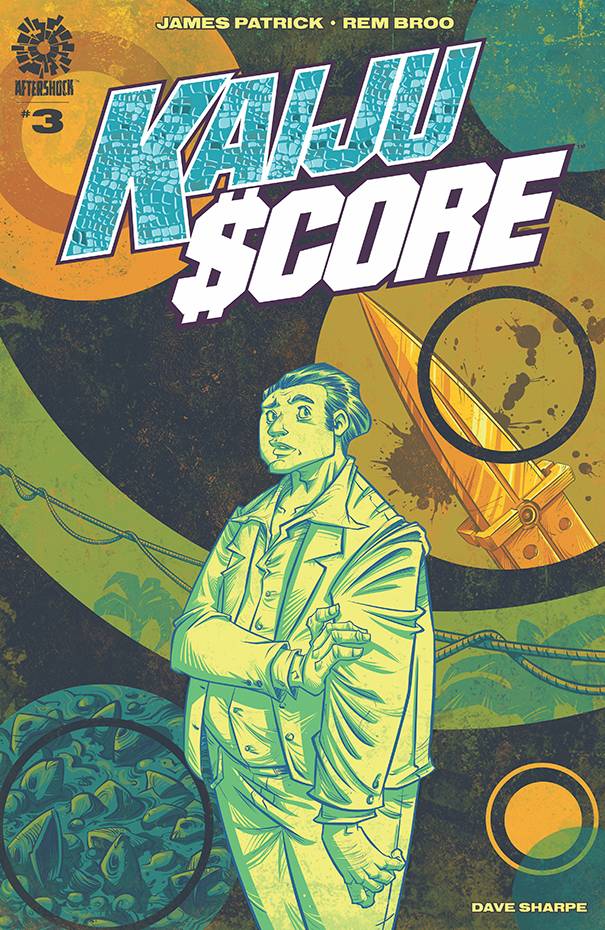 NOV200996
(W) James Patrick (A/CA) Rem Broo
MORE STORY! MORE ART! MORE KAIJU!
Things just got complicated for the crew of the Kaiju Score. Not complicated like putting to-gether a piece of Ikea furniture, but as in another giant monster just showed up. And compli-cated as in one of the crew just went completely off script. Now Marco has to
improvise. But will everyone do what he says, or will things just get worse? It's all just par for the course for the Kaiju Score.
In Shops: Jan 27, 2021
SRP: $4.99
MISKATONIC #3
Aftershock Comics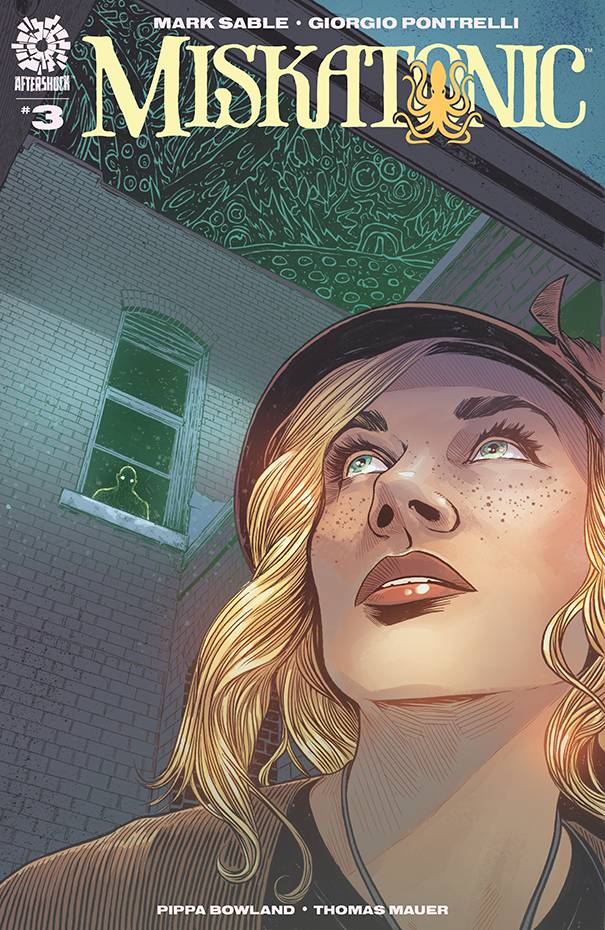 NOV200997
(W) Mark Sable (A) Giorgio Pontrelli (CA) Jeremy Haun, Nick Filardi
Skeptical Bureau of Investigation Agent Miranda Keller and true-believer detective Tom Malone are tasked by J. Edgar Hoover to investigate a series of bombings in 1920s New Eng-land.
Traveling to the Arkham Asylum, the investigators discover their suspects aren't just insane, but also undead. Who could be re-animating them?
In Shops: Jan 20, 2021
SRP: $3.99
KNOCK EM DEAD #2 ANDY CLARKE CVR
Aftershock Comics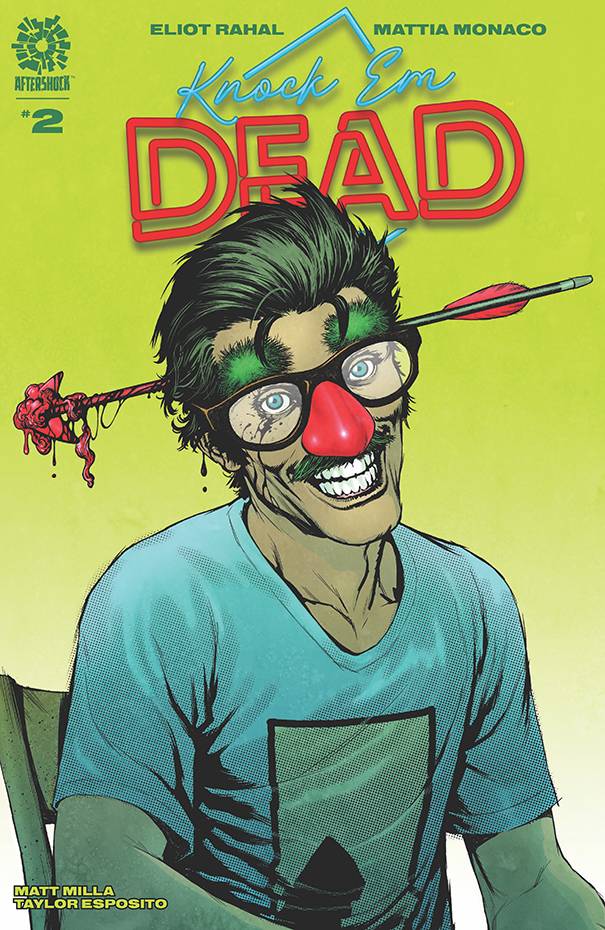 NOV200998
(W) Eliot Rahal (A) Mattia Monaco (CA) Andy Clarke
Pryor Brice died…but only for a couple of seconds.
The thing is, he didn't come back alone. The spirit of Danny Baron, Pryor's (more successful)
comedian friend, was brought back with him. Trapped inside Pryor's body, the ghost of Danny offers Pryor a supernatural deal: He'll write Pryor's material so Danny can still be successful, even after death.
Their bargain comes with supernatural strings attached and, soon, Pryor will discover that
comedy is no laughing matter.
In Shops: Jan 06, 2021
SRP: $3.99
KNOCK EM DEAD #2 10 COPY RAY LAGO INCV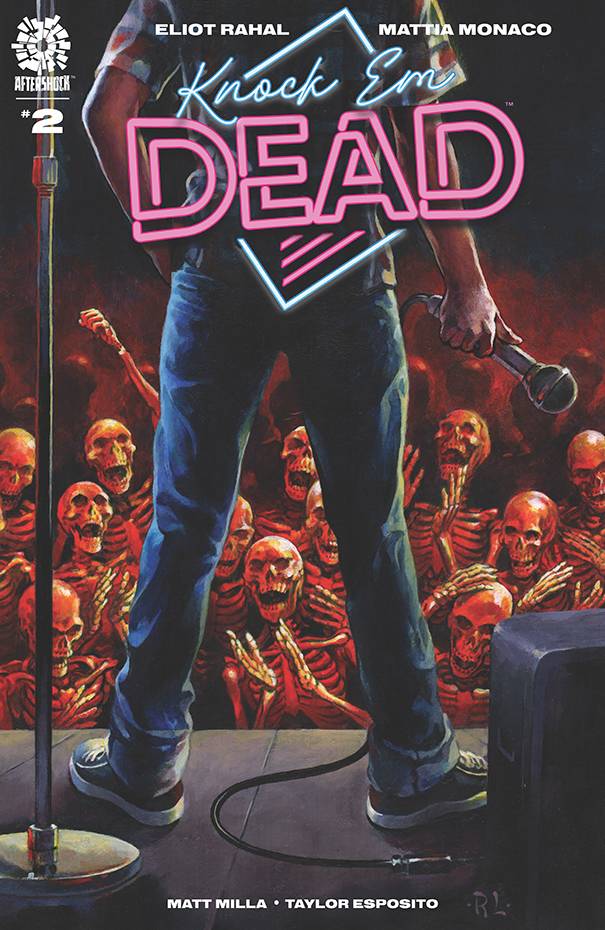 NOV200999
RED ATLANTIS #3
Aftershock Comics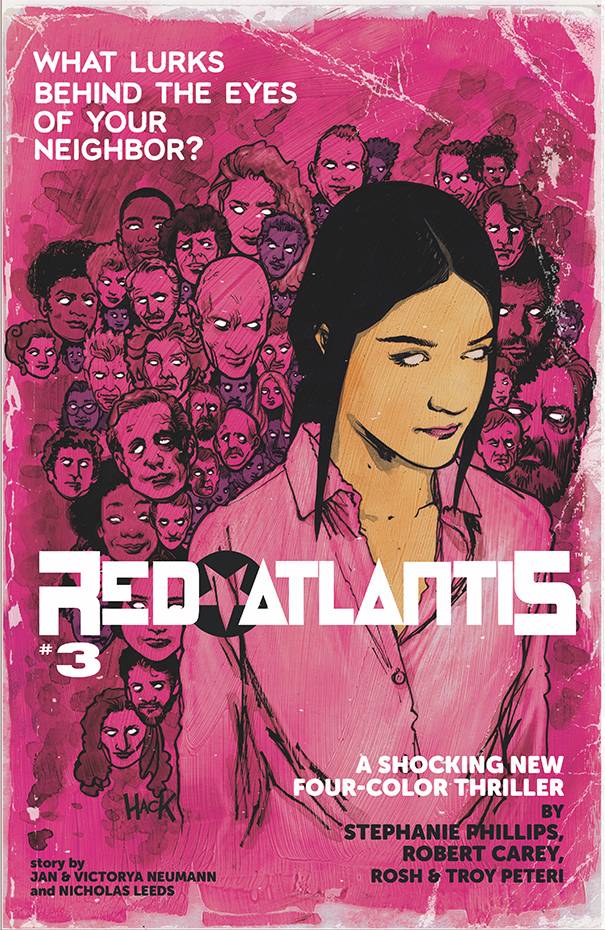 NOV201000
(W) Stephanie Phillips (A) Robert Carey (CA) Robert Hack
Last week, Miriam Roberts was a normal college student. Now, she's wanted by the FBI in
connection with a series of terrorist attacks involving psychically powered Russian sleeper agents. Just when Miriam believes things couldn't get worse, secrets about her long-lost
parents resurface, and she realizes that she might have powers of her own.
In Shops: Jan 13, 2021
SRP: $3.99
NOV201001
(W) Roy Miranda, Inaki Miranda (A/CA) Inaki Miranda
Humbo's plan for escaping the Acceptists might not be enough for the group to make the train headed to Megalopolis Mother 9. This might be the end of the trip.
The fragile fantasy world created by Tala for her little brother Hototo finally crumbles under the cruel weight of reality. Tears are the only language left between them. The long journey to the extraction point suddenly reveals the open wound.
In Shops: Jan 20, 2021
SRP: $3.99
SYMPATHY FOR NO DEVILS #4
Aftershock Comics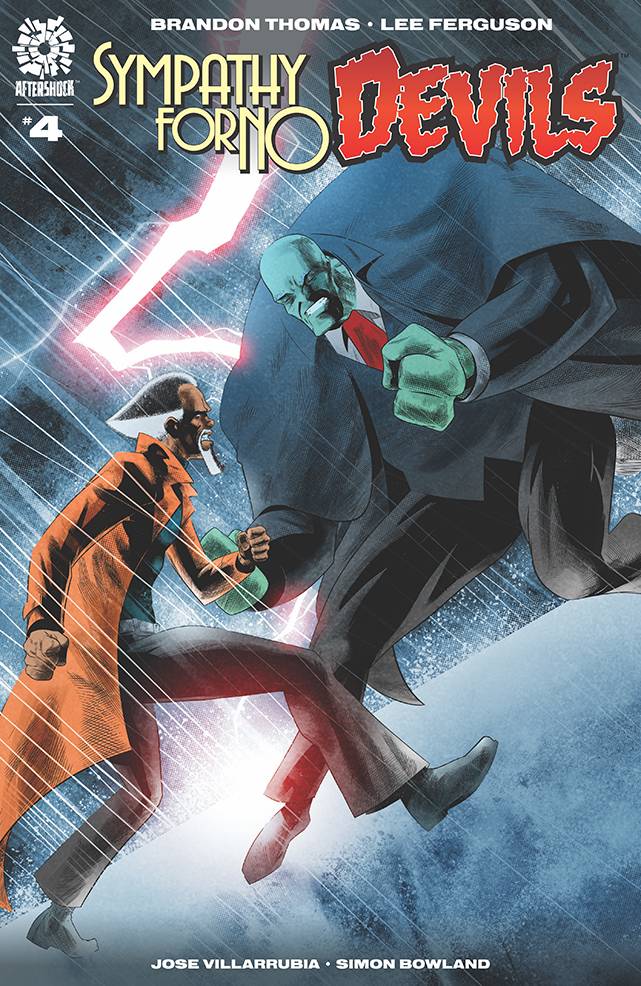 NOV201002
(W) Brandon Thomas (A/CA) Lee Ferguson
Winston Wallis – the last human in a world of monsters – has an uncanny amount of good luck. Conspiracy surrounds him as he rushes to solve the murder of an innocent man…er, uh,
monster.
In Shops: Jan 27, 2021
SRP: $3.99
LONELY RECEIVER #5
Aftershock Comics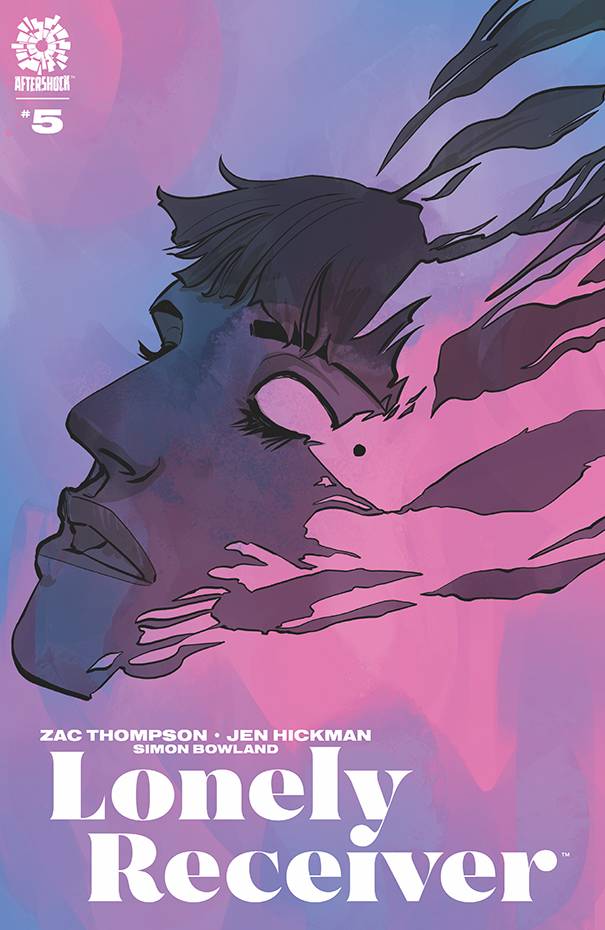 NOV201003
(W) Zac Thompson (A/CA) Jen Hickman
A horrific breakup story in five parts.
You have mated with it and found salvation. You watch as a life plays out that seems like it
belongs to someone else. But you're sure it belongs to you.
Now you / see what you used to be / itself
You love and change when moving wildly toward darkness.
Enter the Leviathan / as it too / enters you
Now see / you spend a life finding / yourself.
In Shops: Jan 13, 2021
SRP: $3.99
JOIN THE FUTURE TP
Aftershock Comics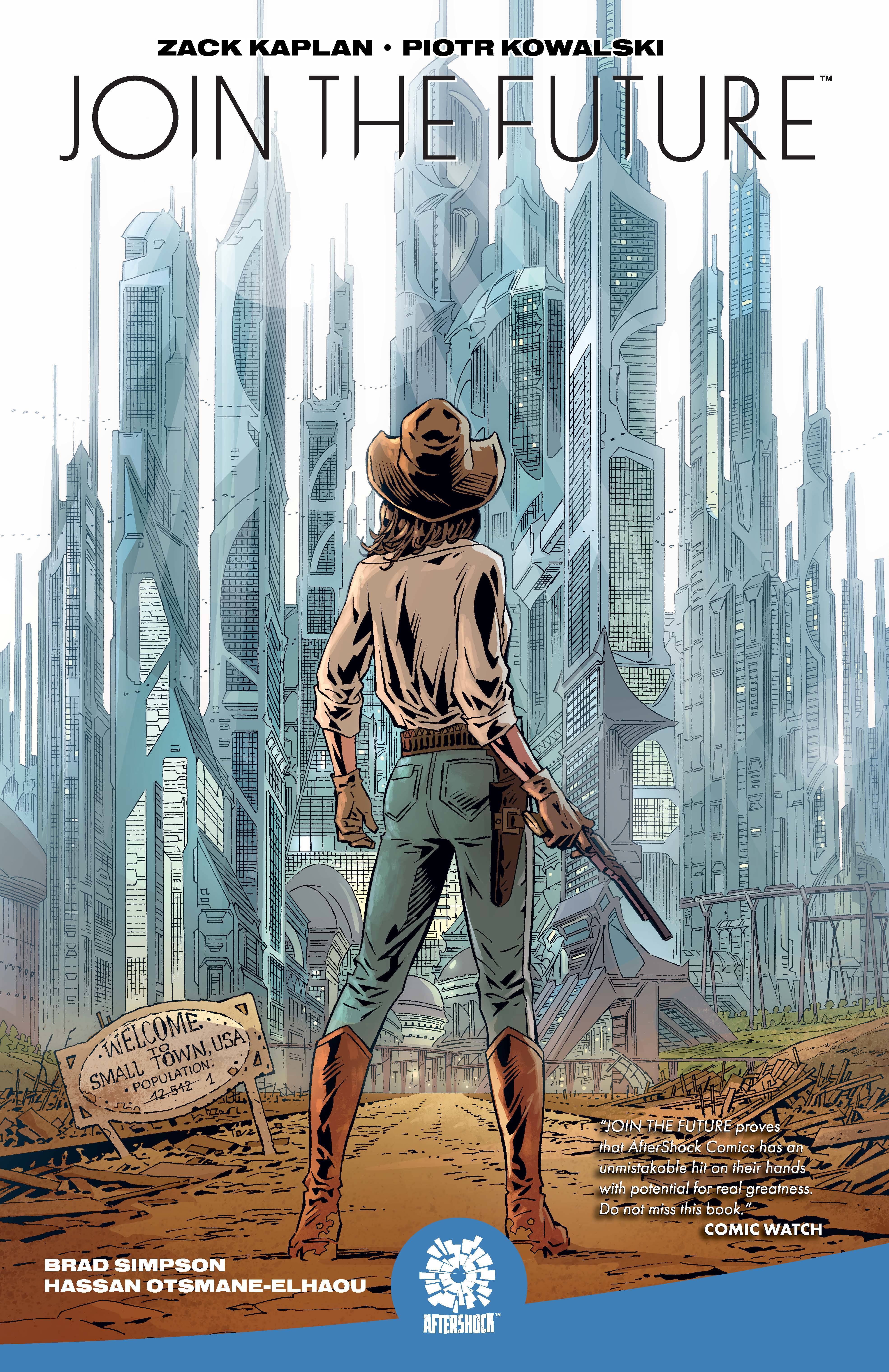 NOV201004
(W) Zack Kaplan (A/CA) Piotr Kowalski
The Future. Ultra-modern megacities reward millions of their citizens with a completely funded life, with every need met, from food to housing and healthcare, in order to compete in an economic power struggle in which population is key.
But a few rural residents still cling to their independence in what last American small towns are left. When a nearby megacity pressures the people of a small town to join up or else, a young teenage girl named Clem will learn how far she'll go to defend her principles.
Written by Zack Kaplan (LOST CITY EXPLORERS) with art from Piotr Kowalski (Port of Earth, Eclipse, Sex, Marvel Knights: Hulk, The Dark Tower), JOIN THE FUTURE is a sci-fi western that
examines a future where everyone must ask what your values are truly worth. This volume
contains the entire series, issues #1-5.
In Shops: Jan 06, 2021
SRP: $16.99
ARTEMIS AND ASSASSIN TP
Aftershock Comics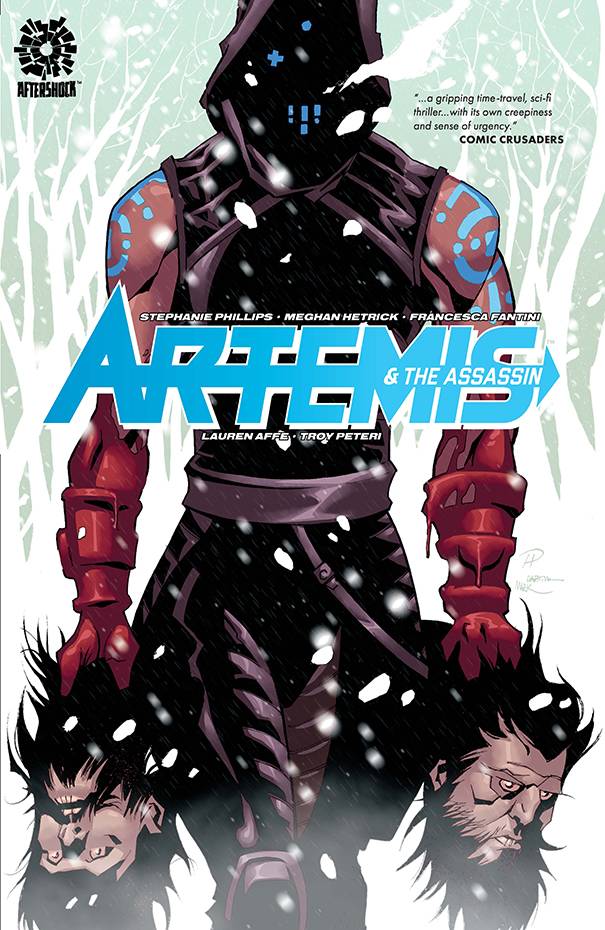 NOV201005
(W) Stephanie Phillips (A) Francesca Fantini, Meghan Hetrick (CA) Phil Hester, Mark Englert
What happens when a time-traveling assassin and a spy from 1944 try to kill each other?
For a price, a top-secret assassination organization will travel through time and interfere with watershed moments. Trained as the agency's top assassin, Maya is sent to kill Virginia Hall, the deadliest spy of WWII. Charged with carrying important plans about the invasion of Normandy to the allied troops, Virginia's death would have a cataclysmic effect on WWII as we know it.
Written by Stephanie Phillips (Butcher of Paris, DESCENDENT), with art by Meghan Hetrick and Francesca Fantini, colors by Lauren Affe, and letters by Troy Peteri, ARTEMIS & THE ASSASSIN is a pulpy adventure story about the high cost of changing history. This volume contains the entire series, issues #1-5.
"…a gripping time-travel, sci-fi thriller…with its own creepiness and sense of urgency." – Lucas Fashina, Comic Crusaders
In Shops: Jan 13, 2021
SRP: $16.99