Just because San Diego Comic-Con is happening, doesn't mean the regular 24-hour comics news cycles of variant covers, second printings, and other mundane stories stop. In the interest of maintaining a sense of normalcy during this hectic week, Image Comics has sent out a press release revealing a "limited" variant cover for The Weatherman #3 by James Harren with colors by Nathan Fox.
What? Not every Comic-Con story can be Grant Morrison writing Green Lantern or The Clone Wars returning! Cut Image some slack here!
The Weatherman #3, by Jody LeHeup, Nathan Fox, and Dave Stewart hits stores on August 15th. Final order cutoff is Monday, July 23rd.
In THE WEATHERMAN #3, Nathan and Cross are cut off, on the run, and hunted by The Marshal, as they try to stay alive long enough to find Nathan's lost memory and the key to stopping another world-ending attack. But they'll have to survive each other first…

WEATHERMAN #3 Cover A by Fox – JUN180272
WEATHERMAN #3 Cover B by Martin – JUN180273
WEATHERMAN #3 Cover C by Harren, colors by Fox (Limited) – JUN188042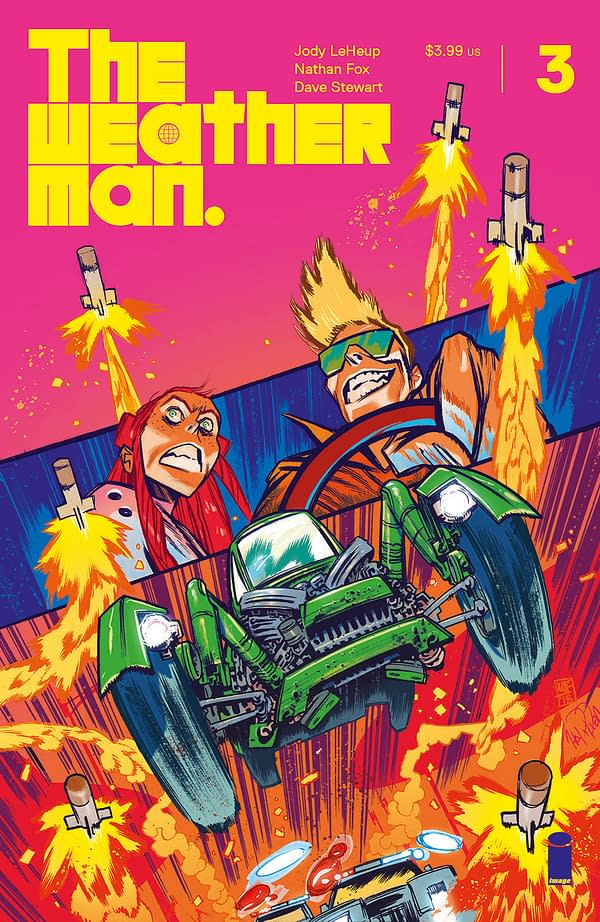 Enjoyed this article? Share it!