#ImageExpo Gets Meteorological with The Weatherman from Jody LeHeup, Nathan Fox, and Dave Stewart
At Image Expo today, Jody LeHeup and Nathan Fox announced The Weatherman, a "widescreen, sci-fi epic" with colorist Dave Stewart. In the story, which is set to span three years, a mass terrorist attack on Earth has left human colonists on Mars living in fear. The main character, a weather man on Mars, is accused of perpetrating the Earth attack. On the run, he is trying to prevent another attack… but he can't remember whether he was responsible for the first one.
Happens to us all the time.
Five issues are done, and the book is set to launch in June. Marcos Martin will join Fox on covers. Check out the first cover below, released on Twitter.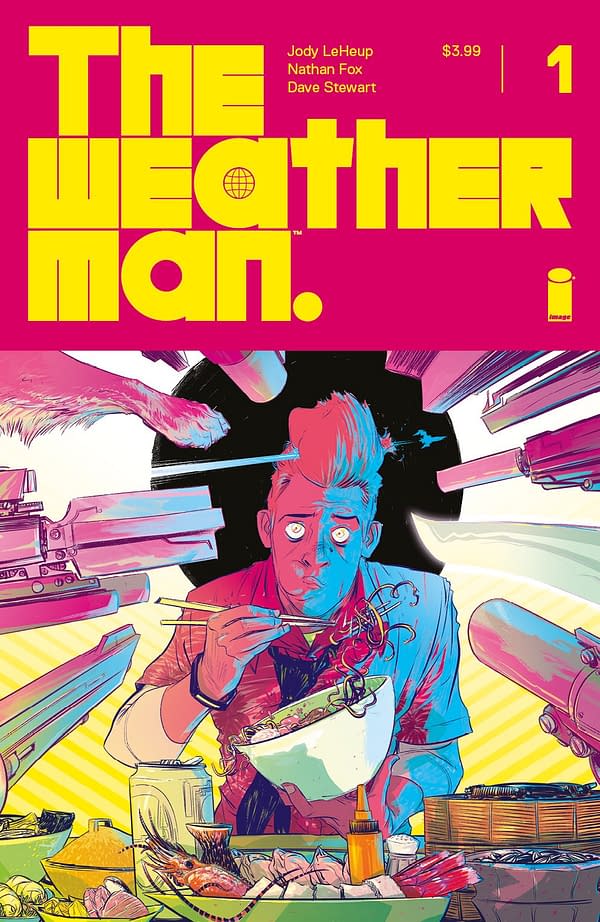 UPDATE: Press release version:
Writer Jody LeHeup (SHIRTLESS BEAR-FIGHTER), Eisner Award-nominated artist Nathan Fox (DMZ, HAUNT, Dark Reign: Zodiac), and Eisner Award-winning colorist Dave Stewart (Hellboy, RUMBLE) merge to form an unstoppable sci-fi tour de force with THE WEATHERMAN!

Local weatherman and fun-loving amnesiac Nathan Bright was just a normal guy living the good life on terraformed Mars. But the past Nathan didn't know he had comes back to murder him when he's accused of carrying out the worst terrorist attack in human history—an event that wiped out nearly the entire population of Earth.

Confused, terrified, and ill-prepared for life as the galaxy's most wanted man, Nathan's fate lies in the hands of Amanda Cross, the disavowed government agent assigned to his case. Together the unlikely duo will have to rely on each other as they battle their way through the solar system in search of the truth buried in Nathan's lost memory…and the key to stopping the real enemy from carrying out a second extinction-level attack.

"Series artist Nathan Fox's work on THE WEATHERMAN will hit you like a bolt of lightning," said LeHeup. "Vicious and vital, it's high energy for even higher stakes. There simply aren't comics more beautiful than this."

Fox added: "Before I even finished Jody's first script I knew I had to tell this story. THE WEATHERMAN is one of the most inspired, relevant, and human stories I've ever had the privilege of contributing to and I absolutely cannot wait for people to read it."

A full-throttle, widescreen, science fiction epic about the damage we do in the name of justice and what it truly means to be redeemed…

The series will launch in June 2018.